List of Pyrography & Wood Burning Project Ideas that Sell 2021 [Updated]
Pyrography is the art of burning images into wood surfaces. While it can take years to master pyrography, even beginners can make beautiful items to keep or sell.
Wood burned items are highly marketable and can be sold at craft fairs and online. The following are some projects appropriate for beginners looking to sell and make a little profit.
---
What Tools are Needed for Sellable Pyrography Projects?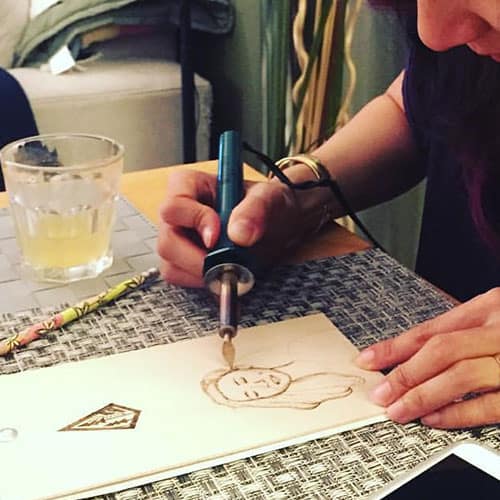 To complete these projects you will need a wood burning machine, pens, and pen tips to achieve lines, shading, and other beginner techniques. Each tutorial listed below uses specific wood items to burn on. These include cutting boards, spoons, boxes, picture frames, and coasters.
We also recommend some basic safety equipment, especially if your workspace is not well ventilated, such as gloves, eyewear, and, ideally, a desk fan for ventilation.
You can buy many of these items easily at craft stores or online retailers. If you are in need of pattern ideas, Etsy and Amazon both sell hundreds of wood burning patterns and designs for affordable prices.
Sale
---
Pyrography & Wood Burning Project Ideas That Sell
The following are a few beginner-friendly wood burning projects that can be sold. Each of these projects can be modified to fit your skill level and design preferences.
Similar designs can be drawn free hand or found online. Feel free to use your own patterns and get creative with techniques!
1) Harry Potter Cutting Board
This project is perfect for Harry Potter fans and can be customized for the different Hogwarts Houses!
To begin this project, the artist sketches out the design of the Gryffindor crest onto a large cutting board, then burns the outline of the entire design and adds light shading to some elements of the crest. The shading is optional for this project, but does add visual interest to the piece.
---
2) Decorative Spoons
Begin with plain wooden spoons and sketch or stencil your desired design onto the spoon. Stencils, stamps, and free-hand drawings work best for the small surface area of spoons and other utensils. Use a light hand to burn the outline of your pattern.
The artist also uses letter pen tips that burn initials onto the surface in seconds. Consider investing in some of these pen tips if you are interested in personalizing your designs.
---
3) Celtic Knot Box
Begin this project by sanding down your wooden box. Using a stencil or a free hand design, trace Celtic knots vertically along the top and sides of the box. Burn the linework at a medium temperature with a knife-edge pen tip.
To achieve a smooth, consistent pen stroke, burn a long, constant stroke, turning the box as you work. Shade with a spoon-shaped pen to add a three-dimensional effect to the knots. Use a high temperature to shade in the background of the knots. Shade in small circular motions to create an indented texture.
To finish your project, add a felt lining to the inside of the box and add a clear coat of finish to seal your work.
---
4) Floral Picture Frame
To begin this project, free hand draw or use a stencil to create a floral design in opposite corners of the frame. Burn all the linework of the flowers and then fill in the flowers with shading as desired.
Use a finishing product to complete this easy, yet beautiful project which would work great as a gift for an anniversary, birthday, special occasion or special someone.
---
5) Personalized Coasters
Begin with wood slices and trace your design onto the surface. Trace all of the lines with a medium-high heat. For a simplistic design, stop after doing the linework.
If you would like to add more dimension to your work, you can fill in some of the design with light shading. Seal your product with a clear finishing product and your coasters are complete.