List of Basic Silversmith Tools for Beginners & Experts 2021 [Updated]
Silversmithing is a metalworking trade that specializes in the shaping and crafting of silver objects. This discipline requires a few essential tools to complete a wide range of projects. However, there are also specialized tools avail to refine your skills and deliver a more polished look to your final product.
Some of these tools can be simple to use for silversmiths and hobbyists of all skill levels and others may be a little more advanced. In the list below, we will discuss the purpose of each silversmithing tool, how important it is to have in your workshop, and whether or not it will suit your needs at your appropriate skill level.
---
Complete List of Tools For Silversmithing & Silversmiths
1) Jeweler's Saw
The jeweller's saw, also known as a piercing saw, is one of the staple tools found in a jewellery maker's workshop. Since a lot of jewellery used silver metal, this is a great tool to use in order to cut metal pieces into fine shapes and sizes.
The blades associated with jeweller's saws can be adjusted based on your intended application. This tool can be beneficial to silversmiths of all skill levels.
---
2) Snips & Scissors 
Silversmithing snips are tools that are widely used in jewellery making because they can easily cut small pieces of metal with precision. Snips have the appearance of small scissors and are available with different types of handles to suit your needs and personal preferences.Silversmiths of all skill levels should also have this tool when working with small pieces of silver.
---
3) Pliers and Cutters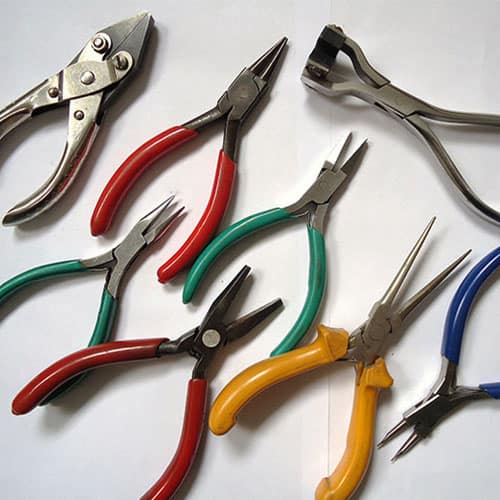 Pliers and Cutters are very useful in manipulating, shaping, and cutting small metal pieces. They are a staple tool in any jewellery-maker's toolbox and can translate very well into many silversmithing projects.
In addition to being multi-purpose tools, they can also come in different shapes for more specialized applications.
---
4) Jeweller's Files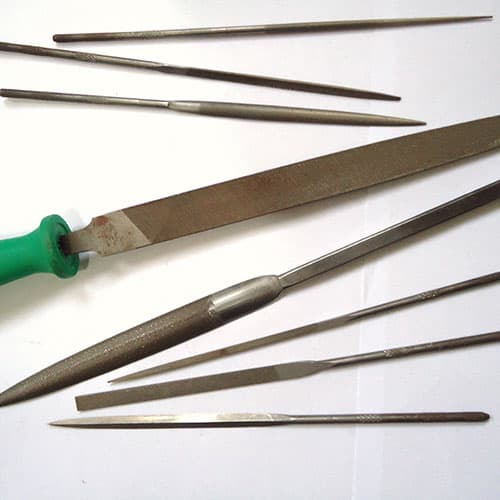 There are many different types of jeweller's files available for use in both the silversmithing and jewellery making trades. These files can feature half-round or flat shapes. Rounded files allow a smith to work grooves or curves into a workpiece and smooth out certain areas.
Flat files are also very versatile tools that can be applied to many different silverworking projects. It is important that the flat file you choose to have at your workbench works well with the material you will be filing and the amount of detail you would like it to be able to create on your workpiece with ease.
Despite their ability to work well in most applications, there are still different types of and sizes of flat files available that can be picked and sizes properly based on your application. Overall, it would be beneficial to your practice if you had a file in your workbench.
---
5) Planishing Hammer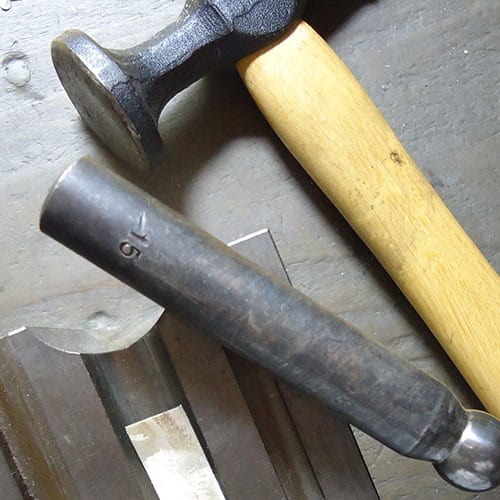 A planishing hammer is typically used in metalworking to flatten a sheet of metal through repeated blows to its surface by a hammer. Planishing hammers feature a flat face that aids in the appearance of a smooth appearance of a sheet of metal.
---
6) Ball-Pein & Cross-Pein Hammer
A ball-pein hammer is one of the most useful tools to have a metalworker. This hammer can be used in a variety of applications, including silversmithing and jewellery making. The ball-pein hammer is similar to the cross-pein hammer, except for the fact that it has a rounded head that can form hollow, textured shapes into sheet metal.
A cross-pein hammer is another useful tool in jewellery making and silversmithing projects. This hammer features a round flat head and a thin edge that easily creates textured markings on metal surfaces.
---
7) Jeweller's Anvil
The anvil is arguably one of the most important pieces of equipment that any metalworker should have available in their workshop. Anvils provide a very strong, stable surface on which to work and manipulate metals, or other hard objects, without fear of breakage.
Small anvils for silversmithing are often constructed from forged or cast tool steel, which is a strong material capable of sustaining blows from a silversmiths hammer without issue. The anvil itself also has smaller features, such as the pritchel hole, that can be very useful when shaping jewellery and will allow you to more easily mould the work-piece.
---
8) Bench Vise
A bench vise is a stationary tool that can firmly grip onto a workpiece while a metalworker shapes it without having to use his or her own hands to hold it in place.
---
9) Torch
A torch is a very important tool to have when working in metals. The ability to heat up a metal when forming and shaping it can greatly ease the amount of effort that you have to put into working it as smith. There are many different kinds of torches available for purchase in common hardware stores and they are a very useful investment for silversmiths of all skill levels.
---
10) Sanding & Polishing Tools
There are many different types of hand-held and rotative tools available for silversmithing. Some of these tools include simple buffs, brushes, and sanding tools. Buffs allow you to create a lustrous finish on the workpiece surface.
Wire brushes can be made of nickel, brass, or steel and are very effective in smoothing out and polishing rough surfaces because their abrasive characteristic can remove excess material.
Rotative heads, such as abrasive wheels, bands and polishing bristles are useful for obtaining a more unison finish with a higher level of accuracy.  Polishing your jewellery or workpiece will elevate its appearance and highlight the smooth, shiny aspect of silver metal. Although many silversmiths rely on motorized polishing solutions, you can still obtain a great finish even with simple polishing cloths, which are easily accessible and relatively affordable.
---
11) Stakes
Stakes are great tools to use when forming silver into different shapes. They are made in different shapes to accommodate for a variety of shape designs. Silversmithing stakes can be held in place while a silversmith shapes their workpiece around it.
---
12) Silver Solder
The process of joining two pieces of metal is called soldering. If you would like to join pieces of silver, you may need to purchase silver solder. Silver solder is a piece of alloyed metal that can be heated up to a melting point that allows you to join together two other pieces of metal with the melted solder.
There are different solder types available (hard, medium, and easy), classified by different flow temperatures. This can allow you to solder metal multiple times with different types of solder without worrying about compromising joints you previously soldered.
---
13) Flux
The use of flux goes hand-in-hand with soldering. Flux is a chemical that can be used to prevent oxidation of metal when soldering. Boric acid is a common type of flux used in jewellery making.
---
14) Pickle
Pickle is a solution that can be used before after the soldering process in order to remove flux and any oxidation found on soldered metal. This liquid can be heated up prior to use in order to enhance its performance.