List of Easy Pyrography & Wood Burning Ideas for Beginners 2021 [Updated]
Pyrography is the art of burning images into a wood surface. Pyrography has been around for thousands of years and continues to enjoy popularity as a traditional and beautiful artform that anyone can learn.
While the techniques and tools used in pyrography can be intimidating to beginners, wood burning is made more accessible with online learning resources like YouTube videos.
Pyrographers of all skill levels can make easy, quick, and affordable projects with the help of online tutorials like those discussed here.
---
What Tools Do I Need for Beginner Pyrography Projects?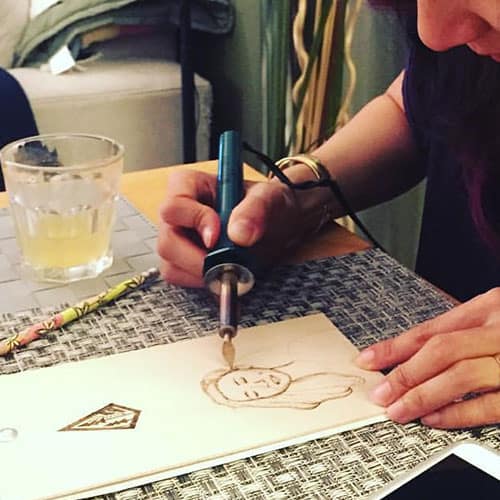 All of the projects listed below can be worked on using basic pyrography tools and materials. You will need a wood burning machine with multiple heat settings, a pen with interchangeable tips or several pens with different tips, wood of your choice, and any safety equipment that you have on hand such as gloves, eyewear, and, ideally, a desk fan for ventilation.
Most beginner projects use basic linework as the main technique so knife-shaped pen tips and other tips for burning lines are necessary. Shader tips will also be useful depending on the designs you choose to burn. Several of the projects discussed below feature items like wooden spoons, eggs, and cutting boards as the burning material, but any light colored wood board will work.
Most of the projects featured in this article use premade design stencils as their outline for their artwork. You can find similar patterns and designs for affordable prices on websites, such as Amazon or Etsy. There is a wide range of images to choose from such as wildlife and mythical creatures.
There are also some books aimed at beginner pyrographers that share basic tips and tricks and include ready-to-use wood burning patterns,  such as some of those recommended in our pyrography books article here.
Sale
---
List of Beginner Pyrography Project Ideas & Wood Burning Ideas
1) Woodburning Cutting Board
Cutting boards make great gifts and are necessary to have in any kitchen. To start making a wood burned cutting board, trace your design onto the surface in whatever configuration suits your design.
The artist in the video uses a dog pattern and places it in the right corner of the cutting board, but you can use any design you like and choose to center or off center it as you see fit.
Once the pattern is transferred onto your burning surface, use a linework pen tip to burn the basic outline of the pattern. Fill in the design with a shader tip and add details based on the natural shadows and contours of your pattern.
---
2) Dragonfly Board
For this project you will need a small board and a dragonfly pattern. A similar pattern can be found online on etsy.com or other art suppliers. You can also freehand draw your design. The artist in the video combines two stencils, so there is no right or wrong way to get your project started. Once the pattern is on the wood, burn all the linework with a line tip.
Use a shader tip to apply shading where you would like. For a colorful finished project, fill in your design using colored pencils and seal in the color with a clear finishing product.
---
3) Floral Eggs
This project requires wooden eggs, which can be found at art supply stores or online. The artist recommends working the floral pattern free hand to make unique designs and shapes. She begins by burning a small circle with a line tip, and then makes petals around the circle.
She continues to add overlapping flowers on the egg and rotates the egg and the pyrography pen as she works to make linework easier. This project is great for practicing linework and can be sold in art shows.
Throughout the process, the artist keeps her pen heat high to make the project easier and faster. If you would like to add color to your wood burning, you can fill in the flowers with watercolor paint. Finish with a clear gloss to add shine and protect the paint.
---
4) Basic Moose
Start this project with a light-colored, square board. The artist uses bamboo, but any light wood will work. Free hand draw or use a stencil to apply a moose outline onto the board. Use a knife tip or other flat edge tip to create the lines of the moose.
Once your outline is burned, use a basic lighter to fill in the moose body. You can also use your pyrography pen and a shader tip, but a lighter will get the job done faster.
---
5) Woodburning Spoons
Wood burned spoons make a great gift for the cook in your life, and can be easily sold at art shows. In this tutorial, the artist transfers word stencils into the bowls of the spoons.
Once the main lettering work is complete, the artist free hand burns small shapes and designs into the necks and handles of the spoons.