List of Christmas Pyrography & Wood Burning Project Ideas 2023 [Updated]
Pyrography, or wood burning, is the art of burning lettering and designs onto wood surfaces. While the techniques and tools required for wood burning can seem overwhelming to beginner artists, the craft is actually very accessible thanks to a wide range of beginner tutorials available online.
One of the best ways to share your passion for wood burning and show off your pyrography skills is by creating gifts and sellable items for the holidays. Family members, friends, coworkers, and consumers will appreciate the time and effort put into making handmade, quality wood burned gifts.
Listed below are five beginner friendly Christmas pyrography projects that you can sell or give as gifts this holiday season.
---
What Tools Do I Need for Christmas Projects?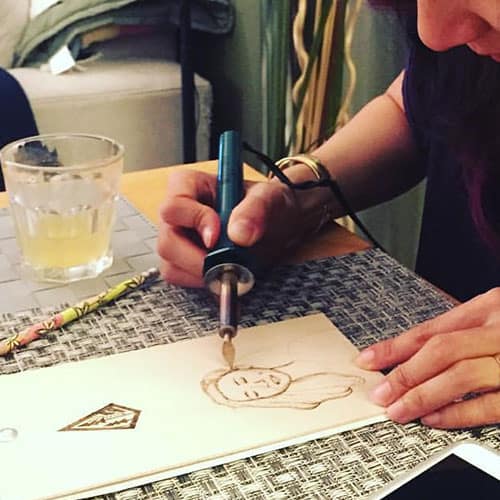 These Christmas themed projects require only a few basic tools and materials. You will need a wood burning machine, pen, and several different pen tips for shading, linework, and other detail work you may choose to add to your designs.
Safety equipment like gloves, protective eyewear, and a small fan for ventilation are also recommended.
You can use any wood of your choice, but for these projects, the artists use premade wood ornaments, wood slices, wooden spoons, and wood boards.
The designs used in the tutorials are drawn freehand or made using basic patterns. You can find affordable, high-quality pyrography stencils easily online at Etsy or via Amazon.
---
List of Christmas Themed Pyrography Project Ideas
1) Christmas Ornaments
To begin making your ornaments, allow your pen to reach the highest heat setting. Trace designs onto the ornaments using a pencil. The artist in this tutorial makes a circle in the center of the ornament and writes Christmas-themed phrases in the circle. Then, begin burning the outline of the circle and trace over the lettering.
Let your pen cool and then attach a shading point tip. Press the tip onto the wood around the circle outline to create a wreath design. The final step is to attach ribbon or string for hanging and your ornament is complete!
---
2) Winter Rustic Ornaments
Start by tracing winter-themed words and designs onto your wood slices. These can be freehand drawn or you can use stencils. Outline any lettering and complete your linework first. Add shading if desired. Finish your ornaments with a coat of sealant to protect your designs.
---
3) Snowman
For this project you will need shader and writing pen tips. Trace or draw a snowman design onto your wood surface. Then use the writing tip to outline the design. Use a shader tip to add shading where desired.
The artist in the tutorial uses mostly shading to make her design come to life, so this project is best suited for more advanced pyrographers wanting to practice a lot of shading.
---
4) Christmas Spoons
The first step is to draw your design. The artist draws basic lettering onto the spoons and then uses a straight edge pen tip to create dots around the line of the letter. She adds freehand dots on the handle and edge of the spoon and then finishes the project by tying ribbon onto each spoon.
While the artist in the video keeps her designs very minimal, you can wood burn any patterns or letters onto your spoons as you like. This project is very versatile and easy to complete.
---
5) Farmhouse Christmas Sign
For this project, begin by writing out a holiday-themed phrase onto a wood board. Trace over your writing with a razor pen tip, going over each letter until you reach the desired thickness and darkness. Then add shading to the board to give it a rustic, weathered look.
Using a white acrylic pen, draw snowflakes around the lettering. Finish by tying on some ribbon onto the top of the board and add a layer of sealant to protect your work.