How to Maintain Shou Sugi Ban 2022
Shou sugi ban is a popular choice for interior and exterior design because of its durability and beauty. While it can last for decades without any maintenance at all, some shou sugi ban owners wonder what they can do to keep the wood looking like new for as long as possible.
Use this guide to decide what steps you should take (or not) to keep your shou sugi ban looking its best!
---
Shou Sugi Ban Maintenance Options
There are two main options for shou sugi ban owners when it comes to maintaining the Japanese wood product: leave it alone or refinish it. Much of your decision will depend on personal aesthetic preferences and the environment your shou sugi ban is exposed to. Check our our guide here on shou sugi can sealer and oil options and the advantages and disadvantages of each one!
Another factor to consider is your manufacturer's care instructions. These differ from brand to brand depending on the specific style of wood you've chosen and the finish used by the manufacturer.
There is no right answer when it comes to shou sugi ban care, but it does help to understand how natural weathering and refinishing will typically effect the wood's longevity and appearance.
---
Embrace Natural Weathering
In Japan, the most common shou sugi ban maintenance technique is no maintenance at all! Many argue that the whole point of choosing shou sugi ban is that it requires no effort to maintain.
Shou sugi ban degrades extremely slowly compared to other types of wood siding because of the way it is produced. From a structural standpoint, it just isn't necessary to worry about maintenance if you don't mind the natural weathering that shou sugi ban will obtain over time.
Weathering and fading depends largely on where you live and the type of shou sugi ban you've purchased, but most will fade over time or take on different coloring due to UV rays. This creates a unique patina that is characteristic of shou sugi ban.
Embracing the natural weathering of shou sugi ban will save you time, money, and stress. Plus, it is the most authentic care option.
---
If you're biggest concern with shou sugi ban is rotting rather than fading, consider choosing a cypress wood. This species lasts the longest due to its high tannin content, which makes the wood fungus resistant. Cypress is also very porous and dries quickly, which helps prevent an accumulation of fungi.
Tannins can leech from the cypress wood and create stains. These usually wash away easily with rain, but can also be rinsed with an oxalic acid product.
---
Refinish Regularly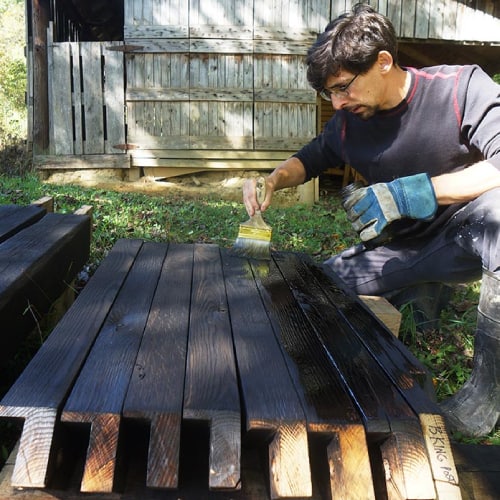 Finally, if you live in region where weathering and fading are more severe, refinishing your shou sugi ban as directed by the manufacturer is the best option.
Interior shou sugi ban won't need frequent refinishing because it is better protected from changing temperatures, sunlight, and wind. A petroleum or plant-derived polyurethane finish works best on interior wood.
Shou sugi ban that is outside requires oiling every 1-15 years depending on where you live and how quickly your shou sugi ban is aging. Contact your manufacturer for specific oil recommendations and check out our guide to the best shou sugi ban sealers.
Most manufacturers apply a coat of oil to seal the shou sugi ban, but applying a second or even third coat before or just after installation will help enhance the color of your product.
When applying a new coat of oil to shou sugi ban, clean the surface with a soft brush or cloth. Use mild soap and warm water and avoid power washers!
---
Additional Tips
When refinishing shou sugi ban, apply oil to a small, hidden test area to see how the oil reacts with the wood.
You can increase the longevity of outdoor shou sugi ban by sealing cut ends, drilled holes, and any other exposed areas of the wood.
Scratches, dings, and other imperfections can be filled in with regular wood stain or even permanent marker.