How to Become a Jeweler 2022 (Apprenticeships, Education & Prospects)
Jewelry making is an ever-evolving industry that is ideal for artistic, fashionable, personable, and entrepreneurial individuals. The path towards becoming a jeweler is highly customizable according to your preferences and learning style, with several educational options and work environments to choose from.
Jewelers have traditionally found employment with large manufacturers and local jewelry stores, but thanks to social media and popular online retail options, hobbyists and jewelers with backgrounds in less conventional types of jewelry design can compete with larger companies and make an income as entrepreneurs.
Regardless of whether you want to work for an employer or be your own boss, this article will help educate you on typical process of becoming a jeweler.
---
What Does a Jeweler Do?
While many think of those who make jewelry as being traditional bench jewelers, the industry has exploded with hobbyists working with a range of different materials and techniques.
Duties of a Professional or Hobbyist Jeweler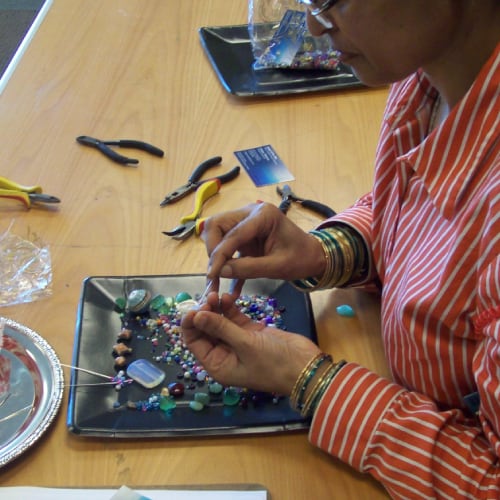 Jewelers that work for an employer and those who run small businesses perform a variety of tasks in their day to day routines, such as:
Ordering materials and determining metal/material qualities
Reading orders/instructions and create based on guidelines
Discussing designs with clients and communicating with clients about the steps of the jewelry making process
Using various equipment to heat, cut, form, and polish metals and other materials into desired pieces
If self-employed, completing administrative tasks and marketing their business in person and online
Jewelry Equipment Required for the Job
Some of the most common equipment used by jewelers working with traditional metals like silver and gold includes a rolling mill, files, pliers, hammers, polishing tools, and a heat source to make metal moldable. Although these tools are standard in the industry, you may require more or less equipment depending on the types of items you make and your individual style.
If you work for yourself, you will be able to decide what equipment you use the most and what is worth investing in. Not all jewelers work with metals. Those using clay, plastic, and recycled materials will use a wider range of unconventional tools to achieve the desired design outcome.
If you work for an employer they will provide the tools needed and you will likely need to know how to operate a more extensive list of equipment.
What Items Do Jewelers Make?
Both traditional and self-employed hobbyist jewelers make wearable jewelry pieces like necklaces, rings, earrings, bracelets, and other accessories. Many jewelers specialize in a specific product, design style, or special occasion. For example, engagement and wedding rings are always in demand and often sell for high prices.
Products made will depend on a jeweler's educational background, interests, and the market they are selling in. Successful jewelers understand market demands and the preferences of their clients. They communicate with clients and other industry professionals to plan their collections while staying true to their unique artistic vision.
---
Education Paths for Jewelers – Where to Begin?
Becoming a jeweler can involve a traditional educational path or can be tailored to fit your life circumstances and learning style. Below are a few of the most common education paths to choose from.
1) Traditional College/University or Technical School
Jewelry making and design is becoming an increasingly common area of study in major arts colleges and universities worldwide. Most four-year colleges offer a bachelor of fine arts in subjects such as jewelry design or artistic metalworking more generally. Any program that incorporates hands-on learning is a great option for prospective jewelers because you will be gaining experience working with different materials and techniques in a studio setting.
If your specific institution does not offer jewelry-specific classes or degrees, consider related majors like art history or even business. These programs will teach you valuable information that you can apply to your designs and small business plan, if you are looking to become an entrepreneur.
Many technical or vocational schools also offer degrees in metalworking or jewelry making and are shorter, usually more cost-effective programs. While they may not be as in-depth as a traditional college degree, two-year programs allow you to learn what you need in a short amount of time so you can get into the workforce and gain real-world experience faster.
Most programs offered at technical schools last between a few months and a few years, but are always shorter than traditional college degree programs.
If you plan on working with metal and are curious about what programs are available in your area, check out metalsmithsociety.com for schools and studios offering classes in the US and worldwide.
For continuing education information, visit https://www.jewelers.org/ja/careers-education/jewelry-education
---
2) Jeweler Apprenticeships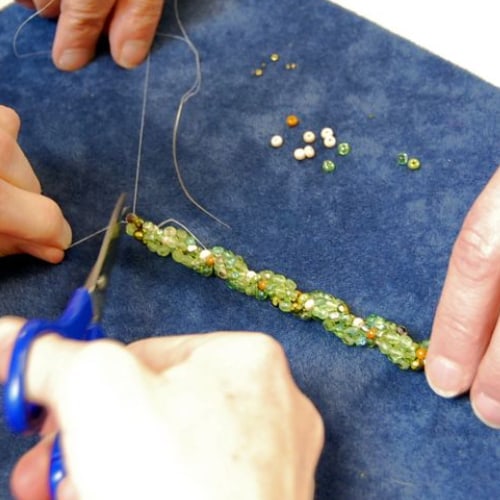 Jewelers planning to work with metal can benefit from apprenticeship programs with local master smiths and organizations. These apprenticeships operate like other metalworking apprenticeships, in which a prospective jeweler partners with an experienced artisan and learns everything he or she needs to know about the profession.
Apprenticeship programs are more common and well-established in the UK, where the tradition spans hundreds of years. If you reside in the UK, take advantage of this fact and consider a jeweler apprenticeship!
Apprenticeships allow for one-on-one training in a real workplace setting, so they are a great way to learn the trade in an individualized manner and become familiar with industry practices. One of the most prestigious apprenticeship programs for goldsmiths and jewelers is through The Goldsmith Company in the UK.
Apprentices learn the trade and demonstrate their skills at trade shows and events. If you are located in the UK or are willing to travel, this program is definitely worth checking out. For prospective jewelers in other regions of the world, inquire with local jewelry organizations or individual artisans in your area for information on apprenticeship programs.
---
3) Self-Teaching
Self-teaching is the most economical and individualized educational path for prospective jewelers. If you are self-motivated and highly curious about experimenting on your own, self-teaching can be an amazing method of learning.
Self-teaching allows you to discover what materials and techniques you prefer to work with instead of what an instructor tells you. You can work at your own pace on projects you are passionate about, all from the comfort of your own home work space.
Make use of online learning tools like YouTube, blogs, and even Instagram stories to learn more about the craft from online artists and teachers. Books are another classic and fantastic resources for budding jewellers!
---
Additional Skills & Requirements of Jewelers
Each jeweler has his or her own unique set of characteristics and mastered techniques. The following are a few skills all jewelers need to succeed at the craft and stand out amongst competitors. For those seeking self-employment, their skillset must be even broader.
1) Manual Dexterity
Jeweler making involves working with very small pieces of metal and other materials. Shaping small design elements in intricate ways requires a high degree of manual dexterity and the ability to perform repetitive motions with your hands.
---
2) An Eye for Design & Visualization
Jewelry making is a highly artistic craft that requires knowledge in design. Jewelers need to make good-looking products in order to sell them, and the more beautiful and tasteful their work is, the more sought after it will become. Many jewelers develop their own style and create their own signature designs for pieces. If you are seeking self-employment, having strong design skills are vital in creating marketable products that clients will recognize.
In order to create stunning original pieces, visualization skills are a must. Many jewelers sketch with pencil and paper, but CAD programs are becoming increasingly popular methods for designing in 3D. Many vocational programs now include CAD designing into their curriculum.
---
3) Customer Service/Business Skills
Whether you work for an employer or for yourself, you will be interacting with clients on a regular basis. Being personable, knowledgable, and helpful will show clients that you are a professional worth buying from. Common client interactions will include assisting with choosing and purchasing products, discussing design options, and sizing rings.
Self-employed jewelers need to have business and marketing skills in order to succeed in the competitive jewelry world. Consider managing several highly visual social media channels like YouTube and Instagram to show your designs to a wide audience and promote your products.
Small business owners in the arts and crafts industries commonly sell their products on personal websites and marketplaces like Etsy. Understanding basic search engine optimization and web design will be important.
Administrative tasks related to your online shop, social media, taxes, and client communication will take up a good chunk of your time and are vital to growing your small business.
---
Where Would You Work As a Jeweler?
Jewelers work in a variety of settings around the world. Your work environment will largely depend on whether you work for an employer or yourself.
1) Personal Studios
Self-employed jewelers work from home or in personal studios. You will be able to create a workspace that suits you best. Many jewelers have their own work bench or station with all necessary tools at their fingertips. Other artisans prefer roomier work spaces suited to designing, working, and hosting clients.
---
2) Storefronts/Local Businesses
Many traditionally educated bench jewelers work for local jewelry stores. They work as both salespeople and artisans to sell and craft products. Most stores have a showroom where pieces are sold and a studio in back where jewelers perform the majority of crafting and repairs. Jewelry stores are pretty easy to come by in most towns and cities worldwide and are therefore good places to seek employment, especially if you are new to the industry.
---
What is a Jeweler's Salary?
Jewelers employed in the US earn an average salary of between $24,000 and $67,700. In the UK, jewelers can expect to earn median salaries, of around £20,000-£77,000 or more as they gain experience.
For jewelers who are self-employed, annual income can be even greater than the estimates provided here, but largely depend on the types of products you create, the success of your marketing, and the price points at which you sell your products.
---
How Long Do Jewelers Work?
Jewelers can work part or full time depending on where they work and their personal preferences. Jewelers employed at stores usually work full time and earn a steady salary.
Small business owners often work more than 40 hours a week depending on client demand and the season. Holidays are the busiest times for entrepreneurs, so evening and weekend hours should be expected. Some jewelers also teach classes or monetize online videos to make additional income when necessary.
---
What Are the Career Prospects for Jewelers?
While the number of jewelers entering the workforce has been decreasing steadily over time, job satisfaction for jewelers is higher than average. When polled about their satisfaction at work, jewelers working for a company and for themselves reported to be happy in their profession. The relatively calm work environment and creativity involved in jewelry making are a few reasons why people are content in their career choice.
This rosy picture should be balanced with the reality that the jewelry making industry is highly competitive and traditional job growth is lower than most professions. Prospective jewelers can counter these challenges by becoming self-employed and focusing on building a solid portfolio and online presence to gain loyal clients.
The gemstone industry (which is closely linked to jewelry) is a multi-billion dollar industry that requires jewelers and others who are well-versed in precious gemstones and metals to buy and use their raw materials. There continues to be a need for jewelers, and although it is not a popular career path, it is one that is important to the economy today.
Plus, with greater online business opportunities than ever before, even hobbyist jewelers can sell their products and earn a solid income.
---
Preparing for a Career in Jewelry Making (Things You Can Do Right Now!)
If jewelry making is something you are interested in pursuing, you can take actionable steps towards your goal by jumping in and learning as much as you can about the trade.
1) Art Classes/Self Teaching
Start taking art classes in high school or college if you are still in school, or enroll in classes at your community art center. Any art classes will help you refine your artistic skills and understand key art concepts. Jewelry making classes will obviously be highly relevant and helpful to you.
Self teaching is another great way to prepare for a career as a jeweler. You can find out what materials and tools you prefer and work with various techniques taught online and in books.
---
2) Create a Portfolio and Online Presence
In today's competitive job market, much of your success as an artist will depend on your presence, both in person and online. Take high-quality photos of your work and compile them into a physical or digital portfolio. Make a personal website showing off your designs and explaining your process and sources of inspiration.
YouTube and Instagram are great platforms for interacting with potential clients and teaching them about your work as a jeweler. If your audience becomes dedicated to following your work on social media, they will likely be happy to purchase your work once you are ready to open an online store.
---
3) Get a Job at a Local Jewelry Store, Art Gallery, or Art Supply Store
Another great way for an aspiring jeweler to learn about the craft is to work in a jewelry store, even before getting professional training. Many jewelers hire salespeople with limited knowledge of jewelry itself, but who have an eye for style and great customer service skills. You will be able to learn more about jewelry on the job as you handle merchandise and interact with clients.
Art galleries are another great option for employment before becoming a professional jeweler. You will be able to see local or regional artisans' collections and gain inspiration. Plus, being affiliated with gallery will make it easier for you to show your own work there one day!
Finally, if you are passionate about art in general, consider working at an art supply store. You'll be able to handle different jewelry making materials like beads and stones and assist fellow jewelry hobbyists.
---
Are You Ready to Become a Jeweler?
Jewelry making is a great career choice for creative individuals interested in making wearable art. There are many paths to becoming a jeweler, but hopefully this article helped answer some of your questions about the work jewelers do and how you can become one.