Best Oil & Sealer for Shou Sugi Ban 2021 (How to Seal Shou Sugi Ban)
Shou sugi ban is a durable Japanese wood product commonly used in interior design, siding, and other exterior projects. The charred wood lasts for decades even without regular upkeep, but regular re-oiling can protect the original color of the wood and prevent premature weathering in harsh climates.
Many shou sugi ban owners wonder what types of finishing products are best, and there are a few options to consider based on where your shou sugi ban siding is located and whether your manufacturer has any specific recommendations.
---
How to Prepare Shou Sugi Ban for Finishing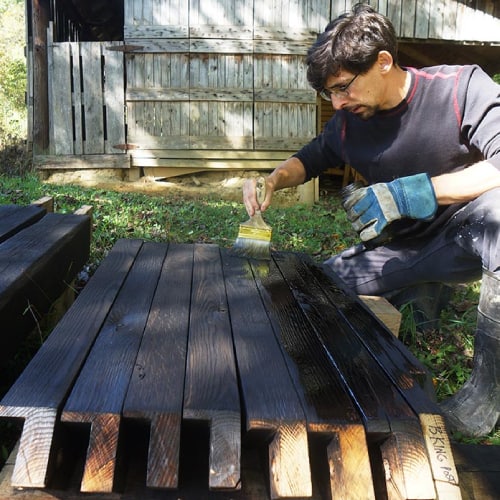 Interior shou sugi ban does not need to be refinished as often as exterior wood, but it is still a good idea to apply products every few years or so to lock in the original color of the wood.
Preparing interior shou sugi ban usually only requires gentle dusting with a soft cloth and warm water if necessary.
Exterior wood will likely be far dirtier, but you should still use care when preparing the surface for refinishing. Use a soft cloth or brush and a mixture of mild soap and warm water to remove any dirt from the surface. Harsh cleaning products and power washers should not be used, as these wear down the surface of the shou sugi ban.
---
Considerations Before Applying a Finish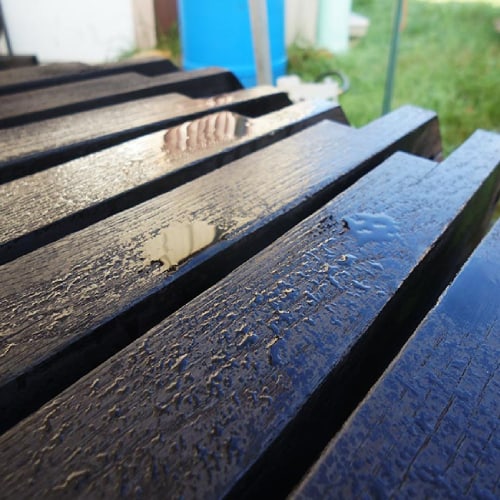 1) Test your finishing product on a small patch of wood.
Before applying finish to the entire shou sugi ban surface, find a small, inconspicuous area to test the finish on. This could be near the roofline or ground if the shou sugi ban is used as siding, or behind any foliage that may grow in front of the wood.
Just find a spot that won't be seen easily and apply a small square patch of finish to see how it reacts with the wood.
---
2) Apply the finish in thin layers.
Less is more when it comes to re-oiling shou sugi ban. The wood has such a unique texture and appearance that too much oil can distract from its natural look. Plus, using an excess of oil just isn't necessary considering the durability of shou sugi ban.
---
4) Work in a well-ventilated area.
Finishing products are made of strong chemicals that are potentially damaging when inhaled. Work in an airy, open space to avoid health risks.
---
Best Types of Shou Sugi Ban Oils & Sealers
1) Traditional Wood Oils
Sale
Bestseller No. 1
Traditional wood oils include linseed, teak, and tung oils. These are plant derived and provide a natural finish to any shou sugi ban product.
Traditional oils are easy to find at local hardware stores and other retailers. Because they are mostly natural, many people prefer working with these products. They help deepen the appearance of wood grain and lock in the original color of shou sugi ban well.
Traditional oils are not as long lasting as other products available and do not provide the best UV protection, meaning shou sugi ban will typically fade faster with a traditional oil finish. Traditional oils should be reapplied every 1-10 years.
Overall, if you are someone who prefers a more natural finishing product for exterior use, and want to prioritize the general appearance of your shou sugi ban, traditional oils are the best choice for you!
Advantages
Easy to find at local stores and online

Natural

Bring out the organic, nuanced colors of shou sugi ban

Help to enhance the wood grain
Disadvantages
Not the best option for interior shou sugi ban

Not as long lasting as other options

Less UV protection than other options
---
2) Alkyd oils
Sale
M. Graham 8-Ounce Walnut/Alkyd Medium
Thins the color and accelerates drying and enhances adhesion between layers
Increases surface sheen and flexibility while remaining non-yellowing
Increased flow allows more control over all types of painting application
Alkyd oils are highly recommended by shou sugi ban manufacturers because they provide long lasting protection. They are plant derived and chemically altered oils modified into a polymer that offer maximum UV protection and defined color.
The chemical composition of alkyd oils make them ideal for use on exterior shou sugi ban surfaces. As they erode over time due to sunlight and other weathering, alkyd oils break down in a pixelated pattern that is less detectable and still able to provide some protection until you re-oil. This product should be reapplied every 2-15 years.
Alkyd oils may not enhance the look of shou sugi ban the way traditional oils do. If you are prioritizing longevity over aesthetics, these types of oil products would be a great choice.
Advantages
Longest lasting finishing product available for shou sugi ban

Highly recommended by many top shou sugi ban manufacturers

Fades in a pixelated pattern that is less noticeable than other products
Disadvantages
Does not always define shou sugi ban wood grain and texture as well as traditional oil

Not as natural as some traditional oiling options

May be harder to find at local stores
---
3) Polyurethane
Polyurethane is one of the most common wood finishing products. It comes in spray on and brush on varieties and in a wide range of formulas. High gloss, gloss, and semi-matte finishes are popular options.
Petroleum and plant derived polyurethane products are highly recommended for interior shou sugi ban. They provide a shine and protect the wood from dust, sunlight, and other factors. Shou sugi ban that is used inside requires far less maintenance than exterior siding, so affordable polyurethanes usually do the trick in protecting the wood.
Advantages
Ideal for interior shou sugi ban

Available in several varieties

Easy to find in stores and at online retailers and affordable
Disadvantages
Only recommended for interior shou sugi ban

Basic finishing product that may not provide as many advantages as the other options
---
4) Nothing!
The easiest and most cost-effective option for finishing shou sugi ban is doing nothing at all! Shou sugi ban is made to be durable, so if you prefer a natural patina, feel free to leave your shou sugi ban alone. This is the most common finishing option in Japan.
Advantages
Easy

Cheap

Traditional

Natural weathering makes each plank of shou sugi ban entirely unique
Disadvantages
Shou sugi ban will lose its original color over time and will eventually break down (although this takes decades)
---
Additional Information on Shou Sugi Ban Oiling & Maintenance
The following video includes a detailed discussion of shou sugi ban maintenance and best practices for oiling and upkeep. While we recommend watching the video in full, we have also summarized the main points here.
This video by Nakamoto Forestry shows you how to perform routine maintenance on outdoor shou sugi ban wood. The wood wall in the video is four years old and has some normal wear and tear from being exposed to the elements. The wall has dirt and pollen accumulation, light damage from animals, and some shifting from changes in temperature.
The first step covered in the video is assessing your shou sugi ban for damage such as the examples listed above. Most wear and tear can be fixed by cleaning, re-nailing, and oiling the wood.
If there are any areas of the shou sugi ban that have shifted or come apart from seasonal weather changes, use a hammer and headed nails to even the wood out again and close it up.
For dirty shou sugi ban, use water or a mild TSP (Trisodium Phosphate) solution and a soft cotton cloth. Do not use harsh brushes or power washers on any outdoor wood. Once the wood has been cleaned, rinse with a hose. Feel free to scrub wood that is not shou sugi ban with a bristle brush as shown in the video.
Allow all wood surfaces to dry completely in the sun. Once dry, apply a new coat of oil. Linseed oil with a mineral oil base is recommended because it is natural and durable. Choose a variety with UV protection if you are concerned about fading. An oil with a black pigment will make the shou sugi ban look like new and cover up any damage done by animals.