List of Bladesmithing Tools, Swordsmithing Tools & Blade Making Tools 2021 [Updated]
The crafts of bladesmithing and blacksmithing are very intertwined, with there being is a lot of overlap between the tools, and even techniques, used in these crafts.
Although many of these tools serve a similar core function between the trades, there are also a few more specialised tools that can accomplish specific tasks that are difficult to achieve through general purpose equipment.
In this article, we will discuss the useful bladesmithing and blade making tools and what they are mainly used for in these trades, as well as make recommendations on what models, brands and types of equipment to consider.
---
Complete List of Bladesmithing & Swordsmithing Tools
The forge is a critical piece of equipment in a bladesmith's workshop. This is the tool where the metal can be heated to a working temperature that allows the bladesmith to shape and form the blade without compromising the strength of the material.
A forge can be heated to different temperature ranges to accommodate the appropriate temperature conditions for your application. Forges can be fueled in different ways, including charcoal and propane gas.
Check out our full guide on forges and what we recommend in our article here!
---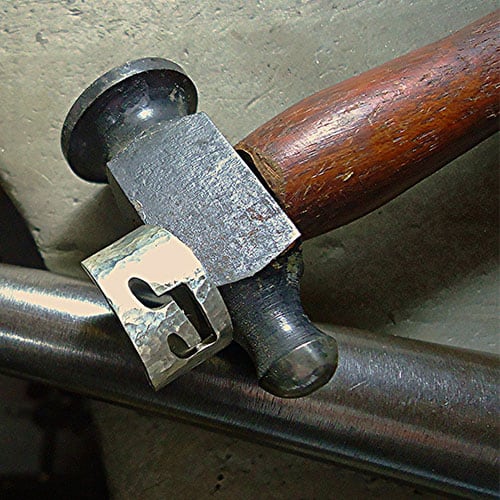 Hammers are very versatile tools that allow the bladesmith to flatten the sides of a blade and increase the hardness through compressive forces. It is important that the hammer is strong enough to change the shape of a workpiece when it is struck, but it should not be tougher than the surface on which the workpiece is placed, which is typically an anvil.
There are many different types of hammers available for all kinds of applications, but if you don't want to buy multiple hammers, a good all-rounder used for bladesmithing would be one with a flat and rounded face, such as a ball-pein (below). These two components will allow you to both flatten a blade and extend or stretch its surface when it is in a softened or heated state.
Hammers are easy to source at many hardware stores and online shops. You can see our recommended forging hammers here!
---
The anvil is a multi-purpose tool that basically acts as a flat surface on which to shape a heated blade. The main reason why this tool is used rather than a simple workbench is that an anvil provides a much harder and sturdier surface.
The anvil should be able to withstand repeated blows by a hammer to a heated blade positioned on top of it without exhibiting signs of cracking or degradation. Good anvils for bladesmithing can be difficult or expensive to source, but made hobbyists use a tough stone or slab as an anvil.
For a list of the best quality anvils for bladesmithing,  see our full anvil article.
---
Tongs are very useful tools in bladesmithing because they allow you to grab the hot workpiece and maneuver it with ease without having to grab it with your hands. Tongs allow you to move and flip over the blade when shaping it, giving you firm grasp on the workpiece along with ease of mobility.
Since there are a variety of tong shapes, it is important to find and use tongs that can properly hold material in the shape of a blade. For more information and some tong recommendations, refer to our comprehensive guide here.
---
5) Chisels
Chisels can be used in the bladesmithing craft to cut the steel or to carve out channels in the handle or hilt of a knife or sword. This tool is typically made up of a wooden handle and a blade-like end that can cut through wood or metal when struck.
---
6) Sandpaper
Sandpaper is used to finish the surface of a blade. There is a variety of sandpaper made of different grits that can be used for a wide range of applications. Its rough, textured surface smooths out the imperfections accrued from working the blade and levels its surface. A clean surface finish could be attained using wet and dry sandpaper.
---
7) Punches
Punches can punch holes through a metal blade, which can aid in the detailing process of bladesmithing. A heated blade can be placed over the pritchel hole part of the anvil to allow the punch to go through it.
---
8) Drifts & Swages
A drift is similar to a punch, but its main purpose is to expand the hole created by a punch. Drift tools come in different sizes and face diameters so it is relatively easy to find one that will be appropriate for your application.
A swage can be used to round or make a groove in a blade. This is a tool that can fit into the hardy hole of an anvil to ease the process of bending the blade.
---
9) Pyrometers
Pyrometers allow bladesmiths to remotely measure the temperature of a surface. This is an incredible tool to invest in as a bladesmith and metalworker because it can help you determine how close you are to the ideal working temperature of a metal.
Sometimes a blade can be too hot to handle or too cold to work, so having a tool that can measure the blade's temperature would be a great help.
---
10) Electric Saws
No products found.
Electric saws greatly facilitate the process of sawing sheets of metal. They can make the process of removing excess metal from your starting materials to make it reach a closer size of the blade you intend to make.
---
11) Grinders
Grinders are another great tool to have in order to smooth out the surface of a blade and to remove the excess metal. This process can be very tedious to do by hand, so an electric grinder could save you a lot of time and energy when bladesmithing.
---
12) Heat-Resistant Aprons
An apron is a very important and useful type of personal protective equipment. Not only do they protect bladesmiths from the hot blades, but they can provide practical compartments in which to store tools that can be used during the bladesmithing process.
Aprons used in bladesmithing or blacksmithing are available in different designs and materials in many hardware stores and online.
---
13) heat-Resistant Gloves
Gloves are a great safety measure when working with hot materials. They protect your hands and allow you to pick up and move objects without much risk of burns. There are many types of gloves made of different materials that can work with your particular application.
---
14) Safely Glasses
Safety glasses can prevent serious injury to your eyes. It is important to wear safety glasses during the bladesmithing process, as there are many opportunities for injury if not careful.