Best Blacksmith Hammer Types & Forging Hammers (Ultimate Hammer List)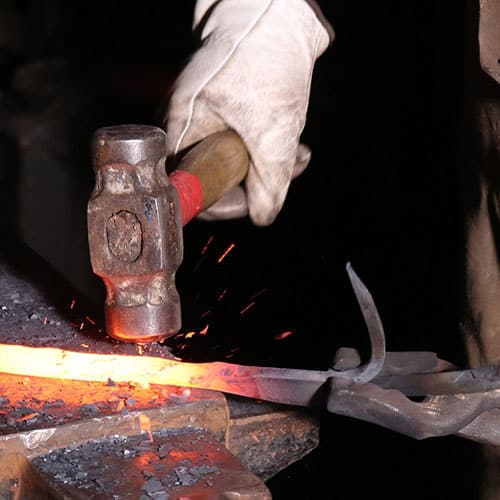 Blacksmithing hammers are an integral part of the metalworking process, and one can even go so far as to say that they function as an extended portion of a blacksmith's arm!
There is a wide variety of blacksmithing hammers available for use, but not all of them serve the same purpose. The type of hammer you use depends on many factors. Some of these factors include your specific needs and skill level, as well as the application for which the hammer will be used, whether that be general blacksmithing, bladesmithing, farriering or something even more specific.
Choosing a blacksmithing hammer is not always easy decision, especially as a beginner, as selecting the wrong type, weight or style can severely hinder progress of skills and the outcome the work piece . This article is intended for both beginners and veterans of metalworking, and instead of recommending very specific hammers, we go over, in-depth, all the different hammer types and explain their advantages and disadvantages for blacksmithing, forging and metalwork.
---
Blacksmith Hammer Considerations – Which Type of Hammer is Right for Me?
1) Type & Style of Hammer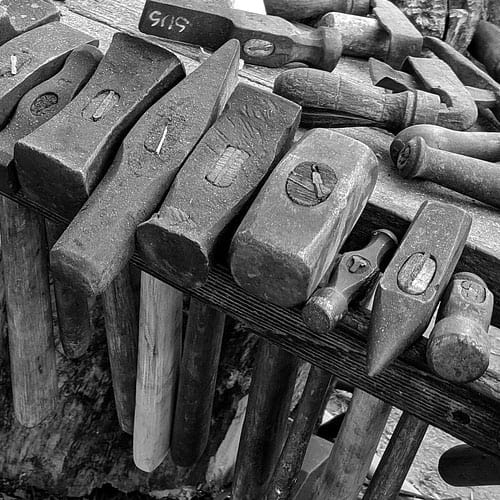 One of the most important things you should consider when purchasing a blacksmithing hammer is the specific type of the hammer on offer and what you intend to actually do with it. There are many shapes, types and styles that can be used for a variety of applications, and, as a practicing blacksmith, you should have an idea of what those applications might be (more on this below in our hammer list). For example, are you wanting to mostly bladesmith? Carry out farrier work? Concentrate on decorative pieces, or do a bit of everything? All of these things can certainly be carried out with 'all-purpose' hammer types, but you may also want a more specialist (supplementary) hammer on-hand to further enhance your final working.
As a recap, most hammers generally have two ends that can be the same or different shapes. These ends are referred to as the faces of the hammer. The faces of hammers can be curved or flat and have different cross-sectional shapes (patterns), so picking the correct hammer shape is also a critical variable to consider, because it directly affects the final shape of the forging. When we say "type" of hammer, we're referring to the core design and it's function – cross peen, ball peen, sledge, chasing, creasing etc. The core type of hammer is more important than it's style, and you should make sure to select the right one for whatever you're intending to focus on.
Style vs Type – What's the Difference?
As you may have already noticed browsing hammers, some hammers can be similar in design, but can still look somewhat different. These subtle differences can often be attributed to their overall style, which is usually an indication of the country of origin, and can include styles such as Swedish, French, Japanese and New England patterns.
Usually these styles will be represented as"Swedish Cross Peen", or "German Cross Peen" etc, so you know the base design 'type' is cross peen and the 'style' is that of Swedish and German origin. Although similar, the small differences in form and shape of these hammers can still slightly alter function, and some may argue certain styles are simply an advancement of the classic type with little drawbacks.
Which style is best? Well, just like fashion, opinions come and go, and at the end of the day, none will drastically alter the final work piece in comparison to a regular hammer if all other things are equal (skill, materials, time), so we recommend simply picking up whatever is most comfortable, appealing or economical for your intended applications and budget. How comfortable and how well a hammer fits and works in your hand is much more important, especially for a beginner, than it's style!
---
2) Usability & Weight (Go Lighter!)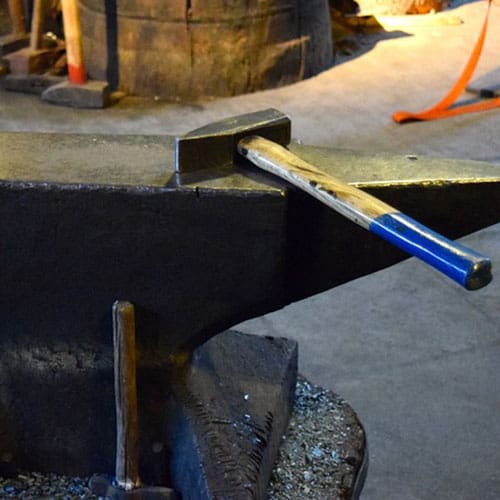 The ease-of use of any particular hammer is another factor that must be taken into account when deciding which type of hammer to purchase or use for blacksmithing, especially as a beginner. There is a wide range of different weights among blacksmithing hammers that can make some of them more difficult to use depending on the strength and skill of the individual, as well as how comfortable you are with that particular style of hammer (if you don't get on with some styles, more weight will often just make them worse!).
In general, unless you need to flatten or move larger amounts of material, a blacksmith's skill with a hammer is important than the hammer's weight, which is why lighter hammers can often get the same job done without stressing your arms or affecting your movement. In most cases, you'll only be forming hot metal within a 1-3″ diameter, and due to this, control is of higher value – something you'll get with a lighter hammer!
Lighter hammers are naturally easier to wield, but a downside is they do not always achieve the desired metalworking result, because they typically have a lesser driving force than that of a heavier hammer. However, using a lighter hammer will allow a novice blacksmith to hone his or her hammering skills, without being limited by the weight of the tool. For the most popular "all-purpose" blacksmith hammers, such as ball/cross peen or rounding (see more below), a weight of between 2-3 lbs is ideal for a beginner to get used to the tool without risk of injury.
---
3) Cost – New Vs Used Hammers
The cost of a hammer depends on the material and style of hammer. A high quality hammer can last a long time, but quality hammers are typically more expensive. In fact, a high quality hammer can sometimes be harder to source than a low quality hammer. A low quality hammer can be cheaper, but the return on investment would definitely be lower if it wears or is easily damaged. In that case, the cost of replacing a hammer would discount the savings made at the time it was initially purchased.
Since good quality hammers can very expensive to purchase new, blacksmiths often purchase used hammers. Used hammers can often be found in antique stores for a lower cost and can still yield satisfactory results when metalworking.
---
4) Go Wooden, or Go Broke
Finally, for use with blacksmithing, we generally always recommend hammers with a wooden handle and grip. Although sometimes more comfortable, plastic or fibreglass handles don't tend to fair well in such close proximity to hot work pieces, and you'll likely see some deformation over time. Wooden handles provide great heat protection, and are comfortable enough for long working sessions. The length of the handle also plays a role and is certainly something to consider, with some smiths preferring long handles and others shorter. Unlike other choices here, this one isn't as clear-cut, and you likely won't know what length is best for you until you've tested and been through a whole bunch of hammers, so we wouldn't dwell on it too much!
---
Best Blacksmith Hammers Types For Beginners (Universal Hammers)
Style: Multi-purpose
Difficulty: Easy/Novice
Cost: Low
The ball-peen hammer is known as the machinist's hammer and has two different faces. One of the faces is rounded, known as the peen, and the other is flat. It actually resembles a typical household hammer due to the flat shape of one of its faces.
The ball-peen hammer is considered a peening hammer. Peening is a coldworking process that improves the material properties of a metal as a result of hammer blows, specifically by increasing the strain hardening of a workpiece.
The handle of the ball-peen hammer is typically made of a wooden material and the head is sometimes made of high-carbon steel or alloy steel, making it a strong metal. Consequently, the ball-peen hammer works well for texturing applications and even in the production of specialized swords and knives. The flat face of the ball-peen hammer makes it very easy to smooth out dents. Since its weight ranges from less than 1 to 3 pounds, it is considered relatively light in weight and easy to handle. A commonly considered ideal weight for a beginner would be around 2 lbs, which provides decent driving force but won't destroy your arms in the process!
This type of hammer is very common, making it easily accessible to the general public and can be found in many hardware stores for a low price.
Advantages
Disadvantages

Lightweight
Multi-purpose
Inexpensive
Curved and flat face
---
Style: Multi-purpose
Difficulty: Easy/Novice
Cost: Low
The cross peen hammer is very popular among blacksmiths because it can serve many different purposes. The reason for this is that it has a two unique striking surfaces. One end of the head is a flat face and the other is a narrower wedge-like face called the cross peen. The parallel cross peen surface allows for the hammering of smaller objects without accidentally hitting your fingers. It excels as a forging and riveting tool in blacksmithing, but is also fantastic all-purpose hammer for beginners and experts alike. These hammers commonly come in different styles, such as Swedish, German & French, so you have the ability to change out styles and see what's best for you.
Although cross peen hammers can also be used in woodworking, heavier cross peen hammers are typically used in metalworking applications, because the weight of the hammer itself increases its driving force for impact with stronger materials than wood. In terms of weight for a beginner, and similar to the ball pein hammer, finding a model within the 2-3 lb range is ideal as you'll need time to become accustomed to using it.
Advantages
Disadvantages

Multipurpose
Lightweight
Various sizes and weights
Easy to use
---
Style: Multi-purpose
Difficulty: Easy/Novice
Cost: Medium-High
Rounding hammers are a popular choice of hammer for farriers to shape and tweak metal. They can draw out steel faster than most flat-faced hammers due to their rounded faces. Despite the rounded face, they are also characterized by a flat path that serves a smoothing tool and an edge that aids in creating different shapes on the workpiece.
Since rounding hammers are capable of shaping metal in different ways and are not nearly as mass-produced at ball-peen or cross peen hammers, they are generally more expensive than traditional hammers. Although its price is higher, many blacksmiths consider the rounding hammer a great all-purpose tool, for a beginner either a cross or ball peen would probably be a better (and cheaper) choice! In terms of recommended weight, it really depends on the individual and how good they are working metal, but anywhere between 2.5-4.5 lbs is a common weight range for this style of hammer.
Although there is much debate about the use of rounding hammers in blacksmithing, and whether they're better or worse than regular cross/ball peens, it really comes down to personal preference. Some blacksmiths love handling and using rounding hammers, whereas others much prefer a cross peen hammer, so you may not know until you try! A good alternative to regular peen hammers if you want to get your hands on something different.
Advantages
Disadvantages

Two different faces
Can create different shapes
Smooths
Lightweight
Easy to use

Average driving force
Can be expensive
---
Types of Blacksmith Hammers For Speciality Work (Supplementary Hammers)
Style: Specialized (supplementary)
Difficulty: Easy/Novice
Cost: Low
The chasing hammer is a unique tool that does not actually come into direct contact with the workpiece. The word "chasing" in its nomenclature is indicative of its actual function. In fact, it chases the tool that is being used to deform the workpiece. It acts as a supplementary tool to the actual tool that is in contact with the work surface.
The face of a chasing hammer is generally large and flat. Although the most important part of a hammer is typically the shape of its head or face, in this case it is not particularly important in the function of a chasing hammer.
In fact, the handle of the chasing hammer is the most important component when choosing a chasing hammer. The handle of a chasing hammer acts as a spring and usually has a wider base. The chasing hammer is operated through successive, light blows powered by the hand and wrist muscles.
Advantages
Disadvantages

Lightweight
Large flat face
Inexpensive
Handle acts as spring, increasing control of tool
Easy to use

Not meant to have direct contact with workpiece
---
Style: Specialized (supplementary)
Difficulty: Intermediate
Cost: Low
The creasing or bordering hammer serves as a tool to make creases on metal discs. The overall shape of this hammer is a slim rectangular head with a curved edge at the top. The face of this hammer actually gets narrower at each end of the head. This type of hammer typically weighs less than one pound, so it is relatively easy to maneuver. The usual product that this hammer is used to create curved rims at the top of metal bowls or pieces of jewelry.
Advantages
Disadvantages

Lightweight
Specialized used for radial crimps
Inexpensive
Easy to use

Cannot be used for many general purposes
May need to be polished depending on the smoothness of work surface
---
Style: Specialized (supplementary)
Difficulty: Easy/Novice
Cost: Low
The embossing hammer is used to create raised areas and features in a metal piece by striking the material from behind or inside. Embossing hammers have two rounded faces with slightly different sizes. Although the faces have relatively smaller diameters than regular hammers for more detailed work, the size of these faces can vary depending on the size of the work itself.
Since they are generally small, they are easy to wield and use. These types of hammers are often used in jewelry-making or decorative work. Embossing hammer are commonplace and can be easily purchased online or at hardware stores.
Advantages
Disadvantages

Special purpose
Decorative work
Various face sizes
Inexpensive
Easily accessible
Easy to use

Specialized work, not many purposes
Average driving force
---
Style: Specialized (supplementary)
Difficulty: Easy/Novice
Cost: Medium-High
Forming hammers are similar to embossing hammers due to their shape. They feature rounded faces that shape or stretch the workpiece into a domed shape. Forming hammers typically have a similar curvature to that of the desired shape of the worked metal. Metal bowls, vases, or platters can be formed using forming hammers.
Advantages
Disadvantages

Easily forms rounded shapes
Can be slightly expensive depending on vendor and materials used
Easily accessible
Easy to use

Specialized work
Average driving force
---
Style: Multi-purpose (light work)
Difficulty: Easy/Novice
Cost: Low
The goldsmith's hammer is composed of a cross peen face and a flat face. This hammer does not weigh very much, so it is easy to hold and use. The two faces on this hammer make it a great tool for riveting and simple forging applications and can be modified to improve its function. Goldsmith's hammers are not very expensive and easy to source.
Advantages
Disadvantages

Lightweight
Riveting applications
General purposes
Inexpensive
Easy to use
---
Style: Specialized (refinement)
Difficulty: Intermediate
Cost: Medium-High
The planishing hammer is a great tool to use for refining the pieces of work that have been shaped through repeated hammer blows. This type of hammer actually smooths out the traces left by previous hammer blows on the outside of the workpiece. Since there are many different shapes that need to be refined, planishing hammers can usually be found with flat or slightly curved faces. Their faces can also have a square or circular cross-section.
During planishing, the workpiece is typically placed on the surface of a planish stake, underneath the planishing hammer. The shape of the planishing stake is also important, because it should match the contour of the final workpiece shape. Due to the desired smooth finish of the workpiece, the planishing hammer itself must be polished and maintain a mirror finish to effectively straighten and refine the workpiece. Pneumatic planishing hammers typically come with a planishing stake and are more expensive than just a planish hammer, but can be easily purchased online.
Advantages
Disadvantages

Refines workpiece
Different face shapes
Pneumatic planishing hammers available
Lightweight

Planishing stake may need to be purchased
Pneumatic planishing hammers are more expensive
Planishing hammer must be polished
---
Style: Specialized (supplementary)
Difficulty: Intermediate-Expert
Cost: Low-Medium
A raising hammer is used to form the shapes of metal bowls other domed metal pieces. Raising hammers have two faces with rectangular cross-sections and are vertically curved. This curvature, along with the angle in which the hammer impacts the surface of the metal piece, is what facilitates the raising of the workpiece.
Raising hammers are often used in conjunction with raising stakes, which is where the metal piece with mounted or held while receiving the hammer blows on its surfaces. The metal piece itself is typically rotated along the stake while it is shaped into a concave form from the outside.
Advantages
Disadvantages

Raises domed shapes on metal surfaces
Lightweight
Easy to use
Easily accessible
Inexpensive

Requires raising stake for proper shaping
A certain skill level required to know the correct hammering angle
---
Style: Specialized (supplementary)
Difficulty: Intermediate
Cost: Low
The riveting hammer many general uses, but it is especially great for spreading the heads of rivets. It features a long head, a flat, rectangular face on one side, and a peen shape on the other side. Riveting hammers are used to connect two different metal parts, which is also one of the functions of the cross peen hammer. Riveting hammers are often used as jewelry tools for adding texture to sheet metal parts. These hammers are usually very lightweight, easy to use, and inexpensive to purchase.
Advantages
Disadvantages

Specialized purpose
Adds texture to workpiece
Lightweight
Easy to use
Inexpensive
---
Style: Multi-purpose (great for stamping)
Difficulty: Easy-Intermediate
Cost: Medium-High
A mallet is a kind of hammer that is characterized by a large head. The brass mallet is very consistent with this description as it can feature a large circular or rectangular cross section when compared to regular hammers. The defining characteristic of this mallet is that its head is made out of brass, which is a copper and zinc alloy metal.
The brass head is advantageous because it reverberates less than steel when it strikes a metal workpiece, making it easier to control than typical carbon steel hammers. The ease of use of this hammer makes it a great candidate for stamping work because limited movement is ideal during this process.
Advantages
Disadvantages

Good control
Low reverberation
Large head
Stamping work
Good driving force
Easy to use

More expensive than regular hammers
---
Style: Specialized (supplementary)
Difficulty: Easy/Novice
Cost: Low
The wood mallet is another mallet made up of a softer surface than metal. It is lightweight and easy to use. In fact, it can be easily adapted for different applications by changing its shape through woodworking.
A wooden mallet with a typical large face is a good shock absorber and does not leave a mark on the work surface. Wood mallets are a great tool to use when working with sheet metal.
Advantages
Disadvantages

Lightweight
Great for sheet metal work
Easy to use
Inexpensive
Soft and no markings left on work surface
Shock-absorbant

Lower than average driving force due to low weight
---
11) Power Hammer
Style: Highly Specialized (supplementary)
Difficulty: Expert
Cost: Very High
Power hammers are very distinguishable from the hammers mentioned thus far. They are mechanically operated forging hammers that deliver a strike onto the workpiece via an accelerated blow. These types of hammers are also known as open die forging hammers. Power hammers can be very expensive to purchase if you are a novice blacksmith or simply looking to develop a hobby. They are much heavier than handheld hammers, but their driving force is not a result of a human muscle motion.
It is important that blacksmiths know how to properly operate this type of machinery prior to using it. Proper safety precautions must always be taken during metalworking, especially whenever heavy machinery is involved.
Advantages
Disadvantages

Efficient, accelerated blows to workpiece
Not human muscle limitations or requirements
Good driving force

Much more expensive than handheld hammers
Operators must be aware of safety precautions and risks
Depending on size, they can be very heavy and take up a lot more space than regular hammers