Guide to Home Glass Blowing Setups 2022 (Considerations, Tools & Advice)
Due to the potential dangers and intricacies associated with glassblowing and lampworking, many artisans prefer to work with glass in studios separate from their personal properties.
Glass blowing requires hot glass, large kilns and other large equipment while lampworking is done on a smaller scale with glass that is also very hot.
While it is more common for glassworking to be done outside the home, lampworking in particular can be done safely within the comfort of your own home if certain precautions are taken and the proper tools are used.
Setting up a home glass blowing or lampworking studio can be great for artists looking to start at-home businesses and experiment with glass without the pressures of outside studio time.
---
What Tools Are Needed for Home Glass Art Setups?
To begin working with glass effectively and safely at home, consider investing in the following tools and materials:
1) Glass Rods
Invest in glass rods of different sizes and colors to ensure you have the right glass for any project. Glass rods can be purchased online in bundles and are included in lampworking kits. Most kits provide an assortment of different colors.
---
2) Mandrels
Hot glass is wrapped around mandrels to form holes for beads. These tools are essential if you plan on making beads. They are handy to have in your setup regardless because they can be used for a variety of projects. Mandrels come in a variety of sizes depending on the project being completed.
---
3) Marving Plates
Marving plates and other marving surfaces are tools used in the finishing stages of glass blowing and lampworking. They are usually made of metal and help smooth out projects into an even, finished shape. Glass is rolled across the marving surface while it is cooling down to get rid of any lumps or bumps that are not ideal in a finished piece.
---
4) Lampworking Torch
Instead of a large furnace, lampworking requires a small torch and source of fuel, like a propane tank. Most starter kits do not come with propane, but they do offer a torch to be attached to a fuel source. Regardless of whether you choose a kit or purchase materials separately, a high-quality torch is the most important tool in your home setup.
---
5) Bead Release
Devardi Glass Pro Lampwork, Beadmaking Bead Release. 14 ounce
Devardi Glass Lampwork Bead Release. Flame or Air Dry.
Bake on release provides the strongest bond. Breaks down when cool. Easy to remove beads later....
This is a bake-on release. YOU MUST FOLLOW INSTRUCTIONS INCLUDED, or it may not work well for you....
Bead release is a liquid agent that mandrels are dipped into to prevent beads from sticking. Using bead release allows you to use mandrels over and over again. This product is great for beadmakers, but can be used on other projects.
---
6) Rakes & Picks
Soldering Pick Tungsten Welding Platinum Metal Tool
This is a new tungsten soldering pick
It has a fine machined tip that collects the exact amount of solder for precise application
Will not contaminate platinum and can withstand higher temperatures than titanium picks
A rake in glassworking is a small metal rod with a bent end, whereas a pick has a straight tip. Rakes and picks manipulate hot glass and allow you to swirl, drag, and press glass as needed. Having a few in your home setup will allow you to make different shapes and patterns in your pieces.
---
7) Cooling Fiber Blanket
Fiber blankets are used to cool finished beads. Most can withstand heat up to 2,300 degrees Fahrenheit. Fiber blankets can be used on their own or added to kilns for extra insulation.
---
8) Safety Equipment
Safety equipment is always important, but when working with extreme heat and propane fuel in your home/on your property, safety equipment like gloves, glasses, and aprons are essential. Invest in safety glasses that meet your specific needs. Glasses have different lenses depending on the type of material you work with and the fuel used.
---
Home Setup Kits vs Buying Separately – What's Best
Glassblowing and lampworking companies sell pre-made kits (our recommenced kit above) that include all the basic equipment and materials you will need to begin lampworking at home. These are cost-effective and take the guesswork out of purchasing lampworking materials.
Kits are made for beginners, advanced glass artists and everyone in between. If you do not want to commit to spending thousands of dollars on lampworking, or are not sure what tools are best, kits make it easy to get started.
Kits are a great option for most people, but you can buy supplies individually from large online retailers or local stores if you are looking to create a more unique or elaborate setup. If you are sure that lampworking or glassblowing in your home is right for you, investing in separate, high-quality supplies will be beneficial in the long-run.
Do your research before making any large purchases to make sure you get what you need at the best price for your budget!
---
Considerations for Home Glass Blowing & Lampworking Setups
Creating a home setup for glass blowing or lampworking is a serious endeavor that should only be done after taking into consideration whether it is right for you.
There are pros and cons to having a home studio which will depend on personal needs and preferences as well as what you decide to make and whether you will be selling your finished products.
The following are some factors that may help inform your decision regarding home setups and their viability in your life:
1) Cost of Working Glass at Home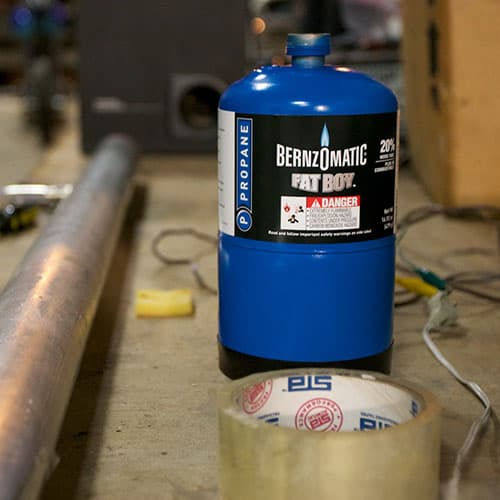 Glassworking takes time and money, so knowing the costs and budgeting for them can help you decide if a home setup is right for you. Besides the startup costs of buying the necessary equipment, you need to consider how much fuel you will be using each week or month and its cost.
Depending on the types of projects you make, you may need to restock your materials frequently, which also adds up. If you desire to make glassworking a business, knowing your expenses and budgeting will be vital for your success.
Glass blowing equipment is obviously much more of an investment than lampworking equipment. If you want to experiment with hot glass at home on a budget, lampworking is going to be the right choice for you.
---
2) Local Business Licensing & Insurance
Depending on where you live, you may need a license to legally operate a business and sell from your home. Research policies in your area to ensure you are following proper protocol.
Insurance is needed for home glassworking studios. Talk to your home insurance agent about your setup to find the policy that is right for you. Due to the dangerous nature of glassworking, insurance may be tricky to get for a reasonable rate, so consider this when budgeting.
Certain insurance companies exist solely for glass artists wanting to show their skills at art shows and annual policies start at under $300. If you intend on participating in glassworking activities outside of your home, consider purchasing one of these policies.
---
3) Protective Equipment & Safe Installations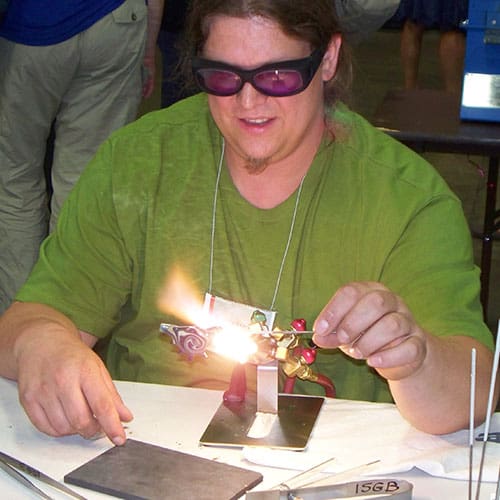 Owning and using the protective equipment described previously in this article will keep you safe, but make sure your surroundings are also safe by working in appropriate areas. Studio floors are usually concrete and heat sources should be kept away from walls in well-ventilated areas.
Glass art setups will require varying amounts of space depending on whether you choose to do glass blowing or lampworking. Most people will need to use garage or shed space, or invest in building an attached studio onto their residence.
The costs of building your workspace should of course be considered alongside the other factors discussed here.
Speaking of ventilation, if you feel you already have enough, consider creating even more, as you can NEVER have enough when it comes to glass blowing in small spaces. Use common sense and remember all safety rules when working with hot glass and fuel sources!
---
4) Advertising your Business & Work
Advertising is essential for small businesses. Spread the word to friends and neighbors that you are working from a home setup, create a website, and post on social media.
Instagram is a great tool for showing off your latest works. Consider it your online portfolio. Link to your personal website often and provide online shopping for your customers.
Online marketplaces like Amazon or Etsy are good places to start out if website building is intimidating to you. They take the guesswork out of running an online store and make it easy for potential customers to view, like, save, and purchase your products.
Keep in mind that these sites charge small fees for every listing you post, and may have other fees. Do your research to determine how you want to sell your products online, if you choose that option.
You can also contact local art studios or participate in art shows to connect with other artists and get your work out into the world. This is a great real-world option for those who prefer making in-person connections or who want to market themselves both online and in their communities.