List of Tinsmith Tools & Equipment for Beginners & Experts 2022 [Updated]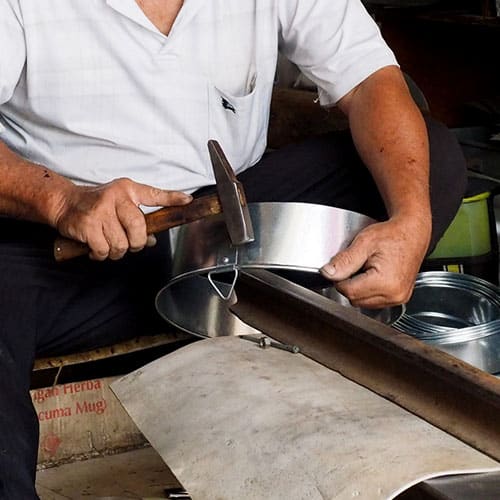 Tinsmithing was a very popular trade and occupation in the pre-industrial era, but is still used in the modern day in roofing, plumbing, and ductwork applications. This trade differs from other metalworking trades, such as blacksmithing, because most tinsmithing projects are completed through the cold forging or cold working process.
The cold working process typically involves shaping and forming the metal workpiece at room temperature. Tin is a great candidate for cold working because its ductile characteristic allows it to be easily formed by force without applying heat to the metal. In order to reliably form a tin workpiece, beginner and expert tinsmiths utilize a variety of helpful tinsmithing tools.
The following list details the types of tinsmithing tools that are both essential and supplementary for tinsmithing. These tools can be useful for tinsmiths of different experience levels.
---
Complete List of Tinsmithing Tools & Equipment
1) Tinsmith's Anvil
The anvil is at a core of many metalworking trades and tinsmithing is no exception. An anvil is, essentially, a flat, sturdy, metal base that allows tinsmiths to hammer or shape metal on a firm surface. The face of an anvil is flat, providing a smooth surface on which to place and strike the workpiece.
Different types of anvils offer differently shaped features, such as a horn and hardie holes that allow you to shape the workpiece into a round shape or punch holes into it.
Tinsmiths, like sliversmiths, tend to use smaller bench anvils or flat steel blocks as a work space as projects tend to be smaller in comparison to other metal trades.
---
2) Hammers
The purpose of the anvil in tinsmithing would be moot without the use of a hammer or mallet to actually strike the workpiece. Hammers are very versatile tools that allow you to accomplish many different metalworking tasks. Part of the reason why this is true is because there are many different kinds of hammers available for both general purposes and smithing projects in particular.
Tinner's hammers (pictured below), or sheet hammers, especially well-suited for tinsmithing because they are great tools for shaping sheet metal. Many tinsmithing applications involve the bending or forming of sheet metal, which is essential in ductwork or roofing projects.
Other common hammers types used in tinsmithing projects include planishing hammers, chasing hammers, creasing hammers, and wooden mallets. These hammers feature flat faces, rounded peens, and sharp claws to create a variety of shapes into sheet metal. All of these hammer types allow tinsmiths to apply force to the workpiece with ease.
---
3) Tin Snips
Tin snips are hand tools that are used to make smooth, straight cuts into pieces of sheet metal with the ease of regular scissors cutting into paper. Like the previously listed tools, there are different tin snip blade shapes available to satisfy the specific needs of different cutting applications, but straight blades can be used for a variety of general purposes.
Since cutting sheet metal is a big part of tinsmithing, tin snips are definitely a staple in a tinsmith's workshop.
---
4) Seaming Pliers
Seaming pliers or seaming tongs are other hand tools that are used to firmly grip, bend, and fold over the edges of sheet metal. These pliers feature wide, flat faces that can be straight or offset from the handle in order to improve the angle of the grip.
This particular tool is often used in roofing or plumbing applications that involve bending sheet metal to fit with other components.
---
5) Stakes
Tinsmithing stakes are tools used to form metal workpieces. The tin or other sheet metal piece is typically placed on a stake and formed with a hammer so that it bends along the shape of the stake underneath it.
Stakes can be flat or curved, which allow a tinsmith to create a variety of angles and rounded shapes with a tin workpiece. These forming stakes are available in different shapes and sizes to be used in many types of applications.
---
6) Soldering Iron
Soldering is a process by which two metals are joined through the melting of a filler metal in a joint. This is a common practice in many tinsmithing projects, which is why a soldering iron is considered one of the essentials tools of tinsmithing. A soldering iron is specifically the tool used to melt the solder that will be joining the two metals.
---
7) Flat Scrapers
A flat scraper is a convenient hand tool used to scrape metal off of flat surfaces. It is made of a flat blade with a sharpened end that efficiently scrapes metal off a surface.
---
8) Pipe Crimper
A pipe crimper is a tinsmithing tool often used in plumbing applications. This press tool allows you to crimp sheet metal piping and tubing that have press connections. Once crimped, these connections form a watertight seal. If you are a tinsmith working with many different plumbing applications, this may be more of an essential tool than a supplementary tool for tinsmithing.
---
9) Pipe Expanders
Pipe expanders are special tools designed to resize the end diameter of a sheet metal pipe for many plumbing applications. They are commonly used to increase the diameter of the pipe or help revert it to its original size prior to when the unwanted deformation took place.
Pipe expanders have a solid, cylindrical shape and typically come in a set to adjust their sizing to different pipe sizes.
---
10) Scribing Iron
A scribing iron is an iron-pointed hand tool that allows you to scribe onto sheet metal. Tinsmiths often use this to mark specific points or dimensions on the sheet metal.
---
11) Leather gloves
Since tinsmithing involves working with sheet metal, it is important to wear leather gloves or another type of sturdy glove when cutting or forming the metal. The edges of sheet metal can be razor-sharp and cause an injury if not properly protected.
---
12) Soldering Protective Equipment
Soldering is a common practice in tinsmithing, which means that tinsmiths should understand how to protect themselves when carrying out this process.
It is important to wear safety goggles, gloves, and to operate in a well-ventilated area. Soldering irons typically use lead as a solder, which is a hazardous material.
---
13) First-Aid Kit
It is always a good idea to keep a first-aid kit around when working with sharp metals in order to treat wounds quickly and on-site.