List of Pyrography Tools, Pyrography Equipment & Wood Burning Pen Tips 2021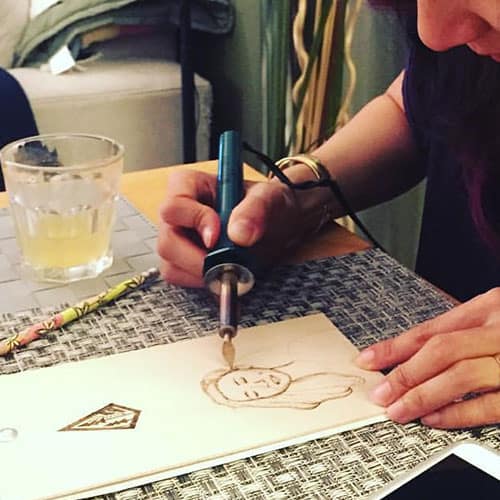 Pyrography is the art of burning wood to create designs, lettering, and other images. This artform has ancient roots, and evidence suggests that the Egyptians, Greeks, and other early civilizations decorated wood items using simple pyrography methods.
Today, pyrography continues to be practiced by artisans around the world. With instructions and tools readily available via the Internet, pyrography is more accessible than ever before.
The craft requires relatively few tools that can be purchased separately, or in affordable kits. Below are explanations of each tool and their uses in the art of pyrography, as well as advice for where to purchase each item.
---
List of Essential Pyrography Tools For Beginners
1) Wood
Most pyrography artists design on wood, but leather is also a common medium. Light toned hardwoods with a fine grain are best for pyrography. Basswood, beech, birch, and some types of pine are frequently used and offer the best, smooth work surface.
Planks and slices of wood are sold in rough or finished styles and can be purchased at most craft stores or online from art suppliers.
---
2) Woodburning Pen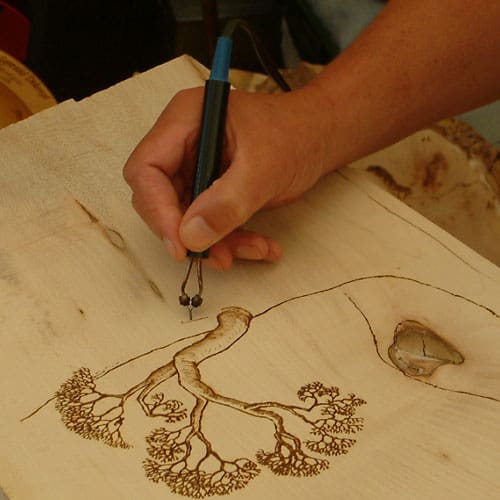 Woodburning pens are used to etch designs into wood. All pens have metal wire tips that come in many shapes and sizes. There are two main types of pyrography pens: fixed and interchangeable. Fixed pens have attached tips and are a good choice for beginners because they are simple to use.
They can be more expensive to collect than interchangeable pens, however, because if you want or need a different tip, you need to buy a whole new pen with the desired tip attached. Interchangeable pens offer more variety in tip styles and can be adapted to suit any project.
Some artists may find changing pen tips to be more work than simply reaching for another pen. Each type of pen has its pros and cons, and deciding between them is a matter of personal preference.
---
3) Woodburner Unit
Woodburners supply the heat needed to etch designs into wood. They range in price, but good beginner woodburners can be purchased well within most peoples budgets (see below model). Popular brands include Colwood and Razertip, which offer a range of woodburners for beginner, intermediate, and advanced needs.
Woodburners provide heat to woodburning pens, which are discussed below. They have dials so artists can control the amount of heat depending on the project and the type of design being created.
---
4) Woodburner Cord
When purchasing a woodburner, you will also receive a cord that attaches to the woodburner and the woodburning pen. These cords are the conduit for the heat used during the pyrography process and burn out with frequent use.
Pyrography supply stores and websites sell replacement cords separately that are compatible with the major woodburner brands.
---
List of Pyrography Nibs for Woodburning Beginners
There are a multitude of pen tips, or nibs, on the market that suit the needs of different artists and project styles. Below are the most common tips and their uses in pyrography. Note that most of these tips come in sizes extra small, small, medium, and large.
Smaller tips are great for detail work, calligraphy, and delicate line work. Larger sizes will suit many projects and create bolder designs. Pyrography artists collect pen tips of many shapes and sizes depending on their art style and individual needs.
Beginners should familiarize themselves with a range of pen tips to better hone the craft!
---
1) Ball Tips
Ball tips glide over wood easily and are great for writing in cursive and drawing lines. These tips take longer to heat up and cool down due to their solid shape.
---
2) Skew Tips
Skew tips are angled with a sharp point at the end. are extremely versatile and used most often in pyrography. They can be used for cutting into wood and for fine detail work.
---
3) Round Tips
Rounded tips look like a horseshoe or the letter "C" and are used for shading and creating lines on uneven surfaces.
---
4) Tight Round Tips
Tight round tips are curved like rounded tips but are smaller and narrower in shape. These tips are best for general pyrography and detail on flat surfaces.
---
5)  Flat Skew Tips
Flat skew tips are similar to skew tips but have a less pronounced angle and a blunt point. These tips are great for general pyrography.
---
6)  Spear Tips
Spear tips have sharp, pointed ends that are good for general pyrography and for shaping detailed hair and feathers.
---
7) Chisel Tips
Chisel tips have a straight, flat shape and are used for general detail work, long straight lines, and shading work.
---
8) Round Skew Tips
Round skew tips are angled with a rounded end. These tips are great for pyrographers who create bird and animal carvings because they allow artists to create detailed and realistic feather and fur designs.
---
9) Writing Tips
Writing tips are curved and resemble standard calligraphy pens. They are most commonly used for writing but are also great for very fine detail work.
---
10) Curved Spear Tips
Curved spear tips allow artists to work in hard to reach places. They are pointed like spear tips but are angled to one side.
---
11) Knife Tips
Knife tips are general use tips that are both sharp and flat in shape. They are very popular for use on hair and feathers.
---
12) Shader Tips
Shader tips are flat and angled to glide easily over wood. As the name suggests, these tips are used to shade wood and are versatile in a range of projects.
---
13) Multi-use Tips
Multi-use tips are thin, curved and very durable. They are used for scaling, shading, and calligraphy. They make rippled effects on wood and are useful when adding detail to feathers and other organic shapes.