Complete List of Tools for Goldsmithing, Bead Making & Jewellery Making 2022 [Updated]
Goldsmithing and jewellery making are very niche trades in the metalworking industry. The tools used in these trades are great for working with relatively small pieces of metal and can often be interchangeable between the two trades. Some of these tools serve many general purposes and others can only perform certain tasks.
We will list here and discuss what the different types of goldsmithing and jewelry making tools are and what their main purpose is in their respective trade.
---
1) Jewellers Anvil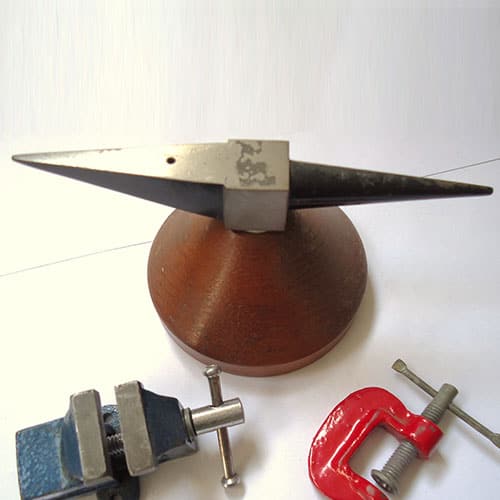 Jewelers anvils are some of the smallest and lighted anvils available, with most models only weighing a few ounces. Although they may seem fragile, they're actually incredibly durable and a necessary tool for most goldsmiths.
Jewelers anvils are often constructed from forged or cast tool steel, which is a strong material capable of sustaining blows from a jewellers hammer without issue. The surface of this type of anvil is normally finished to provide a smooth layer on which to shape jewelry, which is a very delicate and precise task.
---
2) Pliers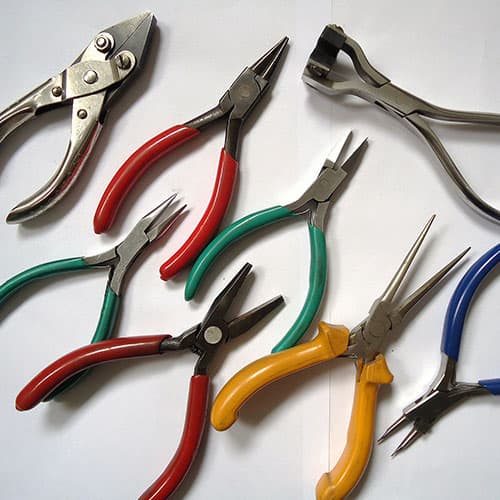 Piers are a handheld tool primarily used to hold or bend small objects. They are typically made of metal and feature a rubber-coated handle on one end and pincers on the other end. The core of the plier is typically made up of a box joint, which is also common in blacksmithing tongs.
The pincer part of pliers are available in many different shapes. Some of these shapes are round, flat, serrated, or beaked. Since this tool is so versatile, it serves many purposes in goldsmithing and jewelry making, including bending metals and flattening wires.
---
3) Wire Cutters
Wire cutters are a very useful tool when working with jewelry making materials. Wire cutters are much more effective at cutting pieces of wire than regular scissors and do not wear out easily.
---
4) Jeweler's saw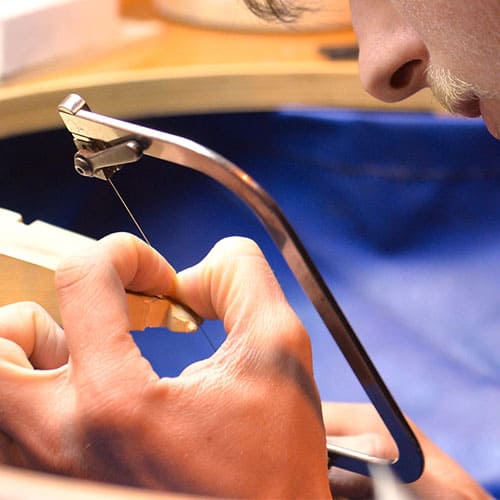 A jeweller's saw is an extremely effective tool in jewelry making. The purpose of this tool is to cleanly cut material without bending it. Jeweller saws can cut through metal, wood, fiberglass, and other materials commonly used in jewelry making. This tool is composed of a wooden handle, a metal frame, and a blade. The metal frame can be adjusted to accommodate the desired blade length.
The saw blade is typically made up of teeth that seamlessly cut into the material you are trying to cut or pierce. It is important to choose the appropriate thickness of blade based on the material you are cutting. Blades that are too big or two small will not yield clean, detailed cuts and may even break if used incorrectly.
---
5) Hand Files & Needle Files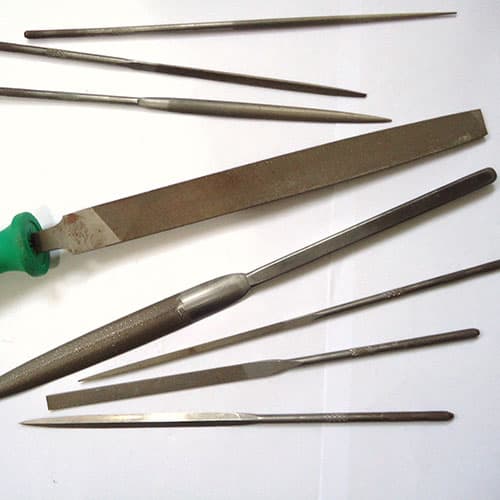 Hand files are very useful tools that should be a part of every jewellery maker's kit. Files are also available in different shapes, including flat and half round shapes and are made of metal with an abrasive surface. Files may or may not come with a handle as many people prefer to purchase their desired file prior to fitting a handle to it.
The flat file shape is mainly used to flatten the larger areas or ends of wire in order to remove small amounts of excess material on metal. The half round file shape is composed of a flat side and a rounded side. The rounded side is very effective at filing the inside of a ring or curved shape depending on the angle in which you hold it.
Needle files are much smaller than other hand files, an attribute that allows you to conduct more precision filing on your workpiece. These files are great for finishing work and delicate designs that require smaller tools.
---
6) Finishing tools
There are many different finishing tools available for jewelry making. Some of these tools include buffs, brushes, and sanding tools. Buffs allow you to create a lustrous finish on the workpiece surface. Wire brushes can be made of nickel, brass, or steel and are very effective in smoothing out and polishing rough surfaces because their abrasive characteristic can remove excess material.
Sanding tools work in a similar fashion due to their gritty texture. You can easily polish a surface using sandpaper, sand strips, sand discs, or sand spondes, some of which are widely available at most hardware stores and online shops.
No products found.
---
7) Bench Hammer
The bench hammer is a great tool for shaping materials. There are different kinds of jewellery hammers available that are suited for different purposes. Some of these hammers include ball pein hammers, mallets, planishing hammers, and chasing hammers or goldsmith hammers. These hammers can facilitate forming shapes and adding texture to jewelry pieces.
---
8) Drill bits & Rotative Tools
A set of drill bits can be very useful to have in any goldsmith's or jeweller's workshop. They are attachments that can be used with a power drill to create holes and patterns are hard materials and surfaces.
Creating these holes and patterns by hand could be very tedious work without an electric tool, so drill bits greatly facilitate this process.
---
9) Bench Vise
A bench vise is a great piece of equipment to have in your jewellery making arsenal. This is a tool that can be easily attached to your workbench and provides a firm grasp on your workpiece, freeing up your hands. This allows you to be focused on the shaping and detailing of the jewellery without getting tired of holding it in your own hands at the same time.
---
10) Engraving Tools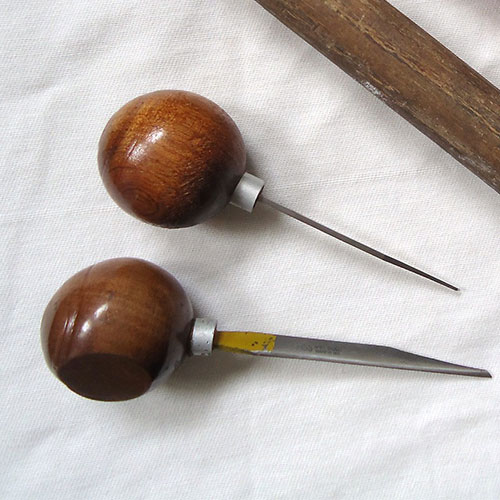 Engraving tools for jewellery making are available in different shapes. These tools can be flat, round, or beveled and can allow you to chisel or carve out specialty shapes into stones.
---
11) Flexible shaft and shaft tools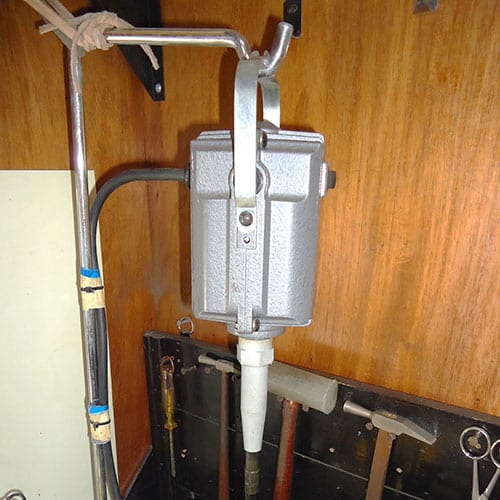 A flex shaft acts as an attachment to a drill that allows the jewelry maker to complete drilling and finishing tasks without having to hold onto a heavy drill in the process.
---
12) Soldering Torches & Tools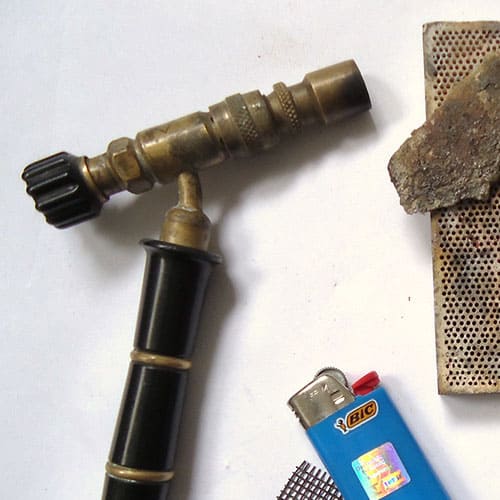 Since working with different metals is intrinsic to the craft of goldsmithing and jewelry making, soldering is also a very common task that takes place when working on a project that requires joining two pieces of metal. The type of solder used largely depends on the type of metal being joined in the soldering process.
The solder is a metal or metal alloy that should melt at a lower temperature than that of the metal being joined. Since the solder metals first, it acts as a binding agent between the two metal pieces.
---
13) Vernier Calipers & Divider Calipers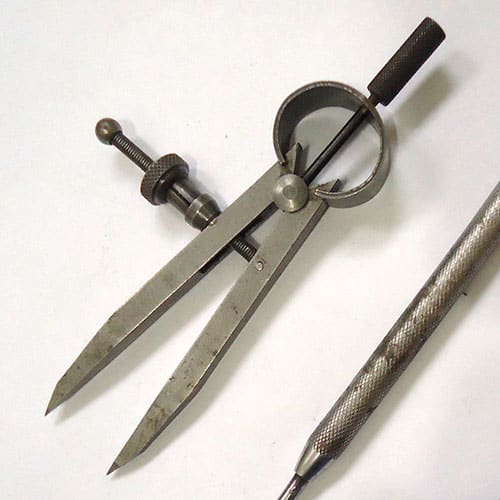 Vernier calipers and divider calipers are useful measuring tools for goldsmithing and jewelry making. It can allow you to measure small distances with high precision. Oftentimes they are used to measure the inner or outer diameters of circular shapes or the depth of a hole. A jewelry making divider is a useful drawing tool. It is a compass that can recreate circular shapes of the same distance between different points.
---
14) Sharpening stone
A sharpening stone is a simple tool that allows you to sharpen a piece of metal on an abrasive stone surface in order to create a pointed edge. One of the uses for this in jewellery making is creating a pointed end on an earring.
---
15) Bead Reamers
A bead reamer is an essential jewellery beading tool. This tool typically has a wooden handle attached to a fine round needle file.
The purpose of this tool is to smooth out or expand the drill hole inside a bead in order to be able to string it with thicker string or wire. Its tapered design allows you to adjust the diameter of this stringing hole.
---
16) Burrs and burr sets
Burrs are steel tools that are used to shape and design patterns on stones and other jewellery pieces. They are typically sold in sets and feature different shapes at the end of the burrs in order to grind out different shapes or details.
---
17) Bench Knife
Pocket knives or bench knives are very convenient tools to have on-hand during the jewelry making process. These knives can be used to carve shapes into a workpiece and making intricate designs on different materials.
---
18) Loupe
Since goldsmithing and jewelry making typically involves working with materials and pieces that are not much bigger than the side of your thumb, it can be a challenge to see the small details of a workpiece with our regular eyesight.
Using a loupe or magnifying glass when detailing or shaping jewelry pieces can reduce the strain on your eyes and help you see any small details more clearly.
---
19) Try square
A try square is a tool made of two perpendicular sides that form a 90 degree angle. This supplementary tool helps jewellery makers compare and measure right-angles in their work.
---
20) Safety Goggles & Face Shields
Eye protection is very important when working with abrasive surfaces and small materials that could potentially hurt your eyes. Face shields can prevent unwanted small particles from inflicting injury on your face.
---
22) Hearing protection
A lot of the power tools and metal shaping techniques used in goldsmithing and jewellery making can emit loud sounds that could harm your hearing. Wearing earplugs can help you focus on your work without being distracted by the noise and preserve your hearing.