How to Seal Wood Coasters [Techniques, Benefits & Sealant Options]
Coasters are some of the most simple and functional objects to make. Beginner woodworkers can craft their own set of coasters with scrap wood and a few foundational tools. More experienced craftspeople can make and sell coaster sets from high-quality wood using advanced techniques.
Wood coasters are high-use items that will experience a good deal of wear and tear with regular use. To ensure your set of coasters remains beautiful for years to come, you need to know the proper finishing techniques and what products to use.
Below, we'll check out a few options for finishing and sealing your coasters depending on the type of wood used and your desired amount of protection.
---
Staining Wood Coasters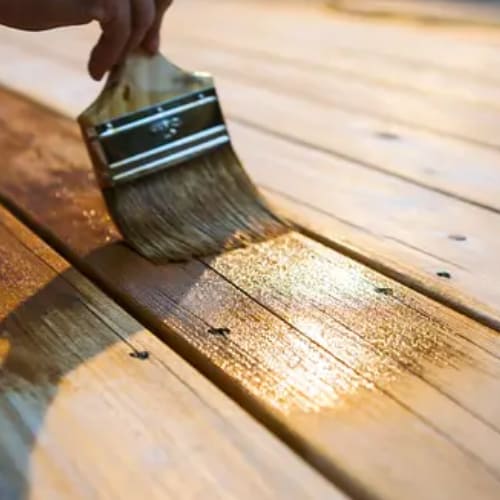 The first thing to consider before sealing your wood coasters is whether you want to apply a wood stain. If you like the look of the wood as is, you can simply wipe on a natural oil like tung oil or linseed oil with a soft cloth. This will help the grain of the wood to pop and will enhance the natural color.
If you decide to apply a stain, choose apply according to the instructions. You can choose between oil and water based stains, but keep in mind that your finishing product will have to match your stain in order to get the right results.
---
Sealing Wood Coasters
Once you have stained the coasters or applied an oil of your choice, it is time to apply a finishing product to seal the wood. Proper finishing will keep the coasters water-resistant and looking nice for years to come. Because coasters are so heavily used, it is important to use a finishing product.
You have two major options for finishing: polyurethane and polycrylic. The video below does a nice job of explaining the difference between these two products, and we will summarize it here.
Polyurethane
Bestseller No. 1
Polyurethane is an oil based finishing product with a warm tone. Because of this warmer appearance, polyurethane is best used over stained or colored wood. If your coasters are white, consider polycrylic.
A major pro of polyurethane for coasters is that it is more durable than polycrylic finishes and great for heavily used items. It is also perfect for raw lumber, as it provides solid protection.
How to Apply Polyurethane
Apply polyurethane to your coasters using a brush or foam roller. Build thin layers of product on top of each other for best results.
Polycrylic
Bestseller No. 1
Minwax 427320008 Polycrylic Wood Stain Brush, 2", White
WOOD STAIN BRUSH – This 2" wood staining brush is a fine craft, blend of nylon and polyester...
SMOOTH, EVEN FINISH – The soft application design and synthetic bristles promote a smooth finish...
USE WITH – This 2" wood stain brush is for use for quart size cans of water-based stains and...
Polycrylic is another great option for sealing coasters. This product is water based and has a milky finish that is ideal for white surfaces and lighter colored woods. If you want to avoid making your coasters warmer in tone, polycrylic is a great neutral choice.
A pro of polycrylic is that it is super easy to clean up. Because it is water based, you can clean up any spills easily with soap and water. While polycrylic is not as durable as polyurethane, it will still do a great job of protecting your coasters.
How to Apply Polycrylic
Apply polycrylic to your coasters using a brush or foam roller. You will need to apply more coats of polycrylic to achieve a good finish. 5-6 coats are perfect for most projects.
Because polycrylic dries a lot faster than polyurethane, this process will take about the same amount of time.