List of Glass Blowing Classes in Maine 2023 [Updated]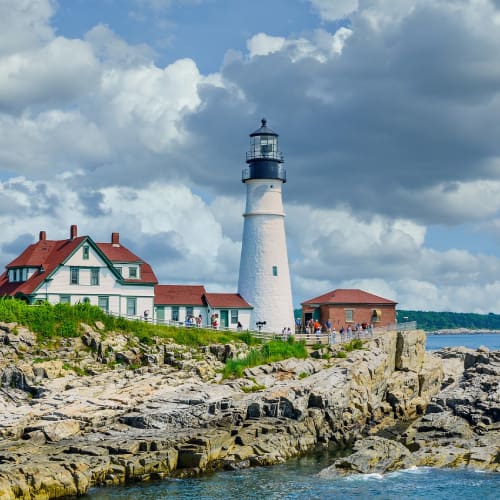 Maine is the northernmost state on the East Coast of the United States and has a thriving craft scene. Glass art is one of the more popular types of traditional craft in the state, and there are many awesome places to learn glasswork for yourself.
Whether you live in Portland or want to explore smaller cities along the coast of Maine, you will find small studios and full-service businesses offering glass art classes.
Glassworking classes can be a great addition to your vacation itinerary, or can be the main attraction on your next road trip.
Maine's many classes engage students in traditional glass blowing, lampworking, Venetian glass, stained glass, and more in hour-long workshops, multiple day workshops, and everything in-between.
Below the best glass blowing and glass working studios that are offering classes this year and beyond. Whether you want to learn one-on-one with a seasoned professional or with a group of your best friends, there is a class for everyone!
---
Type: general glass art, glass blowing
Classes: private, studio rentals, workshops, full day
Price: $500
Website: https://www.josephwebsterglass.com/
Telephone: (207) 318-5937
Location: 10 Westpoint Ln , Suite 10-201, Biddeford, ME 04005 (18 miles southwest of Portland)
Joseph Webster is a glass artist and native of Maine. He began working with glass in high school and earned his BFA in 2015. This up-and-coming artist specializes in traditional Venetian glass techniques and has studied with some of the top glass artists in the world.
Webster operates a glass studio and showroom, which is open by appointment. He offers workshops throughout the year, as well as studio rental opportunities.
For glass artists who know all the basics but lack a space to work, the open studio offering is a great opportunity. For $500, you get access to Webster's studio and all of his large and small equipment for the entire day. If you need assistance, you can also pay to have Joseph around the studio.
Other arrangements can be made by contacting Joseph directly by phone or email. For more information on upcoming workshops, follow Joseph Webster Glass on social media or get in touch with the studio.
---
Type: general glass art, glass blowing
Classes: private, demonstrations, by appointment
Price: N/A
Website: https://www.tandemglass.com/
Telephone: (207) 737-2781
Location: 6 Eagle Lodge Ln Dresden, ME 04342 (~48 miles northeast of Portland)
Tandem Glass Studio & Gallery is owned and operated by Charlie Jenkins and Terrill Waldman. Jenkins is inspired by form and color, and much of his work showcases the beauty of nature. Waldman is similarly inspired by botany and color.
Tandem Studio is a 2,000 square foot workspace that is open to visitors by appointment throughout the year. Watch the entire process of glass blowing happen before your eyes and ask Charlie and Terrill about techniques, tips and tricks.
While you're visiting, don't forget to pick up a handmade piece by Charlie or Terrill. They specialize in mosaic glass, cups, pitchers, animal figurines, and much more.
A visit to Tandem Glass would be ideal for someone who is brand new to glass blowing and wants to see the process in real life before taking a class. Those who are experienced glass artists would also benefit from talking with Charlie and Terrill and watching their unique processes.
---
Type: general glass art, glass blowing
Classes: private, small group, hour-long
Price: $75-$375
Website: https://waterfallarts.org/
Telephone: (207) 338-2222
Location: 256 High Street Belfast, Maine 04915
Waterfall Arts Glassworks is part of the larger Waterfall Arts non profit organization. The Arts center offers classes, workshops, and other events to the Belfast, Maine area. Glasswork classes at Waterfall Arts were founded by David Jacobson and Carmi Katsir, two glass artists who are passionate about bringing glass to everyone.
Classes are organized based on the number of people in attendance. The most inexpensive option is for 1 participant, and you can choose to have as many as 5 people in the studio learning together.
Classes are offered throughout the week, so you are sure to find a time and day that works for your schedule.
Don't hesitate to participate in the only full-time, public access glass blowing classes in the state of Maine!
---
Type: general glass art, glass blowing, stained glass
Classes: private, small group,
Price: $17-$190
Website: https://www.stainedglassexpress.com/glass-academy2/
Telephone: (207) 213-4126
Location: 966 Western Avenue Manchester, ME 04351
Stained Glass Express a family owned business that first opened in 1988. It consists of a glass retail store, warehouse, and Glass Academy. Regardless of your preferred glassworking method, Stained Glass Express has the tools, supplies, and educational experiences for you!
Classes at the Glass Academy range from child art classes to lampworking and more. Each class focuses on specific skills and techniques, and students get to take finished projects home with them.
Glass Academy has its own dedicated team of skilled glass artists, but they also invite local glass artists to teach special event classes. Check out the Glass Academy's website for more information on upcoming classes and teachers.
---
Type: general glass art, stained glass
Classes: private, small group, multiple sessions, 3 hours
Price: $90-$250
Website: http://www.stubborncowglass.com/index.html
Telephone: (207) 433-7505
Location: 55 Main Street Bucksport, ME 04416
Stubborn Cow Glass is a full-service glass studio offering materials and classes. Classes are appropriate for beginner and intermediate glass artists and focus on stained glass techniques.
Students learn how to make glass panel projects using cutting, foiling, and soldering techniques.
Some classes require students to bring their own tools and materials, so be sure to check class specifications before attending.
For more information on upcoming classes, visit the Stubborn Cow Glass website, or give the studio a call.