Best Beginner Glassblowing, Lampworkinng & Bead Making Starter Kits 2021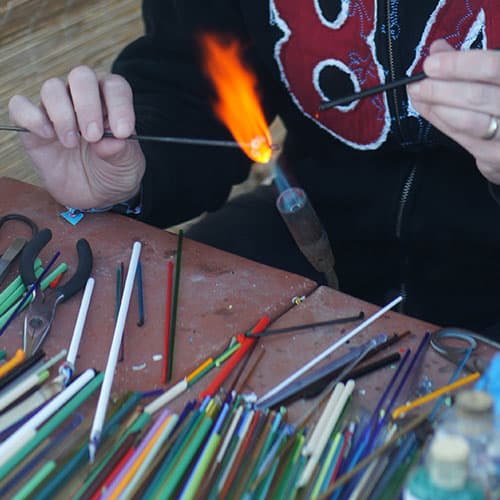 Learning the glassworking process can be intimidating for beginners. Studio glassblowing classes and equipment can be expensive and finding the tools that suit you can be difficult.
The good news is, companies sell beginner glassworking kits for more affordable prices online! The kits recommended here include most of the basic equipment and materials you will need to begin small lampworking projects.
Below, we've chosen a range of kits for various budgets, including basic starter kits and more 'complete' kits for the more serious starters, and included advise throughout the article about what each tools does, some additional considerations, and things you can make to get started.
No need to go to a studio when you can learn from the comfort of your home in a way that is less intimidating and a lot of fun!
Best Home Glass Blowing Starter Kits? We Recommend:
Preview
Recommended (Budget Option)
Recommended (Complete Option)
Preview
Recommended (Budget Option)
Preview
Preview
Recommended (Complete Option)
Preview
---
What's Included in Home Glassblowing Kits? (What's What?)
The starter kits above come with most of the materials you will need to make great beginner projects. Below are some items guaranteed to come in the beginner and intermediate kits with explanations so you know what's what!
1) Glass Rods
The glass used in lampworking comes in long, thin rods. Because lampworking projects are usually quite small and delicate, rods allow a small amount of glass to be heated and added to a project at one time. The glass in these kits is colored, making them perfect for decorative items.
---
2) Mandrels
Mandrels are thin metal rods on which beads and other items are made. Hot glass is wrapped around the mandrel and the mandrel forms the hole for the bead. Mandrels come in a variety of sizes depending on the project being completed.
---
3) Marving Plate
Marving plates and other marving surfaces are tools used in the finishing stages of glassworking. They are usually made of metal and help smooth out projects into an even, finished shape. Glass is rolled across the marving surface while it is cooling down to get rid of any lumps or bumps that are not ideal in a finished piece.
---
4) Lampworking Torch
Instead of a large furnace, lampworking requires a small torch and source of fuel, like a propane tank. The starter kits described in this article do not come with propane, but they do offer a torch to be attached to a fuel source. There are a variety of torches that glassworkers use depending on their specializations, but the one that is offered in these kits is a good basic torch with a stainless steel, heavy duty bracket.
---
5) Bead Release
Bead release is a liquid agent that mandrels are dipped into to prevent beads from sticking. Using bead release allows you to use mandrels over and over again. It also gives you peace of mind that the project you worked hard on will not get stuck on the mandrel.
---
6) Rake
A rake in glassworking is a small metal rod with a bent end. Rakes manipulate hot glass and allow you to swirl, drag, and press glass as needed. Rakes are some of the most essential tools for beginners to become comfortable with because of their versatile uses in glassworking.
---
7) Cooling Fiber Blanket
Fiber blankets are used to cool finished beads. Most can withstand heat up to 2,300 degrees Fahrenheit. Fiber blankets can be used on their own or added to kilns for extra insulation. Most beginners will likely use fiber blankets alone for small finished projects.
---
8) Murrini Slices
Murrini slices are cross sections from a colored glass rod. They feature colorful patterns and shapes that can be incorporated into glassworking projects, or manipulated by themselves into beads and discs.
---
9) Aluminum Sheets
An aluminum sheet is a handy tool for protecting your work surface. Lay it flat underneath your torch to prevent damage to desks, tables, and other surfaces.
---
10) Rod Rest
A rod rest is a small tool with slots to hold tools and glass rods when not in use. Although not completely necessary, this tool is helpful in preventing hot tools from damaging your work surface and keeps particles off of hot and sticky glass rods.
---
11) Rod Warmer
A rod warmer is another tool that is not necessary for true beginners, but is helpful to have. It is a little ceramic-lined stove that preheats glass rods. Preheating prevents glass from shattering when introduced to the torch flame. It also saves fuel because glass does not need to be heated solely by the torch.
---
12) Instructional DVD
Each beginner kit comes with an instructional DVD with two hours of content. You will learn about basic tools and techniques without having to leave your home. Paired with YouTube videos and other free internet content, you will be able to learn a great deal about lampworking on your own.
---
Do I Need Anything Extra to Start Glassblowing?
The most basic glassworking kits do not come with essential equipment such as safety glasses (highly recommended), propane tanks, and the equipment used with propane such as hoses, valves, and regulators.
When purchasing one of these kits, consider what materials you will need to buy separately and make sure you can get these items if you need to do so. The higher tier kits, such as immediate and professional kits, come with these items and the other helpful tools listed in the previous section.
If you are considering making glassworking a long-term hobby, purchase one of the more expensive kits, as it will save you money in the long run and ensure you have everything you need to practice and experiment properly.
---
What Can I Make with Beginner Glassblowing Kits?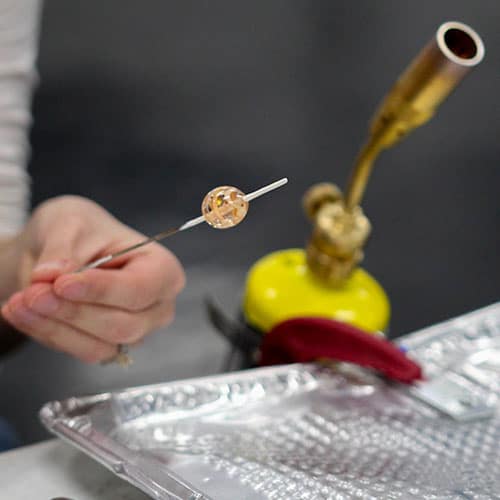 Some of the most popular beginner projects are small vases, bowls, decorative flowers, and beads. For absolute beginners, beads are great items to make to practice all of the basic techniques of the craft.
Below is a video tutorial for making hollow beads, which is an interesting take on traditional glass beads and helps you get comfortable with different heats, applying glass to a mandrel, applying different colors of glass, and rotating the marver as you work.
Video Instructions:
To make these hollow beads, you will need a torch, a mandrel, three rods of glass in different colors, a rake, a marver, tweezers, and a container of cold water. Start with a wide flame to avoid cracking your bead.
Choose your first color and, working slightly outside the flame, begin building up one side of the bead on your mandrel. Use tweezers throughout the process to make the sides of your bead even. Cool your tools in water to avoid sticking. Make another disc on the other side of the mandrel. Add onto your discs and build towards the center, changing colors when desired.
Eventually, the two ends of the bead will meet in the center to form a hollow sphere. The two discs will likely be uneven in shape, and that is fine. Once your glass discs almost touch, make sure there are no small holes in piece, otherwise the glass will collapse.
Use a rake to press the edges of the two discs together to form a sphere. Once the bead is closed, heat and rotate the bead in the flame. The bead will expand and round into a smooth shape. Heat the ends to make a puckered shape and roll on a marver to even out the final shape of the bead.