List of Famous Silversmiths In History (Past & Present)
Silversmithing is a traditional profession with ancient roots. Early smiths residing in Mesopotamia, Egypt, Greece, and Rome produced silver objects like currency, drink ware, and religious items.
European silversmiths continued to create these traditional objects, but throughout the centuries evolved their trade to meet the demands of society.
Let's take a look at some famous silversmiths from Europe and North America. The 18th and 19th centuries saw a number of influential smiths, so we will focus most of our attention on these time periods.
---
1) Jeremiah Dummer
(1643-1718, America)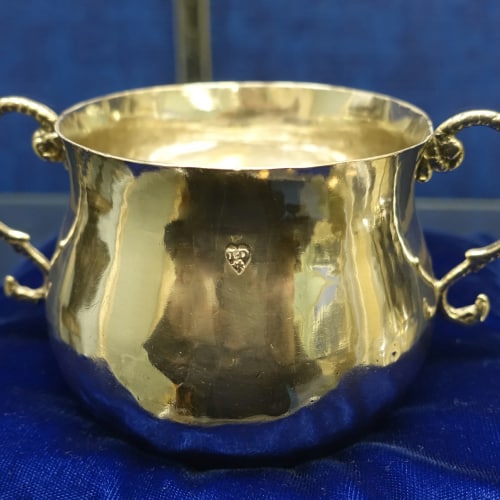 Jeremiah Dummer was the first American born silversmith to live and work in the American colonies. He started his own smithing shop at the age of 23 after apprenticing as a teenager. His products included candlesticks, tankards, beakers, and cups.
In addition to his work as a silversmith, Jeremiah Dummer also held public offices in Boston, Massachusetts, was a skilled engraver, and was one of the earliest portrait painters in colonial America.
Today, Dummer's pieces are highly valued by collectors and are worth hundreds of thousands of dollars. In 2004 and 2007, two silver objects crafted by Dummer sold for $204,000 dollars each.
You can view Jeremiah Dummer's work at the Boston Museum of Fine Arts, Yale University, the Seattle Art Museum, and other respected locations across the United States.
---
2) Hester Bateman
(1709-1794, England)
Hester Bateman is considered one of England's greatest silversmiths and craftswomen. She was born in 1709 in Clerkenwell, London to a poor family.
Although she did not have any formal education, she inherited and operated her husband John Bateman's silversmithing company after his death in 17960. It was relatively uncommon for women to work as silversmiths in the 18th century and Bateman's success in the industry was quite unusual considering the competitiveness of artisan businesses at the time.
Hester Bateman registered her mark at London's Goldsmith's Hall in 1761 and produced thousands of elegant pieces over the course of her lifetime. She integrated cost-effective manufacturing practices and classic designs to create a wide range of finished products. Her designs featured beading details and bright-cut engraving that is still prized by collectors today.
While most silversmiths specialized in a few pieces, Bateman offered coffee pots, tea kettles, goblets, sugar tongs, flatware, and other popular products that appealed to a wide audience.
Bateman passed her silversmithing skills down to her sons and daughter, who all became silversmiths. Hester Bateman and her family took commissions from city guilds, religious organizations, and individuals.
---
3) Myer Myers
(1723-1795, America)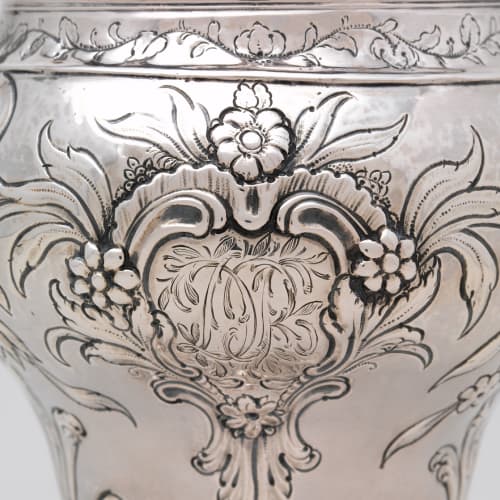 Myer Myers was one of the leading silversmiths in the colony of New York is still highly respected today. His artistic silversmithing echoes the Rococo style of his day, and was popular among the elite of colonial American society.
Historical documents list Myers as a freeman working in partnership with a fellow artisan named Benjamin Halsted. The two men formed the Halsted & Myers silversmithing shop and served their community in partnership for a decade.
Only 380 of Myers' pieces survive today, making them valuable artifacts of colonial silversmithing history. They are held in museums and private collections, and many photos exist online.
---
4) Thomas You
(1730-1786, America)
Thomas You was an American silversmith who lived and worked in Charleston, South Carolina. A skilled artisan and staunch Patriot, You is remembered for speaking out against British authority in the Colonies and for encouraging the boycotting of British imports.
It is believed that You got his start in silversmithing as an apprentice to John Paul Grimke, a jeweler. You opened his own silversmithing shop in 1756 and witnessed the many changes to society and economics under the Stamp Act and other events leading up to the American Revolution.
Thomas You proved so rebellious, in fact, that he and many others were held aboard a British ship in 1781 for revolutionary opinions. In order to gain freedom again, the colonists aboard the ship were made to sign an oath of allegiance to Britain, and You was one of the last to sign.
---
5) Paul Storr
(1771-1844, America)
Paul Storr is one of the most celebrated British silversmiths of the 18th and 19th centuries. Storr's knowledge of not only silversmithing but also goldsmithing and design allowed him to create products in a neoclassical design that consumers adored.
In his youth, Storr entered an apprenticeship with Andrew Fogelberg, a Swedish smith. After completing his education, Paul Storr partnered with fellow artisan William Frisbee and the men registered their marks in London.
Storr opened his first silversmithing shop in 1796 on Air Street. In 1800, royal goldsmiths Rundell and Bridge approached Storr and offered to sell his wares in their shop. This helped Storr gain favor with wealthy clients and influenced his designs. Prior to selling to elites, Storr's designs had a classic, relatively simple aesthetic. After learning the preferences of his new clients, Storr leaned into more ornate Neoclassical and Rococo styles.
Storr made other partnerships and worked freelance until his retirement in 1838. He is remembered for his mastery of technique, attention to detail, his ability to turn designs into real-life products, and for his collaboration with some of the best silversmiths of the day.
---
6) Gorham Manufacturing Company
(1831, America)
Gorham Manufacturing Company was founded in Rhode Island in 1831 and was one of the largest silversmithing brands in the world. By the 1860s, Gorham was achieving over $1 million per year in sales.
The company has produced flatware, serving ware, and jewelry during its long history, and has created iconic designs through the decades. One of the best known styles of flatware produced by Gorham Manufacturing was its Mortele line of Art Nouveau flatware.
Gorham Manufacturing Company supplied silver pieces for several presidents. The company was tasked with creating the Lincoln White House Tea and Coffee Service in 1861 and the Nixon White House Table Service in 1974.
---
7) Tiffany & Company
(1837, America)
The world famous jewelry brand Tiffany and Company was founded in 1837 by Charles Tiffany and John Young. In 1853, Tiffany took over the management of the brand and its design direction.
Tiffany & Co was the first American company to win the Paris Exposition Universelle Silver Craftsmanship Prize in 1867.
Today, Tiffany & Co is considered the most famous silversmithing and jewelry making brand of the 19th and 20th centuries.
---
8) Georg Jensen
(1866-1935, Denmark)
Georg Jensen is widely considered one of the best silversmiths in history. He began silversmithing as an apprentice at the age of 14 and opened his first factory in 1919. Jensen is regarded for his original designs and world class technical skills.
Jensen's pieces can still be purchased today. His company offers everything from jewelry to flatware. Original Georg Jensen work can be viewed in Copenhagen, New York City, and Essen, Germany.
---
9) Henry Birks & Sons
(1879, Canada)
Henry Birks was a Canadian silversmith who established his company in Montreal in 1879. Henry Birks & Sons underwent many changes as a company as large scale manufacturing took over economics in the late 19th century and 20th century, but continued to manufacture flatware and hollowware in Canada until the 1990s. Production was then moved offshore.
Henry Birks & Sons is remembered as one of the few businesses in Canada to hold a Royal Warrant, granted in 1935 by Edward VII, Prince of Wales.
---
10) Mario Buccellati
(1919, Italy)
Buccellati is a luxury jewelry and watch company with shops operating around the world. The brand was founded by Mario Buccellati in 1919.
Buccellati was inspired by Renaissance fabrics and motifs, and recreated the textures of silk, damask, tulle, lace, and linen through the use of revolutionary engraving techniques. His use of mixed metals and precious gemstones was also unique to the industry and helped establish his reputation as an artistic visionary.
Mario Buccellati worked for famous clients such as Pope Pius XII and was the first Italian jewelry designer to open a shop on 5th Avenue in New York City.