List of Famous Glass Blowers & Famous Glass Artists Past & Present [Updated]
Glassblowing as a process and art form has remained relatively unchanged for centuries. However, the work of master artisans over the past several decades proves that glassworking is anything but static. Several famous glassworkers around the world have pushed the perceived limits of the art form to create pieces formerly incomprehensible.
Below are # must-know glassworkers from history and the present day that have rose to fame due to their creativity, skills, and persistence.
---
1) Rene Lalique
(1860-1945, France)
Rene Lalique was a jewelry designer turned glass artist. Born in 1860 in France, Lalique began his career as a Parisian jewelry maker but began experimenting with glass only five years into his jewelry career. Lalique's glass designs included small bottles, vases, and other containers.
Perfumer Francois Coty saw Lalique's work and invited him to work on perfume bottles for his company. Lalique shifted his focus from jewelry to glass production, creating new techniques using clear and frosted glass. Some of his most famous works include decorating the Cote d'Azur Pullman Express Train carriages in 1929 and creating chandeliers for the Normandie Luxury Liner.
Lalique helped to popularize the Art Deco movement through his work with glass and experimented with glassworking techniques still in practice today.
---
2) Dominick Labino
(1910–1987 United States)
Dominick Labino was an inventor, scientist, and glass artist. He worked with Harvey Littleton at the famous glass workshops Littleton ran in the 1960s. Labino figured out how to melt glass at a lower temperature and at a smaller scale to make glassblowing a more efficient process.
Over his lifetime, Labino held more than sixty patents for industrial glass processes and is credited with advancing glassworking as we know it. His experiments and scientific approach to the artform allowed him to formulate new glass compositions and build equipment.
Some of his most famous works include "Fountain with Blue" "Cased Aerial," and "Polychroma," which are all colored glass sculptures.
---
3) Harvey Littleton
(1922–2013, United States)
Considered the father of the American studio glass movement, Harvey Littleton is one of the most famous glassblowers of the 20th century. He hosted a glassblowing workshop in Toledo, Kansas in 1962, where with the help of Dominick Labino, he was able to melt glass at a lower temperature and thus work with it in a studio instead of a factory setting.
Littleton went on to found the first glass program at the University of Wisconsin, which would educate famous glass artists such as Dale Chihuly. Littleton's famous works include "Four Seasons," "Opalescent Red Crown," and "Implied Movement." These glass sculptures showcase Littleton's creativity and use of color and movement to create a sense of emotion and life in his glass pieces.
---
4) Vera Liskova
(1924-1979, Czechoslovakia)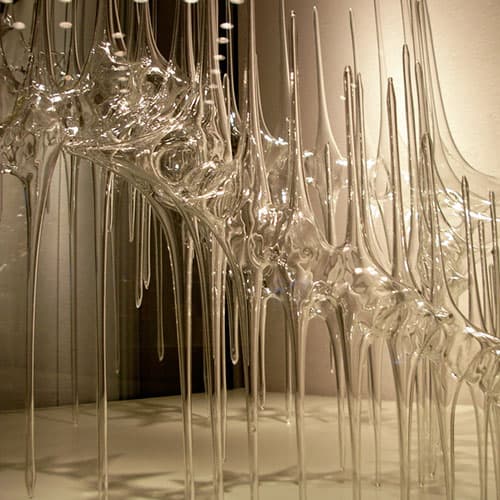 Vera Liskova was born in Czechoslovakia in 1924. She is one of most famous female lampworkers of the 20th century. Her work was shown in the Museum of Modern Art Show in 1950, where she was first recognized by the United States as a master of her craft.
Liskova is known for her use of clear glass and her intricate final products. Many of her pieces include spiny, sharp designs and clean lines. Both strong and delicate, Liskova's work reflects the nature of the material used to create it. Liskova's famous works include "Anthem of Joy in Glass" and "Harmonie."
---
5) Marvin Lipofsky
(1938–2016, United States)
Marvin Lipofsky was one of the first students to work with Harvey Littleton at the University of Wisconsin. Part of the studio glass movement, Lipofsky taught and directed the University of California, Berkeley's glass program and went on to develop a glass program at the California College of Arts and Crafts. Lipofsky taught his craft at workshops around the world and his work is still widely showcased in top museums worldwide.
Lipofsky's work is prized for its rhythmic forms and abstract shapes. Most pieces also have vibrant colors blended expertly together. Lipofsky made a range of pieces from tombstones, to sculptures, to bird houses.
---
6) Lino Tagliapietra
(1934-Present, Italy)
Lino Tagliapietra has been working with glass for over 70 years. Born in 1934 in Murano, Italy, Tagliapietra grew up surrounded by the rich tradition of Murano glass. He began an apprenticeship at age 11 and became a maestro at the young age of 21.
Tagliapietra spent over 40 years working in Murano glass factories and has been an independent glass artist since the 1990s. He has led workshops and glass programs around the world and collaborated with the Pilchuck School in Washington to bring Venetian glass styles to the United States.
In 2004, Centre College in Kentucky recognized Tagliapietra's expertise and quality instruction and awarded him an Honorary Doctorate of Humane Letters. Tagliapietra also holds an Honorary Doctorate of Fine Arts from Ohio State University (awarded in 2012). Other awards include the 1997 Glass Art Society's Lifetime Achievement Award, the 2014 Career Award from the Istituto Veneto di Scienze, Lettere e Arti in Venice, the 2015 Best Glass Work Award from the Masterpiece Exhibition in London.
Tagliapietra's work can be viewed in museums around the world, including de Young Museum (San Francisco), Victoria and Albert Museum (London), the Metropolitan Museum of Art (New York), and the Smithsonian Institution (Washington DC).
Lino Tagliapietra continues to work with glass and splits his time between Murano and Seattle.
---
7) Dale Chihuly
(1941–Present, United States)
As the most famous glass artist alive today, Dale Chihuly has reinvented glassblowing through his asymmetrical, freeform pieces and innovative techniques. Chihuly relies on heavy experimentation to create his artwork and uses gravity and centrifugal force to create flowing and natural shapes with glass.
While known for a variety of different works, Chihuly is most famous for his large installations. His chandeliers and freestanding pieces are composed of hundreds of individual glass elements fused together. Some notable pieces include "Fireworks of Glass Tower and Ceiling" in Indianapolis, Indiana and "Sole d'Oro" in Asheville, North Carolina.
Chihuly is also an advocate with a passion for making art accessible to all. The Dale and Leslie Chihuly Foundation provides funding for individual artists and youth art programs in Washington State. Chihuly has also founded and headed several glass art schools and has led dozens of summer workshops on glassblowing.
---
8) Paul J. Stankard
(1943–Present, United States)
Paul J. Stankard is a pioneer of the American studio glass movement. He was born in Massachusetts in 1943 and started working with glass in 1961. Stankard enrolled in the scientific glass program at Salem County Vocational Technical Insititute (Salem Community College). He became highly skilled at making glass instruments for laboratories, but preferred making glass animal and flower paperweights.
In 1972, Stankard left his program to pursue artistic glassblowing full time. He is considered a living master of crafting paperweights and is represented in over 60 museums.
Stankard holds two honorary doctorates and is the winner of the Masters of the Medium Award from the Smithsonian Institute and Glass Art Society's Lifetime Achievement Award. He is an artist in residence and honorary professor at Salem Community College, where he got his start in glasswork.
In addition to working and demonstrating, Paul Stankard is also the author of three books about his life and glassblowing.
---
9) Pino Signoretto
(1944–2017, Italy)
Pino Signoretto was born in Venice in 1944 and is one of the most prominent glass artists in Italy and the world. He started working in a glass factory at age 9 to support his family during economic hardship after World War II.
In 1959, Signoretto partnered with glass masters such as Alfredo Barbini, who became his main teacher and mentor. By 1960, Signoretto himself became a maestro.
He opened his own studio in 1978 and collaborated with world famous artists such as Picasso and Dalí. Signoretto made many trips to Japan in his lifetime to trade glass traditions. A permanent exhibit of Signoretto's work is located in the Museum of Venetian Art in Otaru, Japan.
In addition to his Japan travels, Signoretto taught at schools across the United States and made trophies for American and European basketball championships.
He is remembered for his master of hot shaping sculpture and was knighted by the President of Italy in 1989. Signoretto passed away in 2017.
---
10) Shane Fero
(1953–Present, United States)
httpv://www.youtube.com/watch?v=
Shane Fero was born in 1953 in Chicago and has been a flame worker for over 50 years. He is celebrated for his nature inspired vessels and bird figures.
His studio is located next to the Penland School in North Carolina, which is one of several locations where he has taught and demonstrated his work. Fero has also taught at Urban Glass, Pratt Fine Arts Center, Corning Museum of Glass, Pilchuck Glass School, and others around the world.
Fero's work has been shown in over 33 solo exhibitions since 1992 and in 3 dedicated retrospectives. He is the past president of the Glass Art Society board of directors and the winner of the GAS's 2014 Lifetime Achievement Award.
---
11) Bruce Sillars
(United States)
Bruce Sillars began working with glass as a student at California State University in 1970. He joined Douglas Boyd at Orient & Flume, which Boyd purchased in 1972. The studio is known for its collector pieces inspired by nature. Early designs incorporated iridescent glass, but Boyd and Sillars transitioned to creating 3-D clear glass products, which are still available today.
Sillars is celebrated for the development of the California Style torchworking techniques that involve painting hot glass with colored glass canes. This process creates exciting visual details on Sillars's vases and paperweights.
Sillars also uses a hot sculpting technique that allows him to turn gathers of glass into animals and fruits. Sillars is mostly self-taught, which makes his innovation even more impressive.
His work can be found in the Metropolitan Museum of Art, the Smithsonian Institution, Chicago Art Institute, and the Corning Museum of Glass.
---
12) Doug Merritt
(United States)
Doug Merritt is the cofounder of Vandermark-Merritt Glass Studios. He began his career as a glassblower creating colonial glassware reproductions. His studio also specialized in Art Nouveau and Art Deco designs, crystal sculpture, and cased floral vases.
Merritt grew up in New Jersey in a family of entrepreneurs. From a young age, he knew he would need to be his own boss and work with his hands. One of his first forays into team leadership and entrepreneurialism came at age 12, when his father put him in charge of a group of his friends and had them lay brick and landscape.
This experience helped Merritt realize his potential as a leader. He was invited to learn glassblowing at the age of 21 and was taught by Jerry Vandermark. At first, Merritt absolutely hated glassblowing and wanted to quit after his first day. However, he tried again with a better attitude and has been working with glass ever since.
Doug Merritt's work has been shown in museums around the country, including the Smithsonian Institute, Boston Museum, and Colonial Williamsburg.
---
13) William Morris
(1957–Present, United States)
William Morris is a glass artist from California. He studied under Dale Chihuly and worked with him for ten years before forming his own glass studio. Morris is known for his glass sculptures that incorporate myth, ancestry, and ancient civilizations.
Morris takes inspiration from Egyptian, Native American, and Asian cultures and makes pieces that honor the intelligence and tradition of peoples around the world. His work is part of collections in the Corning Museum of Glass, the American Glass Museum, the Auckland Museum, and more. His works include masks, vases, sculptures and figurines.
---
14) Martin Blank
(1962–Present, United States)
Martin Blank began his career in glass by working with Dale Chihuly. His work is inspired by nature and the human form. His best known works include lotus flowers, abstract sculptures, and "Fluent Steps," a 200 foot long outdoor sculpture at the Tacoma Museum of Glass. Blank describes himself as an intuitive artist, and focuses on negative space create form and fluidity in his work.
---
15) Carol Milne
(1962–Present, United States)
Carol Milne is the world's only knitted glass artist. She began to work seriously in glass in 2000, after experimenting with clay, bronze, wood, and other materials. Her work is a metaphor for social structure. She describes how individual strands of her work are weak, but when woven together make a singular, strong piece.
Milne makes glass knit sculptures, teapots, sculptures, and more. Her use of color is vivid and organic. In addition to sculpting, Milne also teaches workshops and hosts exhibitions of her work around the United States.
---
16) Ritsue Mishima
(1962–Present, Italy)
Ritsue Mishima is a modern Venetian glass artist living in Italy. She uses colorless glass and a combination of traditional glassblowing techniques and contemporary decorative elements to make unique pieces. Mishima takes inspiration from nature and her pieces have organic shapes that show her love of natural lines and freeform design.
Mishima began her career by making vases, but now focuses on abstract sculpture. Her artwork takes form intuitively, and she explains that she rarely has a specific plan for each piece.