List of Blacksmithing Classes in Kentucky 2021 [Updated]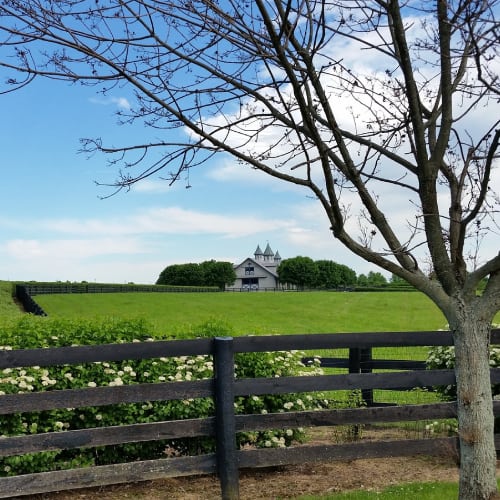 As the home of the Kentucky Derby, horsemanship, and adventure, the state of Kentucky boasts a strong relationship to blacksmithing. 
Central Kentucky's bluegrass pastures and the horses grazing within them supported the pioneer blacksmith, who was relied upon for necessities like horseshoes, farm implements, nails, and household products. As the need for horses in both farming and transportation diminished, the Kentucky blacksmithing industry shifted from one of necessity to one that existed to keep the tradition of smithing alive and maintain a connection to the work of those who helped settle and grow the state. 
Kentucky's rich blacksmithing history lives on today in organizations like the Appalachian Area Chapter of Blacksmiths, which includes Kentucky and other states within the Appalachian region. The AACB brings together blacksmiths for conferences, meetings, workshops, and other events that encourage continued education and the preservation of blacksmithing as a trade and tradition in Kentucky and elsewhere.
Whether you are a beginner wanting to broaden your skill set or an experienced blacksmith who desires camaraderie and continuing education opportunities, the following classes, workshops, demonstrations, and hammer ins located in the state of Kentucky are sure to match your specific learning goals. 
---
Type: Blacksmithing
Classes: s

mall group (up to 10 students), weekend, all day

Price:

$225-$425

Website:

https://www.craigkaviarforge.com/

Telephone: (502) 561-0377
Location:

147 Stevenson Ave. Louisville, Kentucky 40206
Craig Kaviar is a sculptor and blacksmith with over 30 years of metalworking experience. His pieces have been displayed in local hospitals, libraries, and residences and he was even featured on HGTV's series "Modern Masters." Kaviar takes on apprentices in addition to teaching classes, so his love for instructing is apparent in the work he does. 
Kaviar offers two weekend classes at his forge several times per year. Students can choose between a beginner blacksmithing class and a railroad spike knife class. These offerings are appropriate for students of all levels, whether you are brand new to blacksmithing or want to hone your skills. 
Students are required to bring their own safety equipment like gloves, protective eyewear, and leather shoes, but all other necessary blacksmithing tools are provided. Class sizes are limited to 10 students, so if you enjoy working and collaborating among other smiths, this may be a great learning environment for you! 
People with busy weekday schedules should definitely check out classes at Craig Kaviar Forge because both the class offerings take place on weekends over one or two days.
---
Type:

Knife making

Classes:

5 day, small group (1-4 students), full day

Price:

$1,500

Website:

http://www.hibbenknives.com/Learn-Knife-Making

Telephone:

(502) 222-1397

Location:

PO Box 13 LaGrange, KY 40031
Hibben Knives is owned and operated by Gil Hibben, a widely celebrated knife maker with decades of experience. Hibben has made knives for many famous clients and he has won many awards for his creations since the 1990s. 
Hibben teaches intensive and comprehensive knife making classes that are a week long and cover everything you need to know in order to make and take home your very own knife. Concepts covered include design, cutting, grinding, heat treating, polishing, handle making, and finishing. At the end of the week, students are invited for dinner at the Hibben home. 
Gil Hibben's friendly, one-on-one style of teaching is sure to suit a range of different learning styles, so if you are intimidated by the prospect of learning knife making, rest assured that the learning environment is supportive and collaborative. 
Classes are a large time commitment and are more expensive than other offerings, but the level of personalized instruction and the reputation of Gil really make the classes worthwhile if you are dedicated to learning knife making.
---
Type: Blacksmithing
Classes:

Hammer ins, demonstrations

Price: N/A
Website:

 https://www.facebook.com/groups/1880554315501913

Telephone: N/A
Location:

1906 College Heights Blvd Bowling Green, KY 42101
The Kentucky Forge Council is a blacksmithing group associated with the larger Appalachian Area Chapter of Blacksmiths. The group meets at Western Kentucky University and offers a range of opportunities that encourage the preservation of blacksmithing through continued education. 
Members participate in hammer ins and other local events each year where they can show off their skills and learn from each other. As a member of the AACB, the Kentucky Forge Council also collaborates with other groups throughout the Appalachian region and participates in larger regional events. 
Blacksmiths who are more experienced or have an established forge would benefit from joining the Kentucky Forge Council because of the continuing education opportunities and the chance to meet and collaborate with other smiths in the area. Those interested in joining the KFC should reach out via the group's Facebook page to learn more.
---
Type: Blacksmithing
Classes: small group
Price: N/A
Website:

https://visitberea.com/hands-on-workshops/

Telephone: (

800)598-5263

Location:

3 Artist Circle Berea, KY 40403
Berea is the "folk arts and crafts capitol of Kentucky." The small town offers visitors unique opportunities to learn traditional arts and crafts through hands-on workshops. 
Beginner blacksmithing classes are offered several times a year by Jeff Farmer, a blacksmith with over 30 years of teaching experience. 
Hands-on workshops in Berea, KY may be a good option for you if you are completely new to blacksmithing and want to give it a try without committing a lot of time and money right away. 
The classes have an "artsy" feel that is unlike traditional classes taught in a forge setting, so keep that in mind when considering signing up. If you are wanting a more artistic blacksmithing experience, however, these classes may be perfect for you.  
If you live in Kentucky and have never been to Berea before, consider taking a mini vacation to the town and explore its artistic offerings!