List of Blacksmithing Classes in Indiana & Indianapolis 2020 [Updated]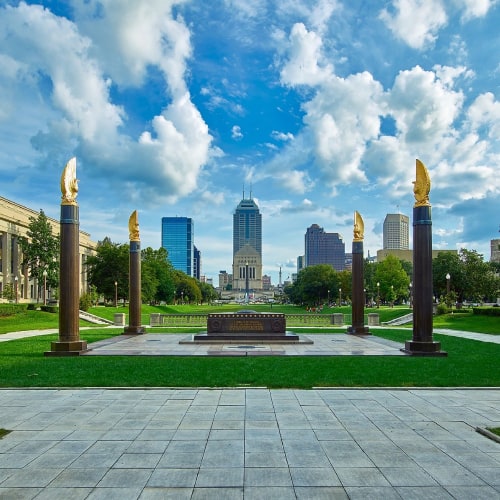 Indiana is a Midwestern state with strong manufacturing and agricultural industries. Blacksmithing historically played a large role in both industries as Indiana's population grew and the state officially formed.
Like most other states in America, Indiana was once home to many small farming communities that relied on blacksmiths to make horseshoes, farm tools, and household items. Blacksmiths in 19th and early 20th century Indiana also repaired a range of goods when new ones were not yet available for purchase in rural areas.
Today, blacksmithing continues to thrive both in small towns and in Indiana's capital and most populous city, Indianapolis.
Blacksmiths across the state offer instruction in various techniques for beginners and advanced students alike. Check out the classes, open forges, organizations and other unique learning opportunities available to blacksmiths in Indiana!
---
Type: Blacksmithing, Bladesmithing
Classes: Small group (2-3 people), afternoon/evening classes, beginner online course
Price: $120-$240
Website: https://browncountyforge.com
Telephone: N/A
Location: 611 W. 11th Street Bloomington, IN (50 miles south of Indianapolis) 
Brown County Forge is owned by blacksmith Terran Marks, who crafts iron hooks, hardware, and other implements, writes books, and teaches classes. Beginner blacksmithing and railroad spike knife making classes are offered throughout the year on weekends. Classes take place in the afternoons and evenings for a few hours, so if you have a busy schedule and cannot commit to longer, full-day classes offered by other shops, these classes may be a good option.
Skills covered in the beginner blacksmithing class include drawing out, scrolling, upsetting, bending, and more. Students choose to make S hooks, fire pokers, bottle openers, keychains, or wall hooks during the duration of the class and take the project home at the end. This class is definitely geared towards beginner smiths, so it's great for blacksmiths who are just starting out and want a better understanding of the basic techniques involved in the craft.
People interested in knife making will love Marks's railroad spike knife making class! Students learn to forge a knife for themselves from start to finish, with topics like blacksmithing, quenching, tempering, grinding, and sharpening all covered within the length of the class.
The classes offered at Brown County Forge would be an overall great choice for beginner and intermediate smiths because of the flexible scheduling and techniques taught.
---
Type: Open Forge, Blacksmithing, Bladesmithing
Classes: Small group, individual
Price: $20-$780
Website: https://theindyforge.com/
Telephone: (317) 513-0857
Location: 11220 McGregor Road, Indianapolis, IN 46259
The Indy Forge is the only blacksmithing forge in the Midwest to offer a 'Makerspace' learning environment. Blacksmiths of all skill levels are invited to become members of The Indy Forge. Members choose from several tier levels and depending on the one chosen, students gain access to books, kits, in-person instruction, and open forge space to create whatever they want using tools provided by the forge.
Membership tiers include one hour, monthly, six month, and annual passes in the price range listed above. This ensures that no matter a smith's budget, they can enjoy all that The Indy Forge has to offer.
Because of its open forge concept, this option is great for blacksmiths who do not have their own home setup, or want to experiment with new tools and techniques with the guidance of professionals. This is also a great work environment for people who want to meet other smiths and possibly collaborate on projects.
---
Type: Knife making
Classes: Small group (2 students), 4 day, full day classes offered several times per year
Price: N/A
Website: minnickknives.com
Telephone: (765) 354-4108
Location: Middletown, IN (45 miles northeast of Indianapolis)
With over 30 years of experience, Jim and Joyce Minnick of Minnick Knives, have much to offer students who attend their knife making classes. Both artists have been recognized globally for their work, and have even been titled maestros in knife making and engraving by the Corporazione Italian Coltellinai in Milan. Jim Minnick has been a member of the Knifemaker's Guild since 1978.
Jim Minnick offers a 4 day knife making intensive, in which students learn the complete process of making a liner lock knife. Shop safety, techniques, and marketing advice are all included in instruction. All materials are also included. At the end of the class, students are invited to a hammer in, where they can meet other knife enthusiasts and learn from watching several demonstrations.
Minnick Knives's class would be ideal for someone with a bit of background knowledge on knife making and a serious passion for learning more and advancing their skills. Because of the duration of the program, it is also worth considering if the time commitment is a good fit with your personal schedule and level of interest in knife making.
Minnick's classes include advice on how to market products and become a knife maker yourself, which is really unique to other classes offered. Get ahead of the competition by learning from a master!
---
Type: Blacksmithing, Bladesmithing, Welding, Forge Building
Classes: Small group, afternoon and evening, 7-15 weeks long
Price: $373-$592
Website:

https://www.indplsartcenter.org/sculpture

Telephone: (317) 255-2464
Location: 820 East 67th Street Indianapolis, Indiana 46220
The Indianapolis Art Center offers classes in blacksmithing, bladesmithing, welding, and forge building that are appropriate for all skill levels. The college-style classes take place over 7 weeks for blacksmithing and forge building and 15 weeks for bladesmithing and welding.
Classes at the Indianapolis Art Center are unique from others in the state because they focus on a broader range of skills and emphasize artistry. Blacksmithing classes cover ornamental techniques, for example, and students make leaves, hangers, and home and garden decorations.
The bladesmithing and welding classes cover the basics of each craft, and students are encouraged to use what they know to make artistic pieces. If you are a smith who enjoys creating artistic finished products, or you want to learn how to add more flair to your work, the classes at the Indianapolis Art Center allow you to explore and get creative.
Some things to consider before signing up for one of these classes are the cost and duration of the programs. These classes are longer and more expensive than others discussed in this article, but also provide students the time, materials, and instruction to advance in their craft and become more confident smiths or welders.
---
Type: Blacksmithing, Knife making
Classes: Small group, afternoon and evening weekday classes
Price: $280-$295
Website: https://www.connerprairie.org/explore/classes/arts-arms/
Telephone: (317) 776-6000
Location: 13400 Allisonville Road, Fishers, IN 46038 (~20 miles north of Indianapolis)
Conner Prairie is an outdoor museum and living history center that offers a range of classes related to traditional crafts. As a Smithsonian affiliate, you can be sure to receive high-quality instruction. Blacksmithing and knife making classes are offered each week and cater to all skill levels.
Blacksmith Nathan Allen guides students through the basics of blacksmithing such as drawing, punching and hardening to make pliers, fire pokers, chain links, and more. Ax and Damascus steel forging classes are also offered for those interested in more specialized blacksmithing techniques.
Knife making enthusiasts can learn the craft with Dwight Gallian, who teaches topics such as steel selection, handle finishing, filing, and forge usage. Both standard and folding knife classes are offered.
Classes at Conner Prairie would be great for someone with a flexible schedule who is looking for a more 'mid-level' experience in terms of price and depth of teachings. The historic setting and hands-on learning environment is unique to Conner Prairie and should be considered when comparing class options.
---
Type: Blacksmithing
Classes: Hammer ins, conferences, demonstrations
Price: N/A
Website: http://www.indianablacksmithing.org/index.html
Telephone: (765) 768-6235
Location: N/A
The Indiana Blacksmithing Association and its satellite organizations offer unique opportunities for smiths living all across the state of Indiana. Hammer ins, conferences, and demonstrations take place throughout the year and aim to advance the education and networks of blacksmiths.
It's easy to join the IBA. Just call or check out their website to get a membership registration form. Once you're a member, you will enjoy the activities mentioned above, plus newsletters, scholarships, and a lending library full of resources to further your skills.
As an affiliate of ABANA, the Artist Blacksmith's Association of North America, the IBA also allows you to access classes and workshops hosted by this larger, highly respected organization.
If you are a seasoned blacksmith looking for a sense of community, or are just getting started with your own business, the networking opportunities offered by the Indiana Blacksmithing Association can definitely be of benefit to you. Members can invest as much or as little time in the Association as they want, so this is also a more flexible way to learn and grow than taking an individual class.