List of Blacksmithing Classes in Maine 2021 [Updated]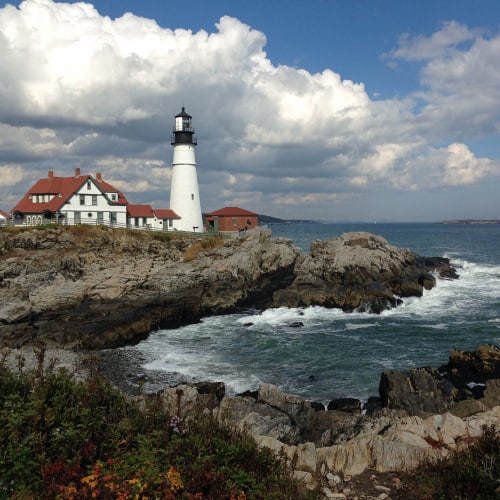 Maine is the northernmost and easternmost state in New England. It is known for its vibrant arts and fishing culture and traditional shipbuilding industry. The state has a long and fascinating Native American history and is considered the first site of European landfall in what is now the United States, as Norwegians interacted with native peoples as early as 1200. 
Maine's unique mix of history, economics, and culture has allowed blacksmithing to thrive both historically and in the present day. Unlike other states, Maine relied on blacksmithing not just for farming and settlement, but for shipbuilding as well. While blacksmithing may not immediately come to mind when thinking of maritime manufacturing, the expertise of blacksmiths is needed for making rivets and other metal components on boats and ships. 
Maine is a haven for blacksmiths and other artisans. Classes are offered across the state and the presence of an authoritative blacksmith guild provides advice and partnership with local craftspeople. Below are some of the best blacksmithing offerings available in the state of Maine in 2021.
---
Type: Blacksmithing
Classes:

tutoring, apprenticeships, live demonstrations, workshops

Price:

$159

Website:

 https://www.maineblacksmiths.com/

Telephone: N/A
Location:

6 Old Alfred Road East Waterboro, ME 04030 (

~30 miles west of Portland

)
Maine Blacksmith's Guild supports the history of blacksmithing in the state and the craftspeople working and living there today. The Guild is run by Guildmaster Sam Smith, who started blacksmithing at the age of 14 and dedicates himself to maintaining traditional blacksmithing in Maine and elsewhere. 
In addition to the offerings described below, each year, Smith and his team travel to Europe to "catalog and recreate all the lost ironwork that has failed to be passed on." The Guild takes what they learn abroad and brings it home to Maine, where they keep traditional techniques alive. 
Maine Blacksmith's Guild offers unique learning opportunities based on skills and techniques from the 19th century and earlier. One of the best ways for students to get started learning with the Guild is through their tutoring program. Students as young as 12 learn how to make beginner projects like nails and hooks in 2 hour instructional increments. 
If you are brand new to blacksmithing, or you have children who are interested in learning the trade, the Guild's tutoring program is a great option and a rare opportunity within the blacksmithing world. 
For blacksmiths who are serious about learning the trade in-depth and starting their own business one day, the Guild's apprenticeship program offers comprehensive, 4 year education in all things smithing. The apprenticeship program has a series of steps for admission, so do your research before applying. 
Finally, Maine Blacksmith's Guild offers demonstrations and exhibitions at schools, fairs, historical societies, and more throughout the year. These are great opportunities for smiths of all ages and skill levels to see the Guild in action and learn through observation.
---
Type:

Blacksmithing, Knife Making

Classes:

small group, weekend, weekday, full day

Price:

$275-$395

Website:

https://curranhomestead.org/currentclassesworkshops/

Telephone:

(207) 205-4849

Location:

P.O. Box 107 Orrington, ME 04474
The 19th Century Curran Village is a living history homestead and museum that educates visitors on life at the turn of the century. The Village offers hands-on learning opportunities related to historical trades and everyday living. 
Blacksmithing workshops appropriate for a range of skill levels and interests are available this winter. 
Offerings include a knife making workshop, two weekend beginner blacksmithing workshop, and a forge building class. Classes are taught by Dwight King and Robert Schmick and cover all the steps needed to make your own finished project or forge. 
The knife making and blacksmithing classes include free copies of books related to the subject taught, so you can continue to learn at home after attending the workshop!  It is important to know when signing up for workshops at the Curran Village that certain tools and safety equipment are not included and need to be brought from home. These include a hammer, safety glasses, gloves, protective footwear, and face mask. 
Class sizes are currently being capped at 6 students due to COVID-19, so students concerned about attending workshops can continue to follow safety guidelines and learn without too much worry.
---
Type:

Blacksmithing

Classes:

Tuesday evenings, small group, open forge

Price: $65
Website:

http://www.primitiveskills.com/tag/blacksmithing/

Telephone:

(207) 623-7298

Location:

716 Church Hill Road, Augusta, ME 04330
The Maine Primitive Skills School is a learning institution offering education in survival, foraging, ancestral knowledge, and bush craft to promote an understanding of the natural world. The school offers unique blacksmithing lessons related to survival and primitive skills. 
Upcoming blacksmithing workshops include blanket pin making, braiding and twisting steel, and an open forge night. The pin making class allows students to make a blanket into a cape using scrap metal. Learning to braid and twist steel is useful for a range of projects, both within primitive arts and traditional smithing. Finally, the open forge offering allows beginner through advanced smiths to make whatever they desire in a collaborative environment. 
Depending on the workshop selected, students should bring some equipment from home including lunch, water bottle, appropriate clothing, a knife, and a notebook.
---
Type:

Blacksmithing, Bladesmithing, Welding

Classes:

Small group, weekend, weekday, full day, evening

Price:

$500-$800

Website:

https://newenglandschoolofmetalwork.com/

Telephone:

(207) 777-3375

Location:

7 Albiston Way Auburn ME 04210 (

~35 miles north of Portland

)
The New England School of Metalwork is a non-profit organization directed by Dereck Glaser. Glaser began blacksmithing at the age of 14 and has taught across the US. His team of instructors represent some of the area's best metalworkers. 
Blacksmithing, bladesmithing, and welding classes are offered throughout the year and cover a wide range of metalworking topics. There is truly a class for every skill level and interest. If you are looking to learn new skills or make a specific project, the New England School of Metalwork's extensive offerings are worth researching. 
Classes are accessible and varied, and are great options for smiths who want to invest a specific amount of time and money into their education. Something completely unique to the New England School of Metalwork is their dorm option. Students can live in single occupancy dorms while studying at the school, which makes it more affordable for students traveling long distances.
---
Type: Blacksmithing, Metalworking
Classes: s

mall group, weeklong, full day

Price:

$875 tuition fee & $237 material fee for Blacksmithing, $825 tuition fee & $155 material fee for Metalworking

Website: https://www.thewoodenboatschool.com/index.php
Telephone:

(207) 359-4651

Location:

41 WoodenBoat Lane, PO Box 78, Brooklin, ME 04616
WoodenBoat School has been devoted to teaching traditional craftsmanship for 41 years. Among its offerings, the school teaches Blacksmithing for Boatbuilders and Metalworking for Boatbuilders; courses that are completely unique to Maine. 
Whether you are a boat builder who would like to learn some practical smithing skills, or a smith interested in pursuing boatbuilding, Blacksmithing for Boatbuilders is the perfect introduction to smithing as it relates to the boatbuilding craft. Master blacksmith Doug Wilson leads students through a weeklong, intensive course on all things forging. Students learn how to make boat-related tools and hardware by hand using basic blacksmithing techniques. 
Metalworking for Boatbuilders covers fabricating and repairing metal parts that are needed for the boatbuilding process. Students learn which metals are appropriate for the marine environment and make hull fittings, cabin hardware, tools, and decorative elements. Techniques such as silver brazing, drilling, soldering, and forming are taught.