Shou Sugi Ban Beginners DIY Tutorials & Techniques Guide [With Videos]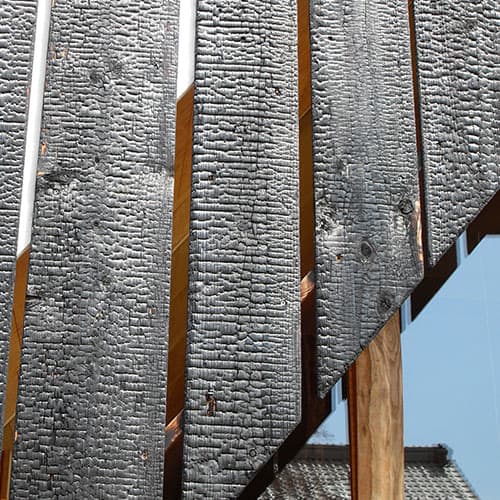 Shou sugi ban, or yakisugi (焼杉), is a traditional Japanese wood product that is created using fire. Wood like cedar is burned using either modern or traditional techniques and the charred surface provides protection from insects, fire, water, and temperature changes.
Learning shou sugi ban is accessible thanks to online tutorials and modern techniques. This preservation method is appropriate for a range of different products and can be beneficial for hobbyists and business owners to learn because of the durability and aesthetics that shou sugi ban provides.
Read on to learn how to create shou sugi ban wood at home and master modern and traditional methods.
---
What Tools do I Need for Shou Sugi Ban?
Shou sugi ban requires a fairly minimal list of tools that are easy to find at local hardware stores or through online retailers. The basic materials needed include:
Traditionally, the wood used in shou sugi ban is cedar, but other light woods work as well. Pine and spruce are easy to find at lumber yards and are good options for most people.
Box of 3/4" Thick Boards - All Eastern Red Cedar
Full box measuring 12" x 12" x 6". Ends up being between 15 and 20 pounds of wood
This box will be full of Red Cedar boards. Red Cedar is typically very knotty.
Each board will be 3/4" thick or thicker, and kiln dry. Some boards may have a crack here and there.
---
A propane torch is used in the modern method of shou sugi ban, and can be bought in stores or online. A larger torch is recommended because it will provide a more even burn in a shorter amount of time.
Small torches do work, but may create a splotchy affect on the wood surface. Torches are the modern alternative to lighting wood on fire, and they provide more control than the traditional method.
---
A wire brush is helpful for removing access char from the wood and revealing the design hidden underneath. The excess soot remaining after the burning process hides the true appearance of shou sugi ban, so take the time to carefully remove it.
Sale
---
If you choose to stain your shou sugi ban wood, use a water based stain to help create a unique finish and accentuate the results of the shou sugi ban process.
Sale
---
Depending on your personal preference, sanding pads or a hand sanding block are necessary for prepping the wood for finishing.
Sale
12 Pack Sanding Sponge,Sackorange Coarse/Medium/Fine/Superfine 6 Different Specifications Sanding Blocks...
Washable and reusable, can be used wet or dry,and also can be used directly in water.Because of its...
12 pieces in total in 6 different grade coarse, medium 1,medium 2, fine,superfine 1 and superfine 2...
Using high density sponges as base material, the resilience is excellent, plasticity is strong, and...
---
This is necessary for sealing the wood and bringing the shou sugi ban to life. While durable on its own, poly seals in any stain that you apply and helps the look of the wood stand out.
It is also important to note that care and caution should be exercised while using the propane torch and the chemical stains and poly products. Always work outside or in an open, well ventilated area.
---
Modern Method & Technique of Shou Sugi Ban
This video illustrates the modern method of shou sugi ban that is widely used by woodworkers today. Begin with a wood plank and a propane hand torch. Lightly burn the wood using an even, back and forth motion, moving horizontally across the surface of the wood.
This will accentuate the grain of the wood and give it a distinct, striped look. Torch the wood heavily for a deeper, darker burn. The surface of the wood will crinkle and turn a bit gray. Continue working across the wood evenly. Use a wire brush to remove access soot from the wood.
Work only in the direction of the wood grain to prevent scratches. Sand the wood with a 220 grit sandpaper or higher to create a smooth, embossed appearance. Wipe off any dust that remains and seal with a brush-on poly.
---
 Color Techniques in Shou Sugi Ban (How to Add Color)
Craftspeople using modern techniques to create shou sugi ban also incorporate color to add a new look to the wood. Use a propane torch to lightly burn the surface of a wood plank. Then use a wire brush to remove extra soot.
The next step is to add color. Mix acetone and liquid dye and apply to the wood surface with a cotton cloth. Use a Scotch Brite pad to lighten any areas of the wood that may be too concentrated with dye. Seal your work with a spray on lacquer or other sealant of your choice.
---
Traditional Technique of Shou Sugi Ban
The traditional method of creating shou sugi ban begins by tying three planks of wood together to form a triangular center. A fire is started inside and the planks are stood up on one end while the fire is left to burn.
Once the fire has burned for the appropriate time, the planks are laid flat again and untied from each other. They are then dunked in water to put the fire out completely. The wood is now ready for finishing.