How to Become a Goldsmith 2023 (Apprenticeships, Education & Prospects)
Goldsmithing, or precious metal working, is a centuries-old craft that works gold and other precious metals. Historically, goldsmiths created a range of products such as jewelry, utensils, and servingware. Today, goldsmiths mainly fashion pieces of jewelry.
This can be a lucrative career for creative and detail-oriented individuals who enjoy metalworking on a smaller, more delicate scale than similar trades like blacksmithing or bladesmithing. Because of the demand for high-quality jewelry, goldsmiths enjoy a higher level of job security than other creatives. In this article, we will dive deeper into what goldsmiths do, how to become a goldsmith, and the career prospects for aspiring smiths.
---
What Does a Modern Goldsmith Do?
While the name implies that goldsmiths work solely with gold, they actually work with a variety of precious metals such as silver and platinum to make jewelry. They are also skilled at selecting and placing gemstones.
Duties of a Professional Goldsmith (precious metal worker)
Goldsmiths perform a variety of tasks in their day to day routines, such as:
Ordering materials and determining metal qualities
Reading orders/instructions and create based on guidelines
Using various equipment to heat, cut, form, and polish metals into desired pieces
Communicating with customers and performing administrative tasks
Goldsmith Equipment Required for the Job
Some of the most common equipment used by goldsmiths includes a rolling mill, files, pliers, hammers, polishing tools, and a heat source to make metal moldable. Although these tools are standard in the industry, you may require more or less equipment depending on the types of items you make and your individual style.
If you work for yourself, you will be able to decide what equipment you use the most and what is worth investing in. If you work for an employer they will provide the tools needed and you will likely need to know how to operate a more extensive list of equipment.
What Items Do Goldsmiths Make?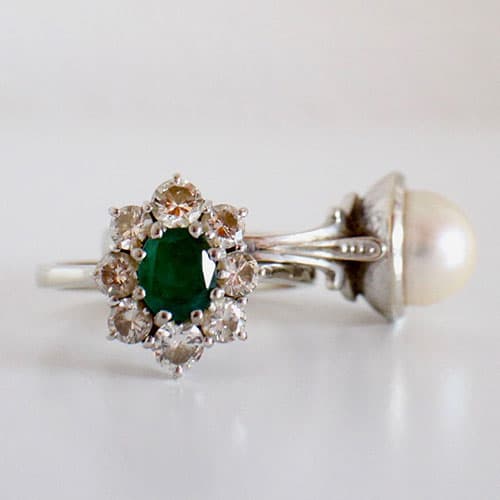 Most goldsmiths today create jewelry pieces like rings, necklaces, bracelets and brooches, although as artists, the possibilities are only as limited as their imaginations. Many goldsmiths specialize in a specific style of jewelry making and they typically craft pieces that fit their desired aesthetic. Others work on a wider range of products that are appealing to large markets.
---
Education Paths for Goldsmiths – Where to Begin?
As with other trades, there is no one path to becoming a goldsmith. Depending on where you live, you may have different opportunities available to you in the metalworking field, so be sure to do research about degrees and programs in your area to find the educational path that works best for you. It may or may not be a traditional degree, as there are other options such as self-teaching and apprenticeships, which will be covered in this section.
1) Goldsmith College/Technical School
Goldsmithing is becoming an increasingly common area of study in major arts colleges worldwide. Most four-year colleges offer a bachelor of fine arts in subjects such as jewelry design or artistic metalworking more generally. Any program that incorporates hands-on learning is a great option for prospective goldsmiths because you will be gaining experience working with different metals and techniques in the classroom.
Many technical schools also offer degrees in metalworking or jewelry making and are shorter, usually more cost-effective programs. While they may not be as in-depth as a traditional college degree, two-year programs allow you to learn what you need in a short amount of time so you can get into the workforce and gain real-world experience faster.
If you are wondering what programs are available in your area, check out metalsmithsociety.com for schools and studios offering classes in the US and worldwide.
---
2) Goldsmithing Apprenticeships
Like other metalworking professions, goldsmithing is oftentimes taught through apprenticeships with local master smiths and organizations. Apprenticeships allow for one-on-one training in a real workplace setting, so it is a great way to learn the trade in an individualized manner and become familiar with industry practices. One of the most prestigious apprenticeship programs for goldsmiths is through The Goldsmith Company in the UK.
Apprentices learn the trade and demonstrate their skills at trade shows and events. If you are located in the UK or are willing to travel, this program is definitely worth checking out. For prospective goldsmiths in other regions of the world, inquire with local goldsmithing organizations or individual smiths in your area for information on apprenticeship programs.
---
3) Self-Teaching
In addition to learning through a traditional program, self-teaching and regular practice can help you acquire a wider range of skills and help you develop your own unique style of jewelry making. Experiment with different metals, finishing techniques and designs to refine your personal aesthetic and master the skills needed to make a wide range of items.
Self-teaching is not only inexpensive and flexible, but it shows that you are a motivated individual who is truly passionate about goldsmithing.
---
Additional Skills & Requirements of Goldsmiths
Each goldsmith has his or her own unique set of characteristics and mastered techniques. The following are a few skills all goldsmiths need to succeed at the craft and stand out amongst competitors. For those seeking self-employment, their skillset must be even broader.
1) Manual Dexterity
Goldsmithing involves working with very small pieces of metal and shaping them in intricate ways. Therefore, goldsmiths require a high degree of manual dexterity and the ability to perform repetitive motions with their hands.
---
2) An Eye for Design & Visualisation
Goldsmithing is a highly artistic craft that requires knowledge in design. Goldsmiths need to make good-looking products in order to sell them, and the more beautiful and tasteful their work is, the more sought after it will become. Many goldsmiths develop their own style and create their own signature designs for pieces. If you are seeking self-employment, having strong design skills are vital in creating marketable products that clients will recognize.
Goldsmiths are also able to take a written or verbal draft of a design and create a tangible product from it. This requires a high degree of visualization in order to make an idea come to life.
---
3) Customer Service/Business Skills
Goldsmiths work with many clients throughout their day-to-day routine, so strong customer service skills are a must. Basic administrative skills are also helpful, especially for self-employed goldsmiths. Answering phone calls and emails, organizing orders and invoices, and other 'housekeeping' is necessary for running your business successfully.
Marketing skills and a basic understanding of social media are also extremely helpful in promoting your work and gaining a solid clientele base.
---
Where Would You Work As A Goldsmith?
Goldsmiths work in a variety of settings around the world. Some goldsmiths prefer to work as artisans in a more traditional artistic setting. Others go on to work for small businesses and larger companies.
1) Personal Studios
Like other artists, many goldsmiths work in personal studios in their homes or rented spaces. Studios allow goldsmiths to acquire their own unique collection of tools and equipment and work in a space that is comfortable and inspiring.
---
2) Storefronts/Local Businesses
Most goldsmiths work for local jewelry stores or own their own businesses. They work as both salespeople and artisans to sell and craft products. Most stores have a showroom where pieces are sold and a studio in back where goldsmiths perform the majority of metalworking. Jewelry stores are pretty easy to come by in most towns and cities worldwide and are therefore good places to seek employment, especially if you are new to the industry.
---
3) Large Companies
Some goldsmiths work for larger jewelry companies. Workshops tend to be bigger to accommodate a wider range of products created and the number of pieces made and sold. The number of goldsmiths employed at large companies is also greater than in small businesses. For the more extroverted goldsmith, working for a large company may be a better fit than a personal studio or small business.
---
What is a Goldsmiths Salary?
Goldsmiths employed in the US earn between $30,000 and $70,000. In the UK, median earnings are a bit higher, at around £40,000 or more as smiths gain experience. For goldsmiths who are self-employed, annual income can be even greater than the estimates provided here.
---
How Long Do Goldsmiths Work?
Goldsmith can work part or full time depending on where they work and their personal preferences. Goldsmiths employed at stores usually work full time and business owners often work more than 40 hours a week. Some smiths add classes to their schedules to make additional income.
---
What Are the Career Prospects for Goldsmiths?
While the number of goldsmiths entering the workforce has been decreasing steadily over time, this does not mean that their skills are not valued in today's economy. People will always be interested in buying high-quality jewelry for themselves and their loved ones, so goldsmiths are needed to meet demands.
The gemstone industry (which is closely linked to goldsmithing) is a multi-billion dollar industry that requires goldsmiths and others who are well-versed in precious gemstones and metals to buy and use their raw materials. There continues to be a need for goldsmiths, and although it is not a popular career path, it is one that is important to the economy today.
---
Preparing for a Career in Goldsmithing (Things You Can Do Right Now!)
If goldsmithing is something you are interested in pursuing, you can take actionable steps towards your goal by jumping in and learning as much as you can about the trade.
1) Art Classes
Goldsmiths are artists, so any artistic classes you can take will help you in the metalworking process. Art classes allow you to explore your creativity and learn about the different elements of design that can be applied to jewelry making. Check out local art studios, community centers, and small businesses for classes in your area.
---
2) Reading
Reading for instruction or inspiration is a great way to prepare yourself for a career in goldsmithing. Whether you are working on refining your technique, or you are a beginner goldsmith, the book Professional Jewelry Making: A Contemporary Guide to Traditional Jewelry Making Techniques is a great resource for all things goldsmithing.
Master goldsmith Alan Revere explains various techniques and walks the reader through how to make different projects. Amazon.com, local bookstores and libraries carry many books on jewelry making and the history of goldsmithing, so there is plenty of information out there to get you started on your educational path.
---
3) Volunteer in a Jewelry Store
Perhaps the best way for an aspiring goldsmith to learn about the craft is to work in a jewelry store, even before getting training to become a goldsmith. Many jewelers hire salespeople with limited knowledge of goldsmithing itself, but who have an eye for style and great customer service skills. Knowing at least a little bit about jewelry making can help you have more authority on the sales floor and make you a more competitive applicant, so do your research about the basics in jewelry design and then apply at a jewelry store near you!
---
Are You Ready to Become a Goldsmith?
Goldsmithing is a great career choice for artistic individuals interested in metalworking and design. There are many paths to becoming a goldsmith, but hopefully this article helped answer some of your questions about the work goldsmiths do and how you can become one.