List of Glass Blowing Classes in Tennessee 2023 [Updated]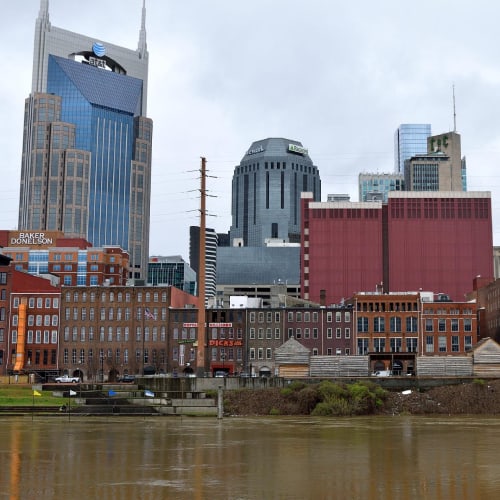 At the mention of Tennessee, one might first think of country music and cowboy boots. However, the state also has a rich culture of glass art.
Several private glass blowing studios are located across the state of Tennessee and offer learning experiences for visitors.
Tennessee Tech, one of the best public schools in the South, offers summer learning opportunities hosted by visiting glass artists.
The following are the best glass blowing classes available in the state of Tennessee this year. Whether you are a beginner or have years of experience, these classes and workshops are sure to meet your needs.
---
Type: general glass art, glass blowing
Classes: small group, weekends, weekdays, full day
Price: $195
Website: https://www.thomasspakestudios.com/workshop/3235/intro-to-glassblowing
Telephone: (423) 596-8696
Location: Jasper, TN
Thomas Spake opened his studio in 2002. He started blowing glass in 1994 and utilizes his experience to create custom artwork and quality educational experiences.
Students can sign up for Spake's Introduction to Glassblowing class and learn the basics of the craft. Techniques covered include gathering, color application, marvering, blocking, and more.
Project options include paperweights, flowers, and sculptures.
---
Type: general glass art, glass blowing
Classes: small group, weekends, blow-your-own
Price: $45-$175
Website: https://www.ignisglass.com/
Telephone: (423) 365-2565
Location: 401 Broad St. Suite 105 Chattanooga, TN 37402
Ignis Glass Studio offers family friendly blow-your-own glass experiences. Because the activity is easy and appropriate for even small children, this option is best for families.
Participants choose their colors, turn the glass in the furnace, and inflate their piece with the help of an instructor. Project options include ornaments, paperweights, and vases.
---
Type: general glass art, glass blowing
Classes: small group, weekends, weekdays, 1-3.5 hour sessions
Price: $130-$275
Website: https://thefirehallstudio.com/index.html
Telephone: (423) 972-9265
Location: 102 E. Grove St. #1 Greeneville, TN 37745
Firehall Glass Studio is owned and operated by Mark Russell. He has been blowing glass since the 1970s and has created custom work for Disney, the Corning Museum of Glass, and other well known companies and institutions.
Russell works and teaches in Firehall Glass Studio. He offers classes for beginners. Pricing varies depending on the number of participants. Class duration ranges from 1 to 3.5 hours.
Students learn the basics of glass blowing and create sculptures and vases during class time.
For more experienced glass blowers, Russell offers studio rentals. Check out his website for more information on rental pricing and availability.
---
Type: general glass art, glass blowing
Classes: summer intensives, weekend, week-long
Price: $450-$880
Website: https://www.tntech.edu/fine-arts/craftcenter/workshops/summer/glass.php
Telephone: (931) 372-3051
Location: 1 William L. Jones Dr. Cookeville, TN 38505
Tennessee Tech is the top public university in Tennessee and one of the best in the South. The university offers degrees, internships, and other opportunities that prepare students for the workforce.
Summer glass blowing intensives are offered at the university. These workshops are hosted by Tennessee Tech and taught by guest instructors from around the country.
Beginner, intermediate, and advanced students alike will benefit from Tennessee Tech intensives. Topics covered include glass blowing fundamentals, techniques, sculpture, jewelry making and much more.
Workshop options vary from summer to summer, so make sure to check out Tennessee Tech's website for more information and sign ups as summer draws near.
Room and board are available for intensives, and this information can also be found at the website linked above.