List of Glass Blowing Classes in Alabama 2023 [Updated]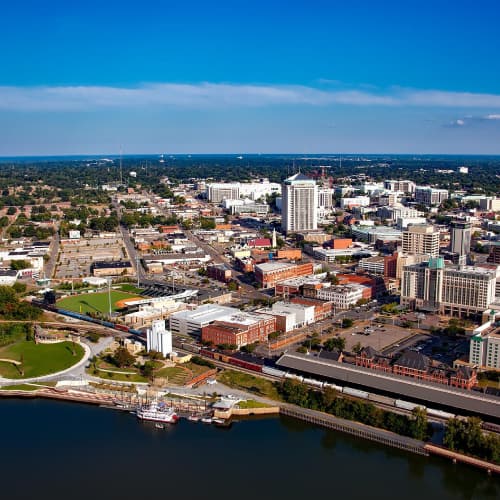 Glass art is thriving in the state of Alabama. Traditional crafts like glass blowing are very popular with residents and visitors alike. Glass studios and schools offer high-quality, affordable classes that help beginners get started in the medium.
Historically, Alabama's economy included glass manufacturing. The late 19th and early 20th centuries saw the success of several large glass companies in the state.
Today, glass continues to be influential in Alabama. Art glass is created in private studios, and the basics of glass blowing are shared in community school and university settings.
There are several class formats included in this list, so you are sure to find the right learning opportunity for you.
---
Type: general glass art, glass blowing
Classes: small group, weekdays, weekends, 30 minute sessions
Price: $40-$170
Website: https://orbixhotglass.com/
Telephone: (256) 523-3188
Location: 3869 County Rd. 275 Fort Payne, AL 35967
Orbix Hot Glass is owned and operated by Cal and Christy Breed. The studio sits on 26 acres and is the perfect setting to learn glass blowing for the first time.
The Breeds offer project-based classes that last for about 30 minutes. The short duration of classes and simplicity of the projects make this option ideal for families.
Project options include tumblers, flowers, bowls, and paperweights.
---
Type: general glass art, glass blowing
Classes: small group, weekdays, weekends, demonstrations
Price: $85-$185
Website: https://www.orangebeachal.gov/facilities/art-center/hot-shop/about
Telephone: (251) 981-2787
Location: 26389 Canal Rd. Orange Beach, AL 36561
Coastal Arts Center is a 10,000 square foot public arts education center located in Orange Beach. The Center offers a wide range of classes and includes a hot shop.
The hot shop has operated since 2009 and offers blow-your-own classes, private classes, and demonstrations.
---
Type: general glass art, glass blowing
Classes: university degree, semester-long courses
Price: Contact for tuition information
Website: https://www.southalabama.edu/colleges/artsandsci/art/glass.html
Telephone: (251) 461-1438
Location: 501 N. University Blvd. 172 VAB Mobile, AL 36688
The University of South Alabama is one of only a few schools in the United States to offer a glass blowing degree. Students can major in art with a glass concentration.
More detailed information about the glass blowing degree can be found on the university's website, but in brief, students complete an art degree and take additional classes on hot glass processes.
This is an amazing opportunity for any artist who wants to dive deep into glass blowing. While a degree in glass blowing is certainly not required in order to become a professional, it can be helpful for future educators and those who are really passionate about the craft.