List of Glass Blowing Classes in Minnesota 2023 [Updated]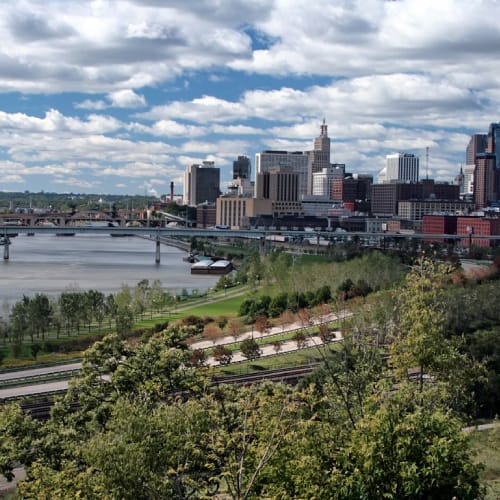 The state of Minnesota is home to many acclaimed museums and art organizations. Minnesota's rich arts and culture can be found not only in the large Twin Cities of St. Paul and Minneapolis, but also surrounding suburbs and other cities across the state.
Glass is one the most popular art mediums in the state, with independent art studios and artist cooperatives offering classes, workshops, and demonstrations for people of all ages.
Visitors and locals alike can appreciate the many opportunities to learn glass art firsthand. Most studios offer a wide range of class options and unique experiences like studio rentals, visiting artist workshops and more.
Whether you want to watch a live glass blowing demonstration or learn lampworking for yourself, there is a studio offering the experience you want!
If you have always been curious about learning glass blowing or a related glass art style, check out the following studios and the classes.
---
Type: general glass art, glass blowing, flameworking
Classes: small group, large group, demonstrations, kid's classes, weekday, weekend
Price: $49-$160
Website: https://lakesuperiorartglass.com/
Telephone: (218) 464-1799
Location: 357 Canal Park Dr. Duluth, MN 55802
Lake Superior Art Glass is a glass blowing gallery and studio that showcases art from regional artists and teaches visitors glass art.
The studio's owner, Dan Neff, has been blowing glass since 2003 and opened the space in 2012.
Lake Superior Art Glass currently offers glass blowing and flameworking classes and demonstrations for kids and adults. Classes are organized by skill level: beginner, intermediate, and advanced.
Whether you choose large or small group classes, you will experience quality instruction with one of Lake Superior Art Glass's talented staff members.
Beginner glass blowers and flameworkers learn to make simple projects like paperweights, flowers, ornaments, and goblets.
Intermediate and advanced students learn new techniques and tackle more difficult projects like glass marbles, wave sculptures, pumpkins and glassware. These classes do have prerequisites, so make sure to sign up for beginner classes first if you are new to glass blowing and flameworking.
Finally, if you are a parent whose children are interested in blowing glass, Lake Superior Art Glass offers special kids classes where your kiddos can safely make their own glass pendant.
Lake Superior Art Glass has so much to offer tourists and locals in northern Minnesota. The range of classes and finished projects make it the ideal place for anyone to learn about glass art.
---
Type: general glass art, lampworking, kiln work
Classes: small group, private, studio rentals, weekends, mornings, multiple sessions.
Price: $35-$125
Website: https://potekglass.com/
Telephone: (612) 281-7243
Location: 2505 NE Howard St Suite C Minneapolis, MN 55418
Potekglass designs custom glass pieces and offers glassworking classes. The studio is run by Malcolm Potek, who has been working with glass for over 20 years.
Potek earned his degree in studio glass in 1996 and has participated in workshops, teaching positions, residence programs, and community outreach ever since.
Malcolm Potek's passion for glass is evident in his commissions for area clients and in his many glass classes.
All beginner, intermediate, and advanced general glassworking and lampworking classes focus on teaching the skills necessary for success. Students work with instructors to create finished objects unique to their vision.
Serious students who have completed beginner and intermediate class offerings can take advanced multiple week classes to hone their skills and create several finished objects per week.
In addition to beginner, intermediate, and advanced classes, Potekglass also offers studio rentals for artists in need of a workspace. Information on studio rentals and other special offerings can be found on Potekglass's website.
---
Type: general glass art, glass blowing, flameworking, stained glass, coldworking
Classes: small group, demonstrations, visiting artist workshops, multiple sessions, weekends
Price: $45-$495
Website: https://www.mnglassart.org/
Telephone: (612) 759-8476
Location: 2213 Snelling Avenue, Minneapolis, MN, 55404
Foci Minnesota Center for Glass Arts (MCGA) is a large nonprofit organization established in 2009 that promotes glass art in Minneapolis.
The Center is nationally recognized for its many educational programs, which include glass blowing, flameworking, stained glass, and coldworking classes, demonstrations, and visiting artist workshops.
Classes at Foci MCGA run for multiple weeks and focus on the development of necessary glass blowing or flameworking techniques. Students complete these classes in order to build on previously acquired skills.
Those interested in learning from visiting artists should consider signing up for a visiting artist workshop, which are hosted throughout the year and feature some of the top artists in the US.
Those who want to observe the glass blowing process in real time can sign up to view demonstrations. This option is perfect for corporate groups or private parties who desire an education experience without getting too hands-on.
In addition to the many classes, workshops, and demonstrations at Foci MCGA, you can also rent out studio space or equipment. The facility is fully equipped for whatever project you want to make. Pricing can be viewed on Foci MCGA's website.
Glass art enthusiasts living in or visiting Minneapolis should definitely check out Foci MCGA and its wide array of educational opportunities. There really is something for everyone at this studio.
---
Type: general glass art, lampworking
Classes: small group, studio rentals
Price: $37-$64
Website: https://www.skylabglassarts.com/
Telephone: (763) 205-4032
Location: 8838 7th Ave N Golden Valley, MN, 55427 (7 miles west of downtown Minneapolis)
Skylab Glass Arts is a 3,000 square foot glass art and lampworking studio in Golden Valley, Minnesota. It was founded by David Schuster and fellow glass artists in 2016. The group started out blowing glass, but transitioned to lampworking.
They now offer classes and studio rentals focused on the art of lampworking.
Skylab Glass Arts is currently offering two classes: Beginner Lampworking and Holiday Ornaments.
Those new to lampworking learn all the skills necessary to complete simple projects in the Beginner Lampworking course. Holiday Ornaments is perfect for anyone with prior lampworking experience who wants to create one-of-a-kind Christmas gifts for friends and family.
Skylab makes it easy to sign up for classes based on your unique schedule. Simply visit their website and pick your class, date, and time.
Experienced lampworkers can book open torch times in 3 or 6 hour increments. Skylab provides all necessary equipment.
---
Type: general glass art, glass blowing,
Classes: small group, studio rentals, mornings, afternoons, evenings, weekdays, weekends, multiple class sessions
Price: $68-$650
Website: https://vandaliaglassworks.com/
Telephone: (651) 744-0000
Location: 103 Concord Exchange N South St. Paul, MN 55075 (16 miles southeast of downtown Minneapolis)
Vandalia Glassworks is owned and operated by Erick Schmidt and Bryce Borkhuis. The studio and gallery opened in 2015.
Schmidt and Borkhuis display local artist pieces and their own work in their gallery, sell their work, and offer glass blowing classes and studio rentals.
Students participating in glass blowing classes are involved in the process from start to finish. They get to use a blowpipe, shears, tweezers, and other glass blowing tools.
Classes are organized by skill level and project. Current classes include beginner paperweight, beginner ornament, intermediate drinking glass, intermediate pumpkin, advanced flutter bowl, and advanced 'make your own' vase.
A multiple week course called Path to Independence is offered a few times per year. This option is ideal for serious glass students who want to greatly advance their skills. The fundamentals of glass blowing are covered, such as blowing, transferring, and shaping.
Whether you are brand new to glass blowing or are seeking a serious glass education, Vandalia Glassworks has the experience for you.