List of Glass Blowing Classes in Iowa 2023 [Updated]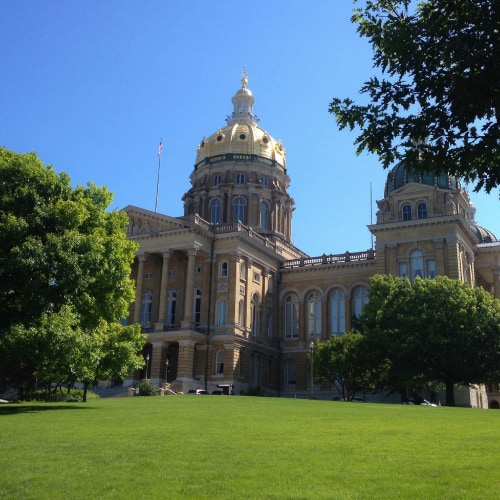 Iowa is a Midwestern state where the art of glass blowing thrives. Artists work with glass in both large cities like Des Moines and in rural studios.
Glass blowing opportunities in Iowa include demonstrations, blow-your-own experiences, introductory classes, and more.
The art form has long been a part of the culture of Iowa, especially among students. Iowa State University's Gaffer's Guild has been operating for over 50 years.
New generations of glass blowers learn together and share their skills in the Guild.
Communities across Iowa enjoy the glass blowing expertise of Iowa State graduates and artisans from around the country.
Iowa truly is a glass blowing destination. Whether you are visiting Iowa's cities or exploring areas like historic Van Buren County, you are sure to encounter glass blowing.
The following are some of the top studios and organizations offering glass art learning opportunities this year.
---
Type: general glass art, glass blowing
Classes: small group, private, demonstrations
Price: Free demos; contact for class pricing
Website: https://www.jjgaffers.com/
Telephone: (515) 745-3319
Location: 900 Keo Way Studio LL02 Des Moines, IA 50309
JJ Gaffers is owned and operated by Jesse Bogenrief and Jesse Ahrendsen. The duo offer private and small group classes for all experience levels and free demonstrations.
The studio is supported by local arts organizations and is the only one of its kind in the capital city of Des Moines.
Visitors are welcome to watch Bogenrief and Ahrendsen work. They can also participate in blow-your-own classes. Project options include paperweights, vases, bowls, and small sculptures.
---
Type: general glass art, glass blowing
Classes: small group, private, demonstrations
Price: $35-$200
Website: https://bloomandbark.com/
Telephone: (319) 293-6168
Location: 18517 Route J40 Keosauqua, IA 52565
Bloom and Bark is a farm and glass blowing studio owned by Tim and Kim Blair. Tim has been blowing glass for over a decade and is mostly self-taught.
Classes at Bloom and Bark vary in price and length, making them perfect for everyone. Choose from 10 minute blow-your-own classes or more instructional 2 hour sessions.
Students can choose to create ornaments, sculptures, or cups. For those who want to learn about glass blowing from a safe distance, the Blairs also offer free demonstrations whenever the studio is open.
For more information about Bloom and Bark's studio hours and class scheduling, visit their website or call them directly.
---
Type: general glass art, glass blowing
Classes: small group, private, demonstrations, weekdays, weekends
Price: Free demonstrations; $35-65 classes
Website: https://www.ciccottiartglass.com/#/
Telephone: (515) 231-1267
Location: 2306 258th St. Ames, IA 50014 (~30 miles north of Des Moines)
Ciccotti Art Glass is owned by Art Ciccotti. He is a self-taught glass artist who opened his first studio in 1987. Ciccotti creates custom glass and offers demonstrations and classes in his studio.
Demos are a great (free) way to learn more about glass blowing without participating in the process directly. Those who want to get hands-on can participate in blow-your-own sessions.
Ciccotti works on large projects on Saturdays, so make sure to schedule a demonstration on this day if you want to see glass blowing at its most dramatic.
Projects include balls, flowers, marbles, paperweights, pumpkins, vases, and mugs. Introductory classes that dive deeper into glass blowing techniques are also available.
---
Type: general glass art, glass blowing
Classes: small group, private
Price: $75-$250
Website: https://hotglassart.org/
Telephone: (309) 236-9223
Location: 104 Western Ave. Davenport, IA 52801
Hot Glass is a non profit arts organization and studio that aims to provide art intervention for youth and veterans. The organization was founded by Joel Ryser. He has been active in his community for decades.
Intervention programs at Hot Glass are tuition free and sustained by paid-for classes. The general public is welcome to sign up for paid classes. They come in a few different formats.
Seasonal classes focus on projects like palm trees, pumpkins, and ornaments.
Private classes are available for students who want to learn more about the glass blowing process. Techniques learned include basic gathering, heating, and shaping.
Couple's opportunities are also offered at Hot Glass. Classes are fun and creative ways to connect with a significant other or friend.
---
Type: general glass art, glass blowing
Classes: small group, demonstrations, semester-long instruction
Price: Contact for pricing information
Website: https://gaffer.stuorg.iastate.edu/
Telephone: N/A
Location: 606 Bissell Rd. Ames, IA 50011 (~30 miles north of Des Moines)
The Gaffer's Guild at Iowa State University has been operating as a student organization for over 50 years. The Guild is open to any student at the University.
Prospective members are required to take a semester-long introductory course to ensure competence in the glass studio. Students with previous glass blowing experience can opt out of this requirement.
While all members are welcome, the Gaffer's Guild is particularly interested in freshmen and sophomore membership. This allows younger students the time to gain experience before stepping into Guild leadership roles as seniors.
The Guild offers demonstrations for the University and community.
---
Type: general glass art, fusing
Classes: small group, open studio, 4-8 week sessions
Price: $75
Website: https://iowaceramicscenter.org/
Telephone: (319) 365-9644
Location: 329 10th Ave SE Suite 117 Cedar Rapids, IA 52401
The Iowa Ceramics Center and Glass Studio is a pottery and warm glass learning center in Cedar Rapids. Glass blowing enthusiasts will enjoy working with glass in new ways. Warm glass techniques like fusing are great ways to gain familiarity with glass as an art medium.
The Center offers 4 and 8-week open studio sessions for glass artists. These sessions are the perfect way to dive into your own projects and experiment in the studio.
Open studio requires an Iowa Ceramics Center and Glass Studio membership. At only $75 per month, these open studio times are well worth the price for those without a home workspace.
The 850 square foot glass studio has all of the tools and materials you need to complete warm glass projects.