List of Blacksmithing Classes in Virginia 2021 [Updated]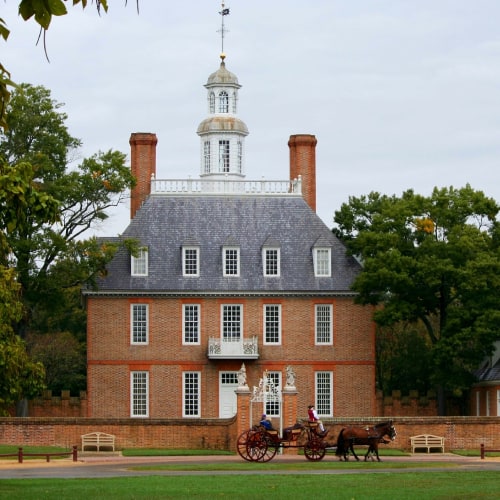 Virginia is a Mid-Atlantic state with strong historical and modern ties to blacksmithing and bladesmithing. The first permanent English settlement of Jamestown was established in 1607 and blacksmithing was one of the earliest trades to begin in the New World.
Early colonists in Jamestown relied on their blacksmiths to produce the tools, nails, and hardware necessary for building up the fledgling settlement. Blacksmithing continued to play a major role in the local economies of Virginian towns and cities throughout the colonial period and the American Revolution, as townspeople and farmers relied on local blacksmiths for new items and repairs.
Occupational blacksmithing thrived in the first three centuries of Virginia's history, and alongside artistic and hobby smithing, continues to play an important role in the arts and culture of Virginia today.
Compared to other states in the region, Virginia possesses a plethora of blacksmithing schools, classes, and organizations appropriate for all skill levels and interests. Below are educational opportunities being offered in 2021.
---
Type: Welding, Blacksmithing, Bladesmithing
Classes: Weekend, weeklong, project based, certification based
Price: $249-$2500
Website: https://vablacksmithing.org/
Telephone: (434) 960-9718
Location: 200 West Twelfth St. Suite D – 30 Waynesboro, VA 22980
The Virginia Institute of Blacksmithing is the only artistic blacksmithing school certified by the state of Virginia. The Institute is operated by Dale Morse, who began smithing at age 9. Morse invites guest instructors to facilitate classes covering a range of blacksmithing, bladesmithing, and welding topics.
Classes at the Virginia Institute of Blacksmithing include Introductory courses, Hatchet Building, Damascus Knife Making, Forging Tools, and much more. These weekend courses cover all the techniques needed to make a specific project. These short courses are appropriate for all skill levels and are a good introduction to metalworking, or good supplementation to knowledge previously mastered.
The Institute also offers year-long artistic blacksmithing certification programs. Students learn everything required to become an artist blacksmith and build a portfolio of work to help illustrate the skills learned throughout the program and set them apart from competitors within the field.
Classes at the Virginia Institute of Blacksmithing really are suitable for everyone, regardless of skill level, education goals, or age. In fact, blacksmiths as young as 10 are encouraged to sign up for weekend classes and learn the basics of the trade.
The class schedule for 2021 is currently available on the Virginia Institute of Blacksmithing's website and classes are offered every month of the year. Sign up now if you are ready to take your blacksmithing knowledge to the next level!
---
Type: Blacksmithing
Classes: small group, project-based, weekday, weekend
Price: N/A
Website: https://www.semicoloncraftandforgeworks.com/
Telephone: (703)-424-8569
Location: 1916 Isaac Newton Square West Reston, VA 20190
Semicolon Craft and Forgeworks is operated by Sean Crane and Gari Jimenez-Lugo, who are both blacksmiths with years of forging experience and a passion for teaching blacksmithing to students in northern Virginia.
Classes at Semicolon Craft and Forgeworks are appropriate for all skill levels and are organized into beginner, intermediate, and advanced projects. Beginner projects include S Hooks, J Hooks, Leaves, Pendants, Hair Pins, Punches, and Drifts.
Intermediate students can choose to make a Firepoker, Railroad Spike Knife, Forge Tools, Railroad Spike Hatchet, or a Letter Opener.
Advanced classes cover how to make Blacksmith Knives Damascus Knives, and a Wrapped Hatchet.
Students learn through demonstrations of techniques and hands-on practice, so whether you are a visual learner or grasp onto concepts through experimentation, you will find that instruction at Semicolon Craft and Forgeworks is balanced and appropriate for all learning styles.
---
Type: Blacksmithing, Welding
Classes: small group, demonstrations, tours, 1-3 days, weekends
Price: $10-$450
Website: https://gloucesterblacksmith.com/
Telephone: (804) 824-2631
Location: 6641 Gloucester Street, Gloucester, VA 23061
Village Blacksmith is a small, independently owned blacksmith shop owned and operated by George Cramer. Cramer started working with metal at 14 and attended his first blacksmithing class in 2003. After serving in the military, Cramer worked as a welding instructor before opening Village Blacksmith in 2015.
Cramer is a Discovery Channel Master of Arms champion and has been featured on other programs. He is passionate about providing quality, custom metalwork to clients and teaching others the ancient crafts of blacksmithing and welding.
Educational offerings at Village Blacksmith range from short shop tours and blacksmithing demonstrations, to 3 day intensive courses. Students learn all necessary skills required to make multiple projects as time permits.
Because of the affordability and class options available, Village Blacksmith is a great option for beginners interested in learning the basics of blacksmithing with a skill instructor.
---
Type: Blacksmithing, Knife Making
Classes: small group, evenings, weekdays, weekends
Price: $95-$300
Website: https://beachblacksmith.com/
Telephone: (757) 386-5814
Location: 120 Tilden Ave Suite A Chesapeake, VA 23320
Beach Blacksmith is owned and operated by Nathan Walker, a blacksmith with nearly 20 years of experience. He began as an apprentice in Colonial Williamsburg, and continues to share his passion for 18th century reproduction pieces.
Classes at Beach Blacksmith are appropriate for children, teens, and adults. Small group classes emphasize basic blacksmithing techniques, and focus on the completion of a range of beginner, intermediate, and advanced projects.
Examples of projects forged in class include knives, copper roses, cleavers, tomahawks, and other small items.
Beach Blacksmith offers date night, Valentine's Day, and other themed classes perfect for couples interested in bonding over a new skill. Registration for 2022 classes is currently on Beach Blacksmith's Eventbrite page. Sign up easily by following links to registration through beachblacksmith.com.
---
Type: Bladesmithing
Classes: small group, full day, 1-3 days
Price: $150-$500
Website: http://www.joinordieknives.com/
Telephone: (804)852-0392
Location: 1600 Valley Rd Richmond, VA 23222
Join or Die is owned and operated by Brent Stubblefield, a craftsman whose mission is to forge knives and community through independent craftsmanship. He competed in History Channel's Forged in Fire series and today makes knives and teaches students the fundamentals of knife making in his introductory, intermediate, and advanced classes.
Classes offered include single day Introduction to Knife Making, 2 day Forged Knife, and 3 day Damascus Knife Making. Stubblefield covers knife making from start to finish, including forging, quenching, tempering, grinding, and making handles.
Smiths interested in adding bladesmithing to their skillset, or bladesmiths looking to further their understanding of the craft should consider studying at Join or Die. Classes are more affordable than others in the region and because they cover all aspects of knife making, you will feel confident in your ability to recreate the process in your own workshop.
---
Type: Blacksmithing
Classes: Small group
Price: $127
Website: http://www.advancedsurvivaltraining.com/
Telephone:  N/A
Location: PO Box 32 Somerville, VA 22739
Advanced Survival Training is owned and operated by Tim MacWelch, who has taught survival skills for the past 20 years. All classes are hands-on and teach principles of survival and practical skills to compliment the human survival instinct.
Blacksmithing classes at Advanced Survival Training focus on primitive blacksmithing. Students learn to build their own forge and work without the use of propane and power tools. Examples of projects made include tomahawks, arrowheads, skinning knives, spoons, and other tools and utensils needed to survive with.
If you are someone who is interested in learning primitive skills and how they relate to blacksmithing, Advanced Survival Training courses are really unique opportunities to hone these skills with an expert.
---
Type: Blacksmithing
Classes: small group, weekend, full day
Price: $120
Website: https://www.rhhtfoundationinc.org/heritage-art-classes
Telephone: (804) 580-3377
Location: 73 Monument Place Heathsville, VA 22473
Rice's Hotel/Hughlett's Tavern is part of Heathville's Historic Town Square and was built over 250 years ago. Heritage Arts classes are hosted at the Hotel/Tavern focusing on blacksmithing and other traditional crafts that have been a part of Virginia's history for hundreds of years.
Beginner and intermediate classes are available on Saturdays in the spring. Skills taught include tapering, tempering, hardening, joinery, and twisting. Students without prior blacksmithing experience can take the beginner course and then move onto the upper level courses.
Rice's Hotel/Hughlett's Tavern blacksmithing classes would be ideal for a brand new smith who wants to take their time learning over the course of a day. The historic setting of the classes is also great for history buffs interested in early American metalworking.
---
Type: Blacksmithing
Classes: Meetings, open forge, introductory classes, demonstrations
Price: $25
Website: https://cvbg.org/
Telephone: N/A
Location: Central Virginia (Richmond, Fredericksburg, Petersburg, Williamsburg, Charlottesville)
The Central Virginia Blacksmith's Guild was founded in 1993 and offers members educational opportunities throughout the year. Meetings, open forge nights, and demonstrations occur throughout the year.
An Introductory course is available for new members to learn beginner blacksmithing skills under a qualified instructor. After the completion of the course, new smiths can participate in the other events offered by the Central Virginia Blacksmith's Guild.
CVBG membership is a great idea if you are a smith living in central Virginia who wants to meet other smiths living in the area and learn through exclusive opportunities.
---
Type: Blacksmithing
Classes: meetings, demonstrations, open forge nights, hammer ins
Price: $40
Website: http://www.bgop.org/index.html
Telephone: N/A
Location: 3608 North Military Rd. Arlington, VA
The Blacksmith's Guild of the Potomac is a non profit organization and affiliate of ABANA that serves blacksmiths living and working in northern Virginia, Washington D.C, Maryland, West Virginia, and Pennsylvania.
BGOP was formed in 1979 and aims to preserve and promote blacksmithing in Virginia, and supports new blacksmiths in their artistic and professional ventures.
Meetings are held on the 1st and 3rd Fridays of each month. Other events include open forge nights, hammer ins, demonstrations, parties, and auctions.
The Blacksmith's Guild of the Potomac is a great organization to join if you are new to smithing and want to learn about the craft from others living in northern Virginia or if you have been forging for years and crave interactions with the larger blacksmithing community.