Best Utility Kilts for Style, Functionality & Protection 2023 [Updated]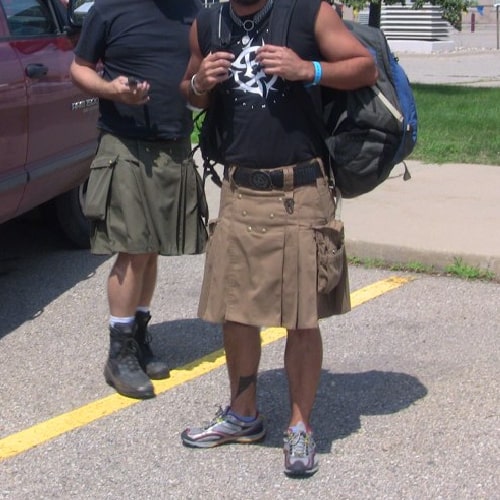 Utility kilts are growing popularity among many tradesmen and metal workers. These kilts are a great option for people who would like more freedom and mobility while working on projects without having to be constrained by the typical cargo or tactical pant.
There are many different kilt styles and features available now that it may be overwhelming to decide which kilt will give you the most bang for your buck. This decision is largely dependent on the type of work you will be doing and what your preferences are.
We describe below some of the important considerations to keep in mind prior to making your kilt purchase. If you are still unsure of which kilts to look for, we have also provided a list of recommended utility kilts that could suit your needs.
Best Utility Kilts? We Recommend:
Preview
Recommended All Rounder
Recommended Heavy Duty
Title
UT Kilts "The Standard Tartan Utility Kilt, Hybrid Kilt - Scottish National
UT Kilts Deluxe Utility Kilt Two Tone Editions (36, Night Fury Edition)
Scottish Designer Tartan Utility Kilts for Men 8 Yard 13oz Kilt (Irish Tartan, Belly Button Measuremnets...
Men Real Black Leather Gladiator Pleated Utility Kilt LARP
Preview
Title
UT Kilts "The Standard Tartan Utility Kilt, Hybrid Kilt - Scottish National
Recommended All Rounder
Preview
Title
UT Kilts Deluxe Utility Kilt Two Tone Editions (36, Night Fury Edition)
Preview
Title
Scottish Designer Tartan Utility Kilts for Men 8 Yard 13oz Kilt (Irish Tartan, Belly Button Measuremnets...
Recommended Heavy Duty
Preview
Title
Men Real Black Leather Gladiator Pleated Utility Kilt LARP
---
Considerations When Buying Utility Kilts
1) Materials
The material that you chose for your utility kilt is extremely important. Since people who wear utility kilts are typically working with hot metals or sharp objects, it is crucial that the kilt will protect you and your skin in the event that it comes into contact with something hot or sharp.
If this is not your primary concern, the durability of the material is also something to keep in mind so that the kilt will last longer for continued use. Some popular materials include different types of leather, cotton, or even.
---
2) Certifications
Sometimes kilts will feature specific certifications for the intended use of their product or its longterm durability. Durability is a key aspect of the kilt cloth material as well as some of its other parts. The buttons are sometimes made of metal could be subject to damage after prolonged use, so some kilt suppliers may offer lifetime warranties on these parts.
---
3) Heat Resistance
If you will be using your utility kilt while working with heat, picking a kilt that is made of a heat resistance material is the best choice. Leather is typically used in this instance because of its ability to withstand high temperatures without charring. Although leather may be a bit less mobile than other fabrics, safety oftentimes takes precedence over mobility.
---
4) Sizing
Kilt sizing is unique in the sense that it different from pant sizing if you are more accustomed to that. Many kilts offer adjustable fasteners that allow you fit them to your particular size. However, it is important to keep in mind that the waist sizing is taken along the midriff rather than your lower waist, as opposed to jean pant sizing.
Besides waist sizing, there are also different lengths of kilts available to choose from. Although Scottish tradition indicates that the kilt should be worn above the kneecap, the amount of coverage you need is really up to you. As long as the utility kilt is working for your purposes and protecting you where you need it, everything else is secondary.
---
5) Application
The application for which you will be wearing a utility kilt is another major factor to consider. As mentioned previously, if you are working with hot metals, it is important that you wear a kilt with an appropriate, heat resistant material. In addition to this, it is important to consider what additional features you will need from your kilt.
Some kilts feature multiple side & back pockets, adjustable fasteners, and even different colors & patterns. Since some of these features definitely enhance the function of the kilt, you should ask yourself if any of these features are non-negotiable for the type of work that you do or if they simply offer an added touch that you could do without.
---
Do You Actually Need A Utility Kilt?
Although utility kilts may not be necessary to some people, it is truly up to you. Many people would prefer to trade the added protection of full-coverage cargo pants or tactical gear with the freedom and mobility that a kilt would offer.The most important aspect of this is whether the kilt will serve your purposes and add value to the type of work that you are doing.
---
The Best Utility Kilts for Style & Protection
1) UT Kilts "The Standard" Tartan Utility Kilt
The Standard utility kilt is truly a traditional-looking kilt with highly functional features. The distinctive plaid pattern and pleated detailing on polyviscose tartan material reflects its timeless design along with its well-known durability. Aside from the cosmetic features, this kilt also offers adjustable waist straps and two cargo pockets with matching studs. The belt loops are also made of the cloth material and will be perfect for when you'd like to pair the kilt with a belt accessory.
This kilt is a great option for those seeking a kilt made of high quality, durable materials with a classic design. The vendor even offers a variety of sizing and colors to make it more customizable to your body type and color preferences.
---
2) UT Kilts "The Deluxe" Two Tone Edition Utility Kilt
The Deluxe two-tone utility kilt is another great kilt with a great design. The sleek black base color of the kilt can either be paired with some of the muted or vibrant colors offered by the seller. This kilt features adjustable side straps and two cargo side pockets to carry any small tools or material while you work.
In addition to the side pockets, the kilt also has two back pockets for additional storage. Although the solid color of this kilt offers a more modern design, the pleats still give a nod to the traditional kilt design that ties both of those styles together very well. This kilt is also available in different sizes and the vendor offers lifetime warranty on all metal parts.
---
3) Scottish Designer Classic Utility Kilt
The Scottish Designer classic utility kilt offers a striking color contrast and a vibrant design. The tartan color patterns pair well together and truly make some of the kilt features pop, adding to its modern look.
This kilt comes with two cargo pockets that can be easily removed by their metal fasteners. This is a great feature that allows you to customize how many pockets you need for a particular application and you don't have to carry the pockets with you if they are not necessary, offering more versatility for the end-user.
This kilt is made of durable acrylic wool that is meant to offer a wide range of mobility and durability in the service life of the product. The different sizes available in this kilt further allow you to customize it to your body type.
---
4) Olly and Ally Leather Pleated Utility Kit
The Olly and Ally leather pleated utility kilt offers an incredibly sleek, gladiator design. The all-black soft leather with metal studs is a great combination that modernizes the kilt. Despite its modern aspects, the pleated design still brings tradition into this product.
This kilt features and A-line design with a satin lining that offers comfort to the user from the leather. This kilt is fastened in the front using the silver head snaps and could also be adjusted using the side lacing.
This kilt is available in two different lengths and different waist sizes.