List of Stained Glass Classes in Ohio 2023 [Updated]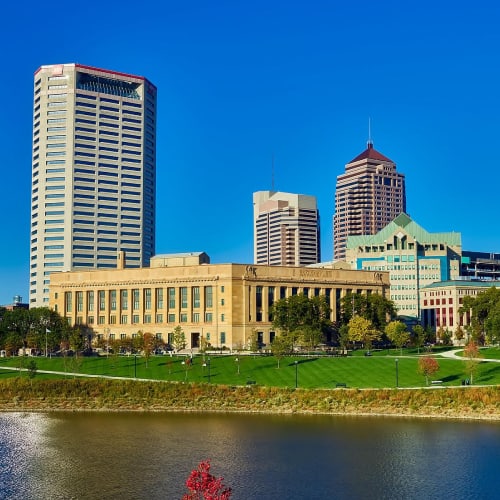 Ohio is home to fascinating stained glass history and art pieces! The oldest continually operating stained glass studio in the United States is located in Middletown: BeauVerre Riordan Stained Glass Studios. Known as Ohio's hidden gem, the studio is listed here and offers wonderful classes.
"The Church in the World", a masterpiece of stained glass, is also located in Ohio at one of the many Episcopal churches in the state.
The piece depicts the Ohio Stadium, the Statehouse, the LeVeque Tower, Port Columbus, the Main Library, a replica of the statue of Christopher Columbus at City Hall, and even more of what makes Columbus, Ohio special.
With inspiration for stained glass throughout the state and the oldest continually operating studio, Ohio is a perfect place to learn the art of stained glass. The studios below are available to anyone, no matter your skill level.
With classes in the copper foil method or the traditional lead method, students can find exactly what they need in Ohio!
Bestseller No. 1
---
Type: Stained Glass
Classes:

Beginner, Intermediate and Artisan

Price:

$90 – $225

Website: https://vidonish.wixsite.com/vidonish
Telephone: (513) 381-4334
Location:

1940 Dana Ave, Cincinnati, OH 45207
Classical Stained Glass is perfect for every level of stained glass artist. The studio has been in operation since 1974 and recently began offering classes.
The beginner class is the place to start. Students learn how to cut glass on a pattern, use copper foil, grind glass, solder glass, clean glass and prepare it for patina, and how to do a final cleaning.
The studio supplies all the tools and materials, so your first project will be completely taken care of. This course is three 2-hour sessions.
The intermediate class is for anyone with previous experience or graduates of the beginner class.
The Artisan class is an intense class for anyone who has previous experience or who has completed the beginner and intermediate classes at the studio. Students have to show the instructor their skills in order to be permitted to take the class. This class does not use the copper foil method, but rather the traditional came lead method. This is a more complex class that is seven weeks long. For this option, the studio only provides patterns.
Classical Stained Glass also allows students to rent table time for $25.50 an hour so that they can finish their projects.
---
Type: Stained Glass
Classes:

Beginner and Introduction

Price:

$49 – $305

Website: https://studioartsandglass.com/
Telephone: (330) 494-9779
Location:

7495 Strauss Ave NW, North Canton, OH 44720
Studio Arts & Glass offers two options for stained glass classes. The introduction to stained glass course is one session and is designed for those who have never handled stained glass before.
All of the materials are included in the class price, so it is perfect for new hobbyists.
The second option is a beginner course and it is four sessions long. It meets once a week for a month and students have to buy the materials (the studio sells a kit). This class is designed for hobbyists who have worked with stained glass before but still need to learn some techniques.
---
Type: Stained Glass
Classes:

Beginner, Intermediate and Advanced

Price: Contact for pricing information
Website: http://beauverre.net/
Telephone: (513) 425-7312
Location:

1054 Central Ave, Middletown, OH 45044
BeauVerre Riordan Stained Glass Studios offers a fabulous lead came stained glass class for beginners. It is a six-week class where students will learn the history of glass, how it is manufactured, and how to cut glass properly.
In addition, students will learn pattern making, soldering, and the glazing of a small stained glass panel. The studio also offers classes in advanced techniques, the copper foil method, and lamp making!
---
Type:

Stained Glass

Classes:

Beginner

Price: Contact for pricing information
Website: http://www.renaissanceglassstudio.com/
Telephone: (937) 433-7006
Location:

11818 Frost Rd, Tipp City, OH 45371
Renaissance Glass Studio was opened in 1987 by Sam Grillmeier. He offers classes that are available throughout the year and helps his students make meaningful, functional and beautiful art.
His website states that the classes are unlike the "1-night make-it and take-it classes." This means that when you leave the studio you will have a new understanding of how stained glass is made and you will have the knowledge to do it on your own!
---
Type:

Stained Glass

Classes:

Beginner

Price:

$175

Website: https://www.veriteglass.com/
Telephone: (440) 774 – 4881
Location:

11 S Main St, Oberlin, OH 44074
Vérité Glass, Inc. is a working stained and fused glass studio that specializes in commission work and restorations. They are currently offering an introduction to stained glass class where students make a 2'x2' stained glass piece designed to hang in a window.
The price includes 24 hours of instruction and students are supplied with all the tools they need to complete their piece; however, students are responsible for project materials. Because the studio is a working studio, the materials you need can be purchased there.
The class sessions are three hours long, so you receive roughly eight sessions!
---
Type:

Stained Glass

Classes:

Private Party

Price:

Contact for pricing information

Website: https://vidonish.wixsite.com/vidonish
Telephone: (419) 884-1119
Location:

20 E. Main St, Lexington, OH 44904
Vidonish Studios offers stained glass classes and workshops. Currently, COVID has caused the studio to minimize their class offerings, so they are only hosting private party classes.
This is a great place to celebrate a birthday or to spend quality time with friends and family. The students pick the date, time and class subject! Students may also make an appointment for one-on-one instruction if desired.
---
Type:

Stained Glass

Classes:

All Levels

Price:

~$140 – $310

Website: https://www.franklinartglass.com/?doing_wp_cron=1656607509.8967258930206298828125
Telephone: (614) 221-2972
Location:

222 East Sycamore St, Columbus, OH 43206
Franklin Art Glass Studios offers fundamental classes on stained glass that are perfect for the beginner artist. Their classes teach the beginning techniques and lay a foundation that students can build on.
Students learn both the copper foil and the lead method of stained glass. The minimum age to take the classes is 16 years old and students are responsible for their own tools and additional materials; however, the studio offers a specially discounted tool package for those enrolled in the course.