List of Glass Blowing Classes in Indiana 2021 [Updated]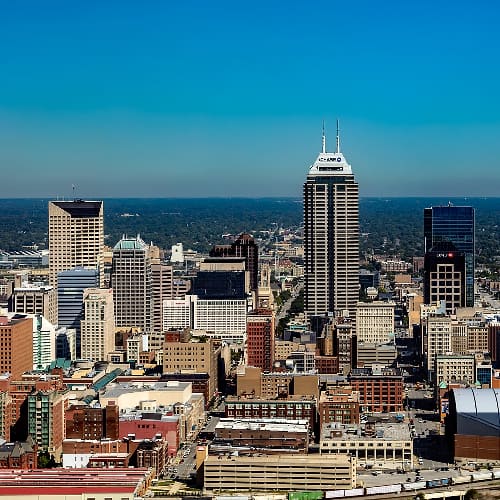 Indianapolis, Indiana has had a flourishing art culture in the past few years, being home to many different public art galleries and exhibitions.
There are also a variety of glass studios and hot shops located in the area. Some of these studios create customized pieces for both commercial and residential use.
Professional spaces in and around the Indianapolis area feature breathtaking glasswork pieces created by local artists. You can be a part of this culture by taking a glass blowing class at one of the local glass art studios.
The following list is comprised of the most well-known and talented glass art studios in Indy. These studios offer classes in many different glass art forms, where you can learn a variety of glass working techniques and methods.
People with beginner to advanced skill levels in glass working will be able to find the right studio in Indianapolis to fit their needs and prior experience.
---
Type: general glass art, glass fusing, kiln forming
Classes: beginner to advanced
Price: $55 to $150 per person
Website: http://grtglassdesign.com/
Telephone: (317) 353-6369
Location: 6400 Brookville Rd Indianapolis, IN 46219
GRT Glass Design is a glass studio and hot shop dedicated to creating unique glass art pieces and services for both commercial and residential use. Their architectural art has drawn the eyes of many businesses to commission their work.
The studio was founded by Greg Thompson in 1987 after he recognized a need for a company that could provide quality glass services for large-scale projects. Although they are known for providing consulting services for glass art projects, GRT Glass Design also offers a selection of glass art classes open to the public.
The glass art classes offered by the studio are composed of sampler classes, private classes, and glass fusing and kiln forming classes. These classes are open to people from beginner to advanced skill levels in glass art and design who would like to learn more about glass art or develop their skills.
The sampler classes teach you how to sculpt molten glass and create your own unique glass piece with the color of your choosing. If you prefer a more private setting, private instruction classes are available to schedule based on your particular skill level. This class is great for students who would like a class that matches their experience.
The glass fusing and kiln forming class options teach you how to create your own fused glass or kiln formed glass piece. This is a great option for people who would like to try different forms of glass art.
---
Type: hot glass, glass fusing, stained glass
Classes: beginner to advanced
Price: $351 to $840 per person for 7-week classes
Website: https://www.indplsartcenter.org/glass
Telephone: (317) 255-2464
Location: 820 E 67th St Indianapolis, IN 46220
The Indianapolis Art Center is a mecca for community artists in the area and those seeking to learn different forms of art. Their mission is bring art to underserved communities and inspire others to learn more about the arts. The center features an extensive art catalogue, including extensive courses about different methods of glass art.
The glass art courses offered by the center are typically 7-week courses that teach people of beginner to advanced skill levels in glass art. The comprehensive courses will truly allow participants to delve into the glass art form, understand the basics, and build their techniques to create their own glass art.
Some of these classes include different tiers of hot glass instruction, glass fusing with sheet glass, and sculptural stained glass. Each glass covers the different techniques that you can use to create your art pieces and provides a deep understanding of these methods. Experienced glass artists can also opt for independent study course where they can further hone their skills.
---
Type: glass fusing
Classes: beginner to advanced
Price: $85
Website: https://www.indyfusedglass.com/
Telephone: (317) 987-9556
Location: 1125 E Brookside Ave Unit C5 Indianapolis, IN 46202
Indy Fused Glass is a glass studio focused on teaching people how to create their own glass pieces. They specify that anyone can create a beautiful glass piece and that no past experience is required to join their classes.
The classes that they offer are geared towards beginner and advanced students, with an average duration of 2 hours. These classes can be easily booked online. During the classes, students will learn how to cut and grind glass pieces into different shapes to create a functional glass piece as their project. Once the design is created, the glass piece is slowly kiln fired and shaped.
Learning how to fuse glass is a fun activity open to individuals as well as teams. This is a great option for companies or organization seeking appropriate team-building activities.
---
Type: glass blowing, glass fusing, stained glass, kiln forming
Classes: beginner to advanced
Price: $80 to $200
Website: https://kog.com/
Telephone: (765) 457-1829
Location: 1310 Market St Kokomo, IN 46902 (60 miles from Indianapolis)
Kokomo Opalescent Glass is one of the world's primary art glass manufacturers and was founded in 1888. They have created beautiful stained glass projects and distributed them around the world. The pieces include hand cast, cathedral, and opalescent glass. Kokomo Opalescent Glass also offers a wide variety of glass art classes.
These classes include glass fusing, hot glass blowing, kiln forming, stained glass, mosaics, bead making, kaleidoscope art, and even shadow art. The breadth of information and classes offered by the studio is rare for glass studios, but allows visitors and potential participants to have different choices based on their interests.
The hot glass blowing class provides students with a solid understanding of the art form. Students will learn how to use both the tools and techniques needed to create a blown glass art piece.
The intermediate to advanced stained glass classes are also great opportunities to learn from the very masters in the industry. Whether you are just learning how to cut glass or creating intricate shapes on larger projects, these in-depth classes will give you a comprehensive idea of what Kokomo is all about and how talented their instructors are at what they do.
These classes range from $80 to $200, but the price definitely matches the wealth of information and talent you will incur after taking a class and touring the facility.