List of Glass Blowing Classes in Illinois 2023 [Updated]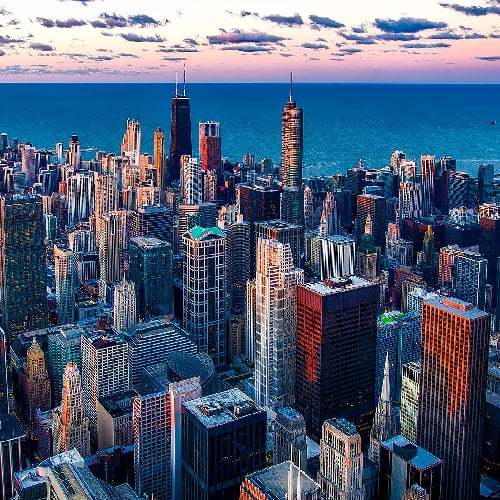 Chicago, Illinois is one of the largest cities in the U.S. and known for its unique architecture. It is also home to many different glass blowing studios, galleries, and shops featuring a plethora of talented artists.
The glass art scene in Chicago is filled with different glass mediums and forms, contributing to a rich glass art culture in this metropolitan area. It is no wonder why artists are so inspired living in such an inspiring location.
The glass artists show a lot of their passion and dedication to the art form via community and studio galleries. Some of them are phenomenal instructors who are eager to teach newcomers and hobbyists how to develop their skills.
Although each glass blowing studio in the following list has a distinct mission and personality in regards to their position in the glass blowing and glass working industries, they all promote a sense of community and learning.
---
Type: glass blowing, general glass art
Classes: small group, 1.5-2 hours, weekdays, weekends, demonstrations
Price: $90 to $350
Website: https://www.shatterglassgroup.com/
Telephone: (312) 860-5454
Location: 3400 N Knox Ave Chicago, IL 60641
Shatter Glass Group became Chicago's first glass blowing school when it opened in 1987. Under the lead of Lance Friedman, the studio has been working with students and professionals from all over the world for 30 years.
In fact, the opening of a glass blowing studio was so new to Chicago in 1987 that it set the standard for compliance with fire safety codes and guidelines. The studio truly paved the way for subsequent glass blowing studios in the city.
Lance Friedman is a remarkable glass blowing artist and knowledgeable instructor. His work has been featured in well-known glass museums throughout the world. People visiting the Shatter Glass Group and taking classes could have the opportunity to meet and work with him directly.
The glass blowing classes offered by Shatter Glass Group are designed to teach individuals interested in this art form. Although it is possible to request a large class, the studio prefers to keep classes down to 1 to 2 people and 1.5 to 2 hours long in order to focus on the participants' particular needs.
These orientation private lessons are $90 per student and you can pick from a few different glass forms to create your glass piece. Some of these forms include a straight vessel, a german beer glass, a handkerchief vase, or scalloped mid-century bowl.
Students who have taken glass blowing classes in the past and are seeking a more challenging course could try the studio's advanced class. The studio maintains that this course is meant to teach students a solid foundation and understanding of the glass blowing trade while giving participants the chance to decide whether glass blowing is something they would like to pursue.
---
Type: glass blowing, general glass art
Classes: small group, private, studio rentals, weekdays, mornings, afternoons
Price: N/A
Website: https://igniteglass.com/
Telephone: (312) 465-2389
Location: 401 N Armour St Chicago, IL 60642
Ignite Glass Studios is a glass blowing studio, gallery, and gift shop dedicated to building a sense of community through glass blowing experiences. The beautiful facility, featuring an event space and urban garden, is located in Chicago's West Loop.
The studio boasts professional hot and cold shops along with glass blowing classes and experiences. The glass blowing experiences include private lessons, demonstrations, and corporate team-building. Experienced glass blowers could also have access to renting the studio and related equipment for their own projects.
The art gallery displays the wonderful of the studio's resident artists. These exhibitions may also include glass art pieces created by other renowned artists on a rotating schedule. The gallery allows the public to enjoy the beautiful creations of these artists, making it an immersive art experience for visitors.
Although the classes are currently suspended, the studio typically offers a variety of hands-on glass blowing classes and private lessons for beginners to advanced glass blowers. In addition to this, the studio's group experience is a great option for companies or other organizations to who want to experience a unique activity that promotes team building among their members.
---
Type: hot glass, blown, formed
Classes: small group, weekends, weekdays, mornings, afternoons, evenings, seasonal
Price: $65-$120 for current offerings (visit website for updated class offerings)
Website: https://jdraperglass.com/
Telephone: (309) 339-6244
Location: 734 W. Main St. Peoria, IL 61606
J. Draper Glass is owned by Jeremie Draper, a glass artist with formal training and 13 years of experience as an instructor.
Draper offers beginner-friendly classes and workshops from October to June each year. Fall workshops begin with an annual pumpkin-making kickoff. Work one-on-one with an instructor to create your own keepsake pumpkin!
Other learning opportunities at J. Draper Glass include girl's nights out, special events, and project-based classes.
Projects include bowls, ornaments, flowers, globes, and much more. The best way to find out about upcoming events at J. Draper Glass is to explore the calendar available on the studio's website.
Those who want to view and purchase glass rather than make it themselves can visit Draper's gallery on certain days of each month. Again, check out the studio calendar for more information.
Whether you want to create a keepsake or just admire some beautiful art, consider J. Draper Glass.
---
Type: glass blowing, general glass art, glass fusing
Classes: small group, demonstrations, weekends, mornings, afternoons, 1-6 hours
Price: $25 to $475
Website: https://www.pattersonglass.com/
Telephone: (847) 949-0013
Location: 888 Tower Rd Unit E Mundelein, IL 60060 (40 miles outside of Chicago)
Patterson Glassworks is a full service glass blowing studio and retail store owned by Peter Patterson. Patterson has been working with glass for over 40 years and has experience with multiple glass working techniques and methods.
His unique skillset has allowed him to create many different types of glass pieces that feature a variety of techniques. He considers each glass art piece an illustration that can be designed into anything. Patterson believes that glass art can evoke different feelings and emotions.
The studio also offers different classes for beginners that are all hosted by Patterson. These classes include making different glass art pieces such as glass orbs, pen holders, and shot glasses. People could also opt to purchase a glass fusing kit that can be created at home and brought to the studio for fusing in the kiln.
Upon request, the studio also offers group and team-building events. These events can be customized to fit the level of interaction you and your group may like and they all include a tour of the studio, gallery, and hot shop.
---
Type: general glass art
Classes: workshops, team building, child friendly
Price: N/A
Website: https://www.regisglassart.com/
Telephone: (815) 651-6658
Location: 32 W Clinton St Joliet, IL 60432 (46 miles from Chicago)
Sue Regis Glass Art studio and gallery located in downtown Joliet is headed by talented glass artists Sue Regis. She has been the owner of the studio since 2005, where she has cultivated a specialty in memorial glass art. She is also an avid art influencer and leader, creating the Art Movement Inc. in order to kickoff a cultural renaissance in Joliet.
Although there are no intermediate or advanced class options, Regis Glass Art also offers a few different group events and workshops for both kids and adults. One of their featured workshops involves making glass pendants, which is a fun activity for those who would like to try making glass art of the first time.
---
Type: general glass art, glass blowing
Classes: small group, demonstrations, weekdays, weekends, afternoons, evenings, 1-2 hours, seasonal
Price: $25-$75
Website: https://prairiefireglass.com/pages/events?_pos=1&_sid=985416a34&_ss=r
Telephone:(217) 762-3332
Location: 217 W Washington St, Monticello, IL 61856
Prairie Fire Glass opened in 2002 and is owned and operated by Jim Downey. Downey began blowing glass in 1998 and had prior experience working with stained glass. During his time as a stained glass artist, Downey made over 20 intricate windows. You can see them on display in his studio.
Downey's classes are offered seasonally at the Prairie Fire Glass studio and at events around the state of Illinois. Beginners and families should consider signing up for Downey's ornament-making class. Participants get to choose their own colors and blow through the blowpipe. Time allows for participants to make up to 8 ornaments.
For those wanting a more in-depth glass blowing experience, Prairie Fire Glass offers an introductory course. These small group classes cover all the basics of glass blowing and students get to create their own paperweights with the assistance of Jim Downey.