Best Gloves for Blacksmithing, Bladesmithing & Forging 2021 [Updated]
Blacksmithing is a great method to bring your art and passion to life! Designing and sculpting different workpieces is a very rewarding experience that requires a lot of hands-on training and experience.
Much like how metal workpieces require different tools to shape them, your hands and surrounding skin also need the proper equipment for protection against heat while working with hot metal.
Using the appropriate blacksmithing gloves could prevent serious injury and long-term skin damage while working on projects that require the use of hot tools and materials.
Although blacksmiths may argue the benefits and drawbacks of wearing gloves, it is important that you are aware of the potential consequences of wearing or not wearing gloves when blacksmithing.
If you decide to give wearing gloves a shot, we have compiled a list of the best blacksmithing gloves which you can pick and compare to best suit your needs!
Best Gloves for Blacksmithing? We Recommend:
Preview
Recommended For Max Mobility
Recommended For Max Protection
Title
Caiman Genuine Goatskin Leather White KontourTM TIG/MIG Gloves (Large/Yellow)
Caiman 1878-5 21-Inch One Size Fits All Genuine American Deerskin Welding Glove with Boarhide Leather...
Black Stallion 750 Premium Grain Elkskin Stick Welding Gloves, Large
Vulcan Defender Professional MIG Welding Gloves - Master Welder Series
Recommended For Max Mobility
Preview
Title
Caiman Genuine Goatskin Leather White KontourTM TIG/MIG Gloves (Large/Yellow)
Recommended For Max Protection
Preview
Title
Caiman 1878-5 21-Inch One Size Fits All Genuine American Deerskin Welding Glove with Boarhide Leather...
Preview
Title
Black Stallion 750 Premium Grain Elkskin Stick Welding Gloves, Large
Preview
Title
Vulcan Defender Professional MIG Welding Gloves - Master Welder Series
---
Considerations When Buying Blacksmith Gloves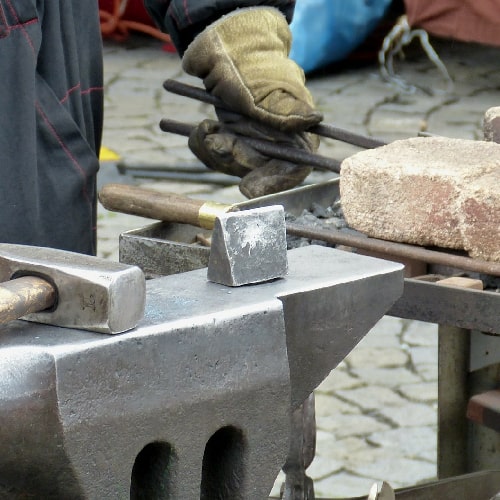 1) Materials
The material of which blacksmithing gloves are made is an extremely significant characteristic of good gloves. Certain materials protect against cuts, impact, and heat. These materials include leather, kevlar, silicone, and cut-resistant material. These materials can impact mobility and heat protection level. It is also important to avoid gloves made of plastic materials because they can melt more easily and stick to your skin.
---
2) Certifications
There are many different types of gloves available at hardware stores an online meant for different purposes. Some gloves are specifically designed for blacksmithing and heat work and others are more suited towards welding and cutting. It is important to understand the specified purpose for certain gloves to be able to pick out the ones that will work for you and your application.
---
3) Heat Resistance
Heat Resistance is a particularly significant factor when picking out blacksmithing gloves. It is important that gloves protect your hands from the heat as well as potential burns, so choosing gloves that are thick an absorbent enough to mitigate heat is extremely important.
Since it is very possible that a hole could be burned through gloves, ensuring that you pick gloves made of materials that will alert you if what you're touching is too hot is key. It is a lot harder to tell when something is burning while wearing gloves and becoming too comfortable with the fact that they will always protect your skin is something you should avoid.
---
4) Sizing
The sizing of blacksmithing gloves comes down to how much protection you would prefer to have while wearing them. There are gloves that are only mean to protect your hands, but there are also longer gloves that protect greater areas of your arm if you are exposed to a larger source of heat. Aside from length, it important to pick gloves that actually fit your hands, but are not so snug that they are difficult to remove.
Having enough mobility and a good range of motion while wearing gloves will aid in treating your gloves as an extension of your hands while blacksmithing, but being able to quickly remove them in case they burn through will allow you to prevent an even more serious burn.
---
5) Application
The type of application for which you plan to use gloves will dictate which gloves you should purchase and whether you should wear them at all. Oftentimes, blacksmiths prefer not to wear gloves when operating machinery or doing hammering work to prevent them from getting caught on something or fatiguing their arms. In addition to this, the level of heat protection and mobility may be different from when you're welding versus when you're doing chiseling work, so knowing how thick or long your gloves need to be is another factor to consider.
---
Do You Actually Need Gloves When Blacksmithing?
Whether gloves are necessary for blacksmithing or not is a widely debated topic among blacksmiths. The most important thing to keep in mind is that gloves are meant to be used for your safety and can properly safeguard your hands from serious injury. Although wearing gloves may be bothersome to some blacksmiths, if you intend to work with metal over a long period they can help reduce the burden on your hands, as well as protect those with underlying medical conditions.
Some of the arguments against wearing blacksmithing gloves during certain activities include the possibility of serious burns if a hole burns through the glove and it is difficult to remove quickly. In addition to this, blacksmiths should be aware of the potential dangers of operating machinery with a glove that could get caught in it and potentially jeopardize your hand.
People who are new to blacksmithing should definitely consider wearing gloves from the beginning so you can get used to the general motions of smithing while benefiting from some added protection. Understanding the range of motion while using gloves can help you learn how to safety handle heated materials and is a good confidence builder, especially for beginners who are not totally comfortable yet. Once you're accustomed to the basic motions, you can also choose to just wear one glove on your non-dominant hand – keeping your hammering hand free – as some blacksmiths prefer this balance (see picture above)!
Blacksmiths who have had prior experience blacksmithing will likely understand the consequences of not wearing gloves for certain smithing activities, so it is best to get more practice wearing the gloves in order to promote the safety and protection of the the most invaluable tools in their arsenal – their hands.
---
The Best Blacksmith Gloves & Forging Gloves
The Caiman Genuine Goatskin Kontour TM gloves are a great pair of top grain goatskin leather gloves. This material is very effective for heat resistance and the palm and thumb area are reinforced for extra protection. In addition to this, the seams are made of durable kevlar material to prevent rips and open seams over repeated use.
This pair of gloves is particularly marketed as a useful welding glove for Tungsten Inert Gas or stick welding. Its form-fitting, patented design allows it to feel molded to your hand and promotes dexterity during use.
Sale
The Caiman Leather Long Glove is another great welding glove meant for overhead, stick, and plasma welding. However, its boarhide leather heat shield patch and reinforced palm area makes it a great choice if you are handling hot tools or materials. The length of these gloves, 21 inches, is a unique feature that provides more coverage around your arms to protect your skin from the heat. These gloves are also sewn using kevlar thread to make their structure more durable.
These gloves were specifically designed with the shape of the human hand in mind, as a they even follow the natural curvature of a typical hand, introducing comfort to something functional. Although these gloves do have a cuff that could be tightened, it is important to keep in mind that they should be easy to remove in the event of a burn.
---
The Black Stallion Premium Grain Elkskin Gloves are also made of durable, heat resistant materials. The elkskin leather provides comfort and sufficient insulation to protect against heat and the Nomex lined back adds a layer of fire-resistance. The grip of these gloves is an added benefit when using different tools and holding other objects while wearing the gloves. In fact, the thumb area also features additional reinforcement since it is the area that is mostly likely to be worn out over prolonged use.
Despite being protective, these gloves offer a lot of flexibility and are relatively lightweight compared to other blacksmithing or welding gloves. This amount of dexterity allowed is great for welding and other applications to require easy hand movement.
---
The Vulcan Defender Professional MIG Gloves great gloves to use for metal inert gas welding and blacksmithing. The palm is made of a top grain cowhide and the features reverse cowhide panels that promotes a firmer grip. The cuff portion is made of split leather  that protects the wrist area with a durable material.
In addition to that, the seams are also sewn using kevlar, which is flame-resistant and keeps seams intact. Although these gloves are not as form-fitting as other blacksmithing gloves, they are definitely easy to remove if needed. The gloves also feature a seamless trigger finer design for MIG guns, which could be very useful for welders.