List of Machinist Project Ideas for Beginners 2021 [Updated]
Machinists work metal into small tools and parts and operate and maintain machinery. While machining in a workplace requires creating finished products using specific instructions, the following projects are great if you want to get more creative with your machining.
New machinists with a home setup or access to machines and equipment would benefit from testing their newly acquired skills on the following projects. They are great for any skill level and are both useful and fun to make.
If you are interested in starting a small business selling your machined items, or want to expand a business you already operate, these projects can be great additions to your inventory, as they would appeal to wide audience.
Sale
---
What Tools are Needed for Machinist Projects?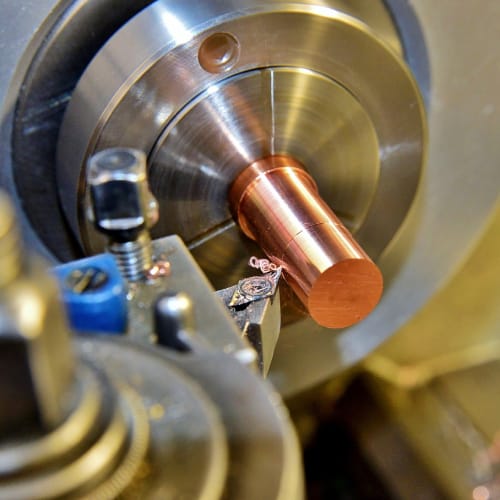 To complete the following projects, you will need a wide range of large and small equipment and tools. These include access to:
Lathes
Vices
Saws
Scrap metal
Several sizes of aluminum, stainless steel
Brass (12 mm and 25mm are two required sizes).
---
Machinist Project Ideas for All Experience Levels
The following are a few unique machining projects that are appropriate for beginner, intermediate, and experienced machinists. These projects can be altered to suit your specific skills and preferences. Make them for yourself, friends and family, or for your small business!
1) Mini Machinist Mallet  
This mini machinist mallet is a perfect little project to do over an afternoon or weekend. The finished look is very professional yet has a handcrafted uniqueness about it as well.
Shaping and drilling techniques are emphasized in this project, so if you are new to machining, this would be a great opportunity to improve these skills.
This project is also an ideal one to work on because the finished mallet can be added to your tool collection when you are finished making it. Getting to work with your own handmade tools is really special. You may find that your fellow coworkers will want one for themselves!
---
2) Machinist Screwdriver 
This screwdriver is made from 25 mm aluminum. It is a great project for honing your beginner-level skills and branching out into more intermediate shaping and cutting techniques.
One of the best things about this specific project is that it requires a lot of project planning. Marking out where you want each cut and element to be on the finished screwdriver will help introduce you to in-depth project planning without relying on prewritten instructions. This is also great practice for making tools and parts at work when you are assigned a more complex project.
Follow along with the tutorial carefully for guidance on how to plan the project effectively and execute each step along the way. Feel free to alter the original design to suit your needs and preferences as well.
---
3) Mini Fire Piston  
This project uses three pieces of 12 mm aluminum. These are cut down with a hand saw and the entire project uses pretty basic shaping and drilling skills. The machinist in the video basically trims down two pieces of the aluminum so that one can fit inside the other and makes a nice cap for the end.
This fire piston would be a great tool for yourself or as a gift for friends. This also is a piece that would likely sell well if you choose to offer extra finished projects online or in person.
All of the projects on this list are customizable, but the design of this easy-to-make fire piston in particular allows for a lot of customization in terms of aesthetic details. Whether you opt for a minimalist finish or bold surface details, this fire piston is a unique little project to add to your to-make list.
---
4) Stainless Steel and Brass Magic 8 Ball  
Perhaps the most quirky and fun item on the list, this metal magic 8 ball would be a great novelty gift or decor piece in your workspace. This project uses stainless steel and brass to create a grown up version of the classic kid's toy.
The ball is made of several pieces that are fitted together and then polished to an extremely shiny finish.
If you have been wanting to try making spherical shapes on the milling machine and lathe, this would be a great project for you. It takes a lot of precision to get all the pieces to fit together perfectly, so this isn't an ideal project for a beginner machinist, but more intermediate machinists could definitely give it a try.
---
5) Six Sided Dice 
To make a single die or set of dice, you will need a small piece (or pieces) of stock metal. You will perform some facing cuts to make a perfect little cube and will use a drill press to create indents on each face of the die.
This project is pretty simple and appropriate for beginner machinists. The most difficult part of the project will be measuring where you want to place the indents on each die face.
The size of these dice is appropriate for actual game play, but you could make smaller or larger dice as gifts or decor. This project in particular would be great to sell, especially since it is a relatively simple and quick project.
---
6) Aluminum Pen
An aluminum pen is a great beginner project that requires only a few tools and techniques. This project utilizes a good deal of drilling and some shaping. The final design features a retractable pen tip and a few decorative lines. You could decorate the pen however you want or follow the tutorial for a visual on how to recreate the original look.
Again, this project does not take up too much time and is a useful item to have around the shop or to gift or sell to others.